ORLANDO, Fla. (Reuters) - The voyage data recorder from the ship El Faro, which sank in October during a hurricane off the Bahamas killing all 33 crew onboard, was located on Tuesday in 15,000 feet (4,600 meters) of water, the U.S. National Transportation Safety Board said.
The recorder, which may contain hours of information related to the cargo ship's engine and communications from its bridge before the sinking, was found using remotely operated undersea search equipment, the NTSB said, adding that the next step was determining how the device can be retrieved.
The 790-foot (241-meter) El Faro went down off the Bahamas on Oct. 1 while on a cargo run between Florida and Puerto Rico. It was the worst cargo shipping disaster involving a U.S.-flagged vessel in more than three decades.
An earlier effort to find the recorder was not successful. Federal officials put hearings on the disaster on hold after two weeks in February, hoping that another search could retrieve the device and produce more detail.
"Finding an object about the size of a basketball almost three miles under the surface of the sea is a remarkable achievement," NTSB Chairman Christopher A. Hart said in a news release.
Searchers located in October wreckage of the ship, owned by Sea Star Line, LLC and operated by TOTE Services. A second search mission was launched last week.
The team will now work to determine how the recorder can be retrieved, and are exploring options and logistics involved, the NTSB said.
"We don't want anything to become entangled in the mast and the wreckage around it," said NTSB public affairs officer Eric Weiss in a phone interview.
The NTSB expects the search team on the research vessel Atlantis, operated by the Woods Hole Oceanographic Institution in Massachusetts, to stay at the accident site until April 30.
Immediately after the announcement, the U.S. Coast Guard said it would conduct a second set of hearings into the accident from May 16 to May 27, focusing broadly on topics including ship operations, weather conditions, and regulatory oversight.
The agency's Marine Board of Investigation plans a third hearing to examine additional evidence, including anything recovered from the voyage recorder, at an unscheduled date.
In his final transmissions, El Faro's captain reported that the ship was losing propulsion and taking on water.
Company executives have said the decision to attempt the voyage and set the ship's route, despite the weather forecast, were the responsibilities of the captain, who went down with his ship.
(Additional reporting by Eric Beech. Writing by Letitia Stein; Editing by Mohammad Zargham and Alan Crosby)
Before You Go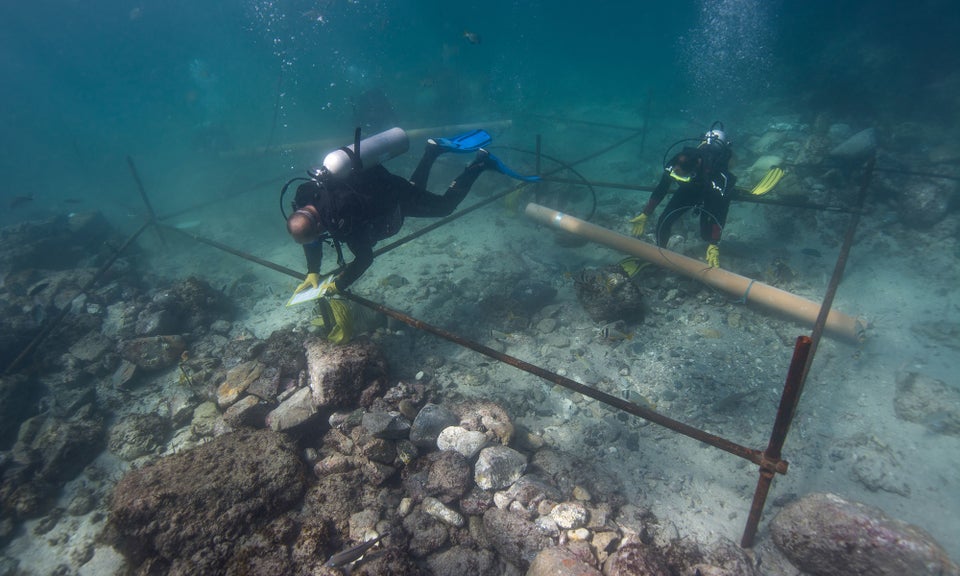 Shipwreck Discovered Off Oman Coast May Be From Vasco da Gama Fleet
Popular in the Community