Galápagos authorities are working to minimize environmental damage after the cargo ship Galapaface I ran aground Friday morning at 3:15 a.m. off Puerto Baquerizo Moreno on San Cristóbal, the easternmost of the archipelago's inhabited islands.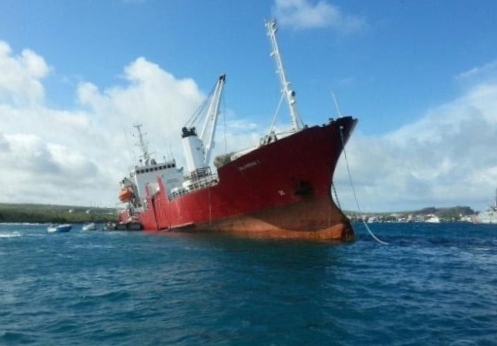 The Galapaface I aground in Wreck Bay Photo: Galapagos National Park
The Galápagos National Park reported that the vessel was carrying approximately 16,000 gallons of fuel but there appeared to be no imminent threat of a major spill. The 266 foot long vessel, built in 1979 and registered in Ecuador, was grounded at Wreck Bay, near the entrance to the harbor at Baquerizo Moreno, the park said in a news release.
A local source reported to Galapagos Digitall that the captain of the Galapaface I first made a radio distress call to report that water was flooding the ship's engine room and then in a later call, revealed that he had run aground. The company that owns the freighter is not offering any comments at this time.
For some San Cristóbal residents, the grounding of the Galapaface I brings back memories of the Jessica, an oil tanker that ran aground in the appropriately named Wreck Bay in 2001, spilling 175,000 gallons of diesel and fuel oil. It was ranked as one of the worst environmental disasters in Galápagos history.
This time, authorities are confident they can avoid a repeat occurrence as they work on unloading and freeing the Galapaface I.
In addition to the fuel, the freighter carries 10 tons of cargo. According to a government news release, crews have placed containment booms around the vessel to stop any fuel spillages and have begun operations to unload the cargo and empty the fuel tanks.