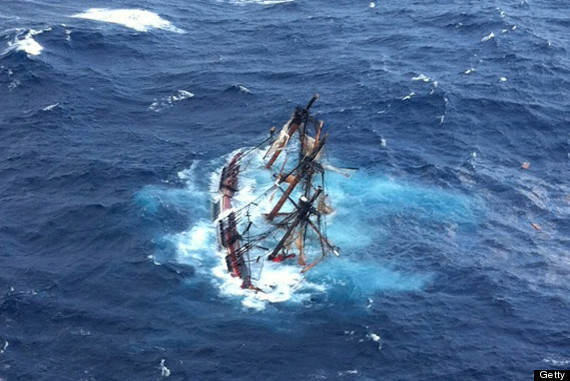 One of the stranger stories to have come out of Hurricane Sandy, which ravaged the East Coast a year ago this week, is that of the Bounty, a replica tall ship built in 1960 for the film "Mutiny on the Bounty." The Bounty attempted to sail through the heart of the storm, only to meet with tragedy. In the Tampa Bay Times, Michael Kruse has an epic three-part series telling the story of the Bounty's final voyage in gripping fashion.
"We are taking on water," the Bounty's captain, Robin Walbridge, wrote in an email to the Coast Guard at one point. "We'll probably need assistance in the morning. … The boat is doing great but we can't dewater."
The Coast Guard shift commander tried to parse the note, Kruse writes. "There was a word, he thought, for a ship that was taking on water and couldn't get it out. The word wasn't great. The word was sinking." In HuffPost, Radley Balko tells the story of how a botched drug raid sparked a movement for police reform in the unlikeliest state in the nation. The push is being led by a political odd couple: a far-left progressive activist and a libertarian policy wonk with a background in Republican politics. So far, they seem to be having an impact. And at least two high-ranking officials, Salt Lake City Police Chief Chris Burbank and Salt Lake County District Attorney Sim Gill, want to see reforms as well.
It's a compelling, thought-provoking series of stories that not only shed light on the problems brought about by police militarization, but also point to a better way.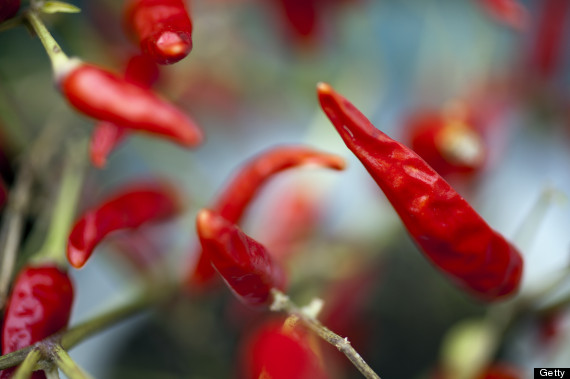 In the New Yorker, Lauren Collins dives mouth-first into the world of "chiliheads" who are competing to grow the world's hottest pepper -- "near-death experiences in a bowl of guacamole," as she puts it. The men who dominate this universe -- and they are all men, it seems -- are a colorful lot, displaying a mix of machismo and scientific geekery.
"Chili growing is to gardening as grilling is to cooking, allowing men to enter, and dominate, a domestic sphere without sacrificing their bluster," Collins writes.
She also seems to have a taste for spicy food. "At the Engine Inn, a pub a short walk from Gerald Fowler's house in Cumbria," she writes, "I sampled the Naga Viper Curry, 'made with officially the world's hottest chili pepper and served with pilau rice, mango chutney and a giant poppadum.' 'Tastes like heaven, Burns like hell,' a chalkboard read. '594 curries sold, 397 finished.' Though the waitress had warned, 'We do it almost inedible,' I made 398. Never has a runny nose been so enjoyable."
Her tolerance appears to be higher than that of Steven Leckart, who similarly writes in Maxim about the search for the hottest pepper. "All hell just broke loose inside my mouth. My tongue is burning. My upper lip is stinging. My eyes are bloodshot," he writes about sampling a pepper called the Carolina Reaper at ZestFest, a fiery-foods show in Columbus, Ohio. "Today at ZestFest, 19 showgoers will attempt to eat an entire Carolina Reaper; 17 will vomit," Leckert writes. "After 20 minutes, I too exorcise my demon."
Bonus: In California, the city of Irwindale filed suit this week, claiming that the odor from the Sriracha sauce factory was causing health problems and constituted a public nuisance. "In Irwindale, where the hot sauce's production facilities are, residents are complaining of burning eyes, irritated throats and headaches caused by a powerful, painful odor that the city says appears to be emanating from the factory during production," the Los Angeles Times reports. "The pit, a shallow excavation measuring a gargantuan 10 acres, was used to incinerate every single piece of refuse generated by Balad's thousands of residents," Drummond writes, about a burn pit in Iraq. "That meant seemingly innocuous items, like food scraps or paper. But it also meant plastic, styrofoam, electronics, metal cans, rubber tires, ammunition, explosives, human feces, animal carcasses, lithium batteries, asbestos insulation, and human body parts -- all of it doused in jet fuel and lit on fire. The pit wasn't unique to Balad: open-air burn pits, operated either by servicemembers or contractors, were used to dispose of trash at bases all across Iraq and Afghanistan."
"The military's burn pits emitted particulate matter laced with heavy metals and toxins -- like sulfur dioxide, arsenic, dioxins, and hydrochloric acid -- that are linked to serious health ailments. Among them are chronic respiratory and cardiovascular problems, allergies, neurological conditions, several kinds of cancer, and weakened immune systems."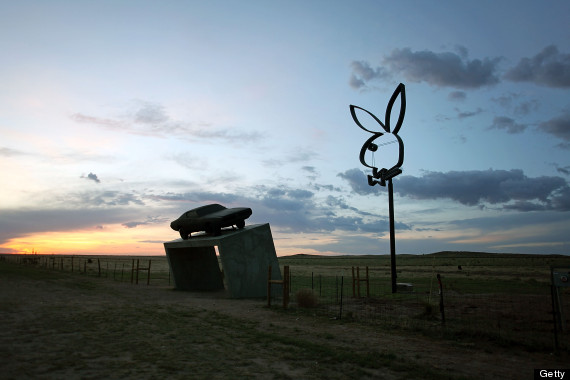 5. What Happens When Playboy Comes To A Small Texas Town
Marfa, Texas, is a tiny town of 2,000 residents, but it has achieved celebrity status as an art world mecca. That's due, in large part, to the Chinati Foundation, which Donald Judd opened in Marfa in 1986 as a home for his art, and more recently because of Prada Marfa, a fake Prada store that artists Michael Elmgreen and Ingar Dragset installed outside of town in 2005. Today, Marfa is "nothing less than an arts-world station of the cross," as NPR put it.
This has at times created a bit of tension between the working-class locals and the hip art world cognoscenti who periodically descend on the town, Francesca Mari writes in Texas Monthly. Things came to a head this year after Playboy commissioned artist Richard Phillips to create an installation outside of town, complete with a sign in the shape of the Playboy bunny logo. Is it art, or is it advertising?
Even if you've read one of the many articles about Marfa over the years, this one is absolutely one of the best.
REAL LIFE. REAL NEWS. REAL VOICES.
Help us tell more of the stories that matter from voices that too often remain unheard.
BEFORE YOU GO
PHOTO GALLERY
Hurricane Sandy