Paradigm Shifters is a series of interviews with a select group of women and men from eclectic walks of life. It will highlight unspoken, real-life insights on how they have been able to turn weakness into strength. A naked soul point of view of how their breakdowns were really a preparation for breakthroughs. They are your quintessential paradigm shifters; internal shifts converted into genuine change.
Everything I have ever done has been focused on this underlying theme of shifting the paradigm because, "What we think determines what we feel and what we feel determines what we do." Hence, why Empowered by You takes lingerie, which has traditionally been seen merely as a tool of seduction and redirected that energy as a tool of empowerment.
I hope from these stories you will look at your own situations, struggles and accomplishments through a different lens. At the very least you will be more equipped with real life tools to change your own paradigm. At the end of the day, we are our own Alchemist turning the silver we were born with into the gold we are destined to become.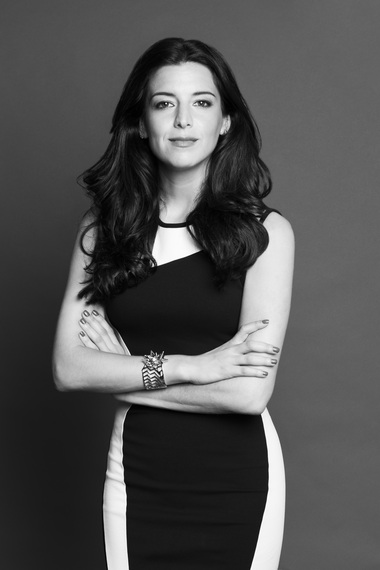 Shira Suveyke - EVP, Chief Merchant THE OUTNET.COM
You have an education in business and banking. How did you make this jump to working in fashion and merchandising?
I would say the beginning of this really starts with my childhood and my grandmother, who was a major influence in my life from a cultural and style perspective. She loved fashion, art, and music, and had a very strong presence in my life. She really inspired me through the years, but I didn't really know what a career in business and fashion meant. So, I took the pragmatic approach of studying business and economics, because I've always had a sharp mind for analytics and numbers. My parents said, "You're going to get a good job, so go do this." But I also worked in retail during the summers. Then I got to New York and I was surrounded by it - it's everywhere here, which made me realize that there is so much to do in the fashion and retail industry. I feel quite lucky that I figured that out so fast, because banking is definitely not for me (chuckles). I learned that I can be good at something, but I need to enjoy it. When I walked into the buying office of Ralph Lauren, I knew I went to the right place. I felt confident that I made the right move.
After working for all of these amazing companies, you have a fine-tuned eye for what works for your site. With so many well-known designer brands and labels, how do you get new brands to feature on your site?
What I love and feel passionate about at The Outnet is our curation. We have a very specific aesthetic and customer in mind, which really does help make the shape. We're working with roughly three hundred designers, but because we know who we're speaking to it allows us to keep an eye on new talent. Whether that means seeing the teams during Fashion Week, Market, or taking trips to Paris, Milan, or London, we are able to keep an eye out for something new. So we ask ourselves, is it one of the best brands that our customers have to have?

How has travel affected your work?
The company is truly global and we really think in a different way. Travel really opens your eyes. It changes your perspective - you consider the business and the customer differently. When I came here I was American. Now, I am global. It's been incredible to even see that transformation in myself. So all of our buyers have a bit of that in them as well, because travel is a huge part of what the buying team is doing. And then that allows us to see what's out there and ultimately craft an offering that is for the local customer. We ask ourselves, "how do we speak exactly to the customer from a product, tone, seasonality perspective?" We get pretty granular.

You've taken different leadership positions in fashion, but with the position you are in now, how do you lead your team?
What has influenced me greatly are some of the remarkable leaders in fashion. These entrepreneurial visionaries are charting the course in their space, but also have that drive to see it through. So ultimately - that's what has led me to a lot of the companies I've worked for. Further, how these leaders have thought about talent has influenced me because you have to have an amazing team to help you see it through. To me it's about recruiting a strong team and empowering them to help drive the vision, business, and brand forward.
What would you say has been the biggest break down to break through moment in your life?
I don't know if I can point to one specific moment. There have been lots of little adversities - both personally and professionally. I do believe that as you get through each one you come out the other side stronger, and more confident, and you take the next one on with less challenge because you know you can get through it. That perspective is important and comes with time and experience. You have that confidence that you can get through those breakdowns. You can't see through it at first. You think, "Everyone's talking about it and everyone will remember it." But in reality, nobody remembers and nobody cares (chuckles). You have to have as much outside perspective as possible. Looking back, I would tell myself, "There is a ton of adversity and challenges that are going to come to you, but you're going to get through it, and it's going to be great."
What sort of legacy do you wish to leave behind?
My legacy is still morphing and shaping. Hopefully I've inspired people I've worked with to value hard work, knowledge and passion for the business, and ultimately lead by example.
Is there anything you would like to highlight that The Outnet is working on currently that you are excited about?
Our own label "Iris and Ink" has been a powerhouse for the Outnet this year. We've had tremendous growth, and now it's the number one brand ready-to-wear brand on our site. We launched "Iris and Ink" three years ago, and we have a team in house that does all of the product design and development. The product is offered just for The Outnet customer. The process definitely fuels my creativity.
REAL LIFE. REAL NEWS. REAL VOICES.
Help us tell more of the stories that matter from voices that too often remain unheard.