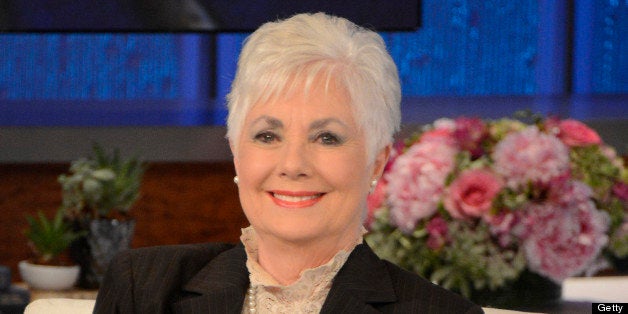 Shirley Jones may be best known as the wholesome matriarch of "The Partridge Family," but according to her new book, "Shirley Jones: A Memoir," her life off camera was marked by a tumultuous marriage, infidelity and ultimately divorce.
In the memoir, which hit bookshelves July 23, Jones reveals that her nearly two-decades-long marriage to actor Jack Cassidy was anything but innocent. Likely to the surprise of her fans, she details a threesome she and her former husband once had with a dancer she refers to as Jean.
"If Jack hadn't fully come to terms with my sexual boundaries before, after that night in Las Vegas with Jean, he now understood conclusively that threesomes were just not my thing. From then on, I assumed that he went his own way, sexually speaking, and, I guess, had threesomes with other women instead. I was still madly in love with him, and my awareness of his many infidelities, in whatever permutations he chose, didn't tarnish my love for him. Nor did our threesome with Jean."
Jones admits that she knowingly turned a blind eye to his many indiscretions.
"Off camera, in the real world, the Swinging Seventies were in full bloom, and Jack was determined to explore every aspect of the new sexual freedom. He wanted it all: swinging, pornography, drugs, group sex. I carried on just looking away and ignoring his infidelities."
She also reveals that she and Cassidy briefly separated for an eight month period before reconciling, much to the dismay of a psychiatrist she had been seeing at a time.
"He was never able to be alone, so now he wanted me to take him back. I didn't have to think too long about my answer. We had three children together, he was their father, and despite everything I still loved him. The psychiatrist I was then seeing told me that I was making a big mistake by taking him back: "You are never going to change that man. Don't go back into this marriage thinking you can." He was right, of course, but the Shirley Jones who had fallen so deeply in love with Jack Cassidy so many years ago wasn't prepared to relinquish her dream man. And I didn't."
Eventually, however, she did. The pair split in 1974 following Cassidy's 1973 diagnosis as manic depressive and bipolar.
"The truth about the man I loved, and about our marriage, was penetrating my consciousness at last, so that I finally started to come to terms with the harsh reality that my life with Jack, my dream man, my white knight, my sexual Svengali, might well be ending forever."
This isn't the first time Jones has opened up about her relationship with Cassidy, who died in a fire in 1976. She told newspapers in 1983 that if he were alive, she doubted that she would have ever married her second husband Marty Ingels, to whom she is still married.
"He wanted to come back (to me) right up to the day he died," she said. "And as I realized later, I wanted him. That's the terrible part. Much as I love Marty and have a wonderful relationship –- I'd say this with Marty sitting here –- I'm not sure if Jack were alive I'd be married to Marty."
Click through the slideshow below to see what other celebrities have opened up about divorce in their memoirs.
Related