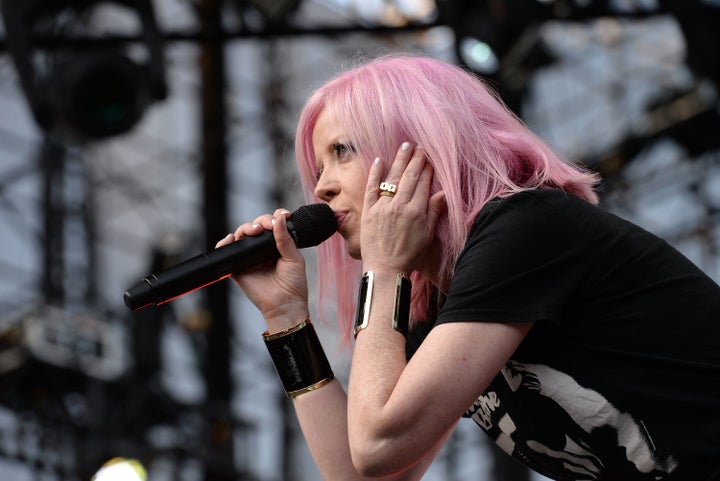 The 49-year-old revealed that she was sexually assaulted at the age of 13, and went into detail about the harrowing experience with Billboard: 
"A boy fingered me, then grabbed a knife and told me he was going to stick it up my vagina. I was 13 years old," she recalls -- the first time she has ever publicly spoken about the incident. "It frightened the shit out of me." A couple of days later, she realized that she had left her bra at his house. The boy ­threatened to mail it to her parents.

"I think that's where it all began to unravel," says Manson. "I just had this realization: Why am I distrustful all the time? It's probably because of that. I spent so long ­disgusted about myself. I would sob in the ­bathroom, because I thought I was failing."
But Manson is no longer afraid of failure. Last week, the singer fell off a stage at KROQ Los Angeles' Weenie Roast. After she "landed on [her] feet like a ninja," Manson was over the embarrassment. "I want people to see my fall," she told Billboard. "I don't want to make a lie that I am this perfect person. I am a hot mess! It's OK to fall."
Garbage's forthcoming album, "Strange Little Birds," kicks off with their single "Empty," which alludes to Manson's feelings of inadequacy and self-doubt.
"I lie awake believing that somehow I keep failing," she sings. "I rail and I ache at the monsters and the demons I've wrestled with for eons and I want to destroy."
But despite Manson's demons, her definition of success isn't perfection or fame. "Not all musicians are obsessed with the charts or being famous," she wrote on Facebook in 2015. "[S]ome of us just enjoy making music and having a long lifespan of a career without having to dance as fast as we can, or be the loudest clown in town or be having to hitch ourselves to the latest, greatest, freshest sound in order to remain 'on top.'"
If you or someone you know has been affected by sexual violence, help is available 24/7 through the National Sexual Assault Hotline: 800-656-HOPE and online at rainn.org.
REAL LIFE. REAL NEWS. REAL VOICES.
Help us tell more of the stories that matter from voices that too often remain unheard.
BEFORE YOU GO
PHOTO GALLERY
Meet Our Body Image Heroes