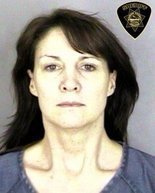 An Oregon woman is accused of ramming her cop-husband with a pickup truck and pointing a gun at his suspected mistress.
Kenneth M. Nunez, a 48-year-old patrolman, is in critical condition following the incident early Monday morning, The Oregonian reports.
Police say that the victim's wife, Shirley Nunez, 47, confronted the woman she suspected her husband of having an affair with. Nunez allegedly pointed a gun at the suspected mistress and then left in a 2003 Ford F-150 pickup truck. Moments later, she allegedly struck her husband as he approached his motorcycle, KATU reports.
Authorities escorted Shirley Nunez to Salem Hospital for medical evaluation. She was then booked at the Marion County Correctional Facility and charged with attempted murder, first-degree assault, first-degree burglary, menacing, pointing a firearm at another person and unlawful use of a weapon.