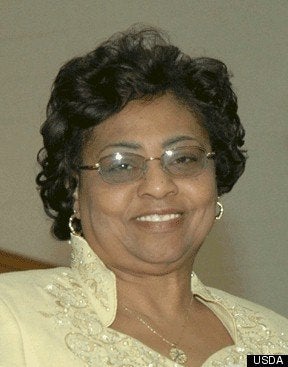 ***Scroll down for videos, including a complete version of Shirley Sherrod's speech that started the controversy.***
Shirley Sherrod has accomplished a number of things in her career, but she had never planned on uniting Glenn Beck and the NAACP.
The former USDA official was allegedly forced out of her job as director of rural development in Georgia after a video surfaced that appeared to show her admitting that race played a factor in a decision to limit help for a white farmer. Sherrod is African American.
Her speech was significantly longer than the original clip, which now appears to have been taken significantly out of context.
According to Sherrod, she was given no chance to explain herself. "They asked me to resign. And, in fact, they harassed me," she said about a series of phone calls from USDA Deputy Under Secretary Cheryl Cook. Sherrod was in the middle of a long road trip, but pulled over after Cook insisted that she write her resignation via Blackberry. She remembers being told, "You're going to be on Glenn Beck tonight."
Sherrod was a political appointee, chosen by President Barack Obama almost exactly a year ago.
Beck did wind up attacking the administration on his Fox News talk show, but not for the reason the White House may have expected. "She should not have been fired or forced to resign," the conservative commentator said, pointing out that Sherrod's side of the story was far more complex than initially reported. He even suggested that Sherrod should get her job back and joked about her getting a promotion.
The video clip at the center of the controversy received widespread attention when it aired Monday night on Fox News, but it was first reported that morning in a story by Brietbart on BigGovernment.com. The first three words of the story that launched this controversy now smolder with irony.
As more information emerged the following day, Sherrod began to get backing from a diverse coalition that includes not only the NAACP and Beck, but also Democratic strategists Paul Begala and Donna Brazile. The latter pair have called for Sherrod to get her job back. David Gergen, an adviser to four presidents, echoed those sentiments.
Gergen issued perhaps the strongest critique of all while speaking on "AC 360" with Anderson Cooper. "This has ripped away the veil and shown us all that is wrong with politics today," he began. "An ideologue injects poison into the internet, other people rush to judgment on camera, and an administration gets stampeded and commits this travesty of justice. The NAACP has at least had the courage to come back and say 'we were wrong' and apologize. Now the administration needs to to the same thing. The president -- tonight -- ought to order the Agriculture Department to reopen this case, give this woman a fair hearing, and -- if the facts are as they seem -- reinstate her with an apology. Indeed, I think she deserves a whole lot more than an apology. I think she deserves honor for her attempts to bring people together."
Tuesday was anything but routine for Sherrod, but it started as just another day on the farm for a man named Roger Spooner. The 87-year-old Albany, GA resident was out on his Peterbilt truck, his wife Eloise was inside on the telephone. On the other end of the line was CNN's Tony Harris.
"She's a good friend," said Eloise of Sherrod. "She helped us save our farm."
Roger Spooner was the man Sherrod had allegedly discriminated against. Eloise started talking about the treatment their old friend has received. "That ain't right. They have not treated her right."
It was a moment of perfectly timed live TV for CNN, who had pursued the story relentlessly all day. The camera showed Sherrod sitting. Listening. Her eyes watered and she pumped her fist in celebration and -- above all -- validation.
Even her so-called victims were flocking to her defense. Hours later, Roger went on the record and boiled everything that had happened to Sherrod into one word familiar to farmers and city folk alike.
Life moves at a slower pace for many in rural communities. Sherrod had dedicated much of her own life to serve those people, but she appears to have been run over amid the breakneck speed of politics and a nonstop news cycle.
The video clip that cost her a job was just a couple minutes edited out of a lengthy appearance at a local NAACP banquet. Sherrod was at the podium for over 40 minutes, often preaching racial unity. "There is no difference between us," she told the crowd. Later in the speech, she added, "White people, black people, Hispanic people, we all have to do our part."
Yet the version that initially went public only showed her introduction to a story about the first time she helped a white farmer -- Spooner -- save his farmland. Citing her feeling that Spooner was trying to make himself appear "superior" to Sherrod, she acknowledged that she first "didn't give him the full force of what I could do." The clip provided no sense of the lengths she would eventually go to in order to help Spooner save his farm, nor any indication that the pair became friends.
The video gave little sense of when everything occurred, only a reference that, at the time of the incident, Chapter 12 bankruptcy had recently been enacted for family farmers. An obscure reference for many viewers, that protection was enacted back in 1986 -- more than two decades before she joined the USDA. That time frame was first reported on HuffPost early Tuesday morning. While speculation raged online about a potential abuse of power, few were aware that she was working for a community organization at the time.
Sherrod has since clarified on CNN, "If I had discriminated against him, I would not have given him any help at all because I wasn't obligated to do it by anyone. I wasn't working for the government. I didn't have to help him. But I did."
The edited video clip did include one key statement casting Sherrod in a positive light, an acknowledgment that the encounter with Spooner "opened my eyes." That was only her first experience helping a white farmer. On Tuesday she pointed out that she has helped hundreds more.
Also first reported Tuesday on HuffPost, Sherrod appears to have worked actively on behalf of the civil rights movement. She and her husband, Charles, were part of a multi-million dollar lawsuit against the USDA stemming from civil rights violations in the 1980s. That case wasn't settled until May of last year, just two months before her appointment to the agency. There is even a park in their hometown named the Charles M. Sherrod Civil Rights Park.
Sherrod felt hurt by the harsh position initially taken by the NAACP's national leadership, who apparently weren't aware of the entire context of the speech she gave to the local branch of the group. "I've done more to advance the causes of civil rights in this area than some of them who are sitting in those positions now with the NAACP," she told CNN on Tuesday afternoon. "They need to learn something about me. They need to know about my work. They need to know what I've contributed through the years."
Regardless of what Sherrod has done over the years, it's now clear what she did during her speech -- make a heartfelt point about looking beyond race.
The NAACP has been faulted by critics for pouncing on Sherrod before all the facts could be gathered, but the organization's president, Benjamin Jealous, made it clear that their "zero tolerance policy" was misapplied because of the way the video clip had been edited. He now calls it a "beautiful story of transformation." The NAACP recently made headlines after passing a resolution condemning the tea party movement for tolerating bigotry. The subsequent media storm may have increased pressure to speak out quickly on this new situation.
Early Wednesday morning, USDA Secretary Vilsack backed off his own "zero tolerance policy" and said that he would "conduct a thorough review" of Sherrod's departure from the USDA. He had previously cited concern over a "checkered history" of discrimination at the agency.
"If I could move beyond race, if I could move beyond the ability to try to hate, and when you look at what happened to us, when you look at what was done, if I could move beyond that to a life of love and service, we all should be able to do it. And that's my message."
It remains to be seen if the administration will get her message.
WATCH SHIRLEY SHERROD ON CNN WITH TONY HARRIS:
WATCH SHIRLEY SHERROD ON CNN WITH ANDERSON COOPER:
WATCH SHIRLEY SHERROD'S FULL SPEECH AT THE NAACP BANQUET:
WATCH THE EDITED VERSION OF SHIRLEY SHERROD'S SPEECH:
Popular in the Community