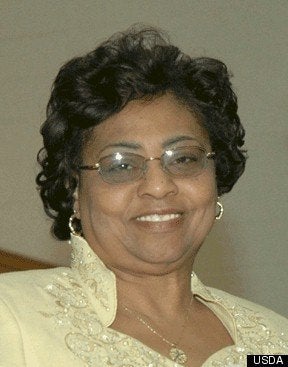 ***UPDATED*** 7/20/10, 6:49PM
Shirley Sherrod says that she was forced to resign from her position at the USDA after her comments were taken out of context.
The NAACP has retracted its initial statement condemning those comments and says they were "snookered." They are calling for the administration to reconsider Sherrod's ouster.
***UPDATED*** 7/20/10, 12:46PM
The Atlanta Journal-Constitution reports that the woman Sherrod allegedly discriminated against considers Sherrod a "friend for life" and insists that she worked tirelessly to save her family's farm.
82-year-old Eloise Spooner says Sherrod "kept us out of bankruptcy."
"Her husband told her, 'You're spending more time with the Spooners than you are with me,' "Spooner told the AJC. "She took probably two or three trips with us to Albany just to help us out."
Sherrod also told the AJC that the incident took place 24 years ago, and that she told the story in order to emphasize the need to move beyond race. "The story helped me realize that race is not the issue, it's about the people who have and the people who don't," she said.
Read more from the AJC here.
Shirley Sherrod, a USDA official in Georgia, has resigned after publicly admitting that race played a factor in her decision to limit how much aid would be given to a white farmer.
Sherrod, who is African American, made the comments during a local NAACP banquet on March 27, according to information displayed on the video. A clip of her speech first appeared Monday morning on BigGovernment.com and aired that evening on Fox News.
In her controversial speech, Sherrod discussed the first time she was "faced with having to help a white farmer save his farm." She claimed that during the conversation, the man "was trying to show me he was superior to me."
"I was struggling with the fact that so many black people had lost their farmland," Sherrod told the crowd. "And here I was faced with having to help a white person save their land."
"I didn't give him the full force of what I could do."
During the portion of her speech posted online, she mentioned that Chapter 12 bankruptcy had just been enacted for family farmers. That protection started in 1986, more than two decades before Sherrod joined the USDA. She added that the incident "opened my eyes."
The website for the department Sherrod last oversaw has a notice clearly stating that the USDA "prohibits discrimination in all its programs and activities on the basis of race, color, national origin, sex, religion, age, disability, political beliefs, sexual orientation, and marital or family status."
Sherrod appears to have a long record in the civil rights movement prior to her USDA appointment, which came almost exactly a year ago. It's possible that she has been on the other side of the "checkered history" that Vilsack referred to.
A picture on the RDLN website shows her standing with her husband next to a sign for the Charles M. Sherrod Civil Rights Park in their hometown of Albany, GA.
NAACP President Benjamin Jealous issued a statement late on Monday saying his organization was appalled by Sherrod's "shameful" actions.
Sherrod, 62, lives in Albany. She was appointed to her position in by Obama in July 2009 to manage more than 40 housing, business and community infrastructure and facility programs, and more than $114 billion in federal loans.

Before that, she had served as director of the Georgia field office for the Federation of Southern Cooperative/Land Assistance Fund.
WATCH SHIRLEY SHERROD AT THE NAACP BANQUET:
FULL STATEMENT FROM NAACP PRESIDENT BENJAMIN JEALOUS:
Since our founding in 1909, the NAACP has been a multi-racial, multi-faith organization that-- while generally rooted in African American communities-- fights to end racial discrimination against all Americans.

We concur with US Agriculture Secretary Vilsack in accepting the resignation of Shirley Sherrod for her remarks at a local NAACP Freedom Fund banquet.

Racism is about the abuse of power. Sherrod had it in her position at USDA. According to her remarks, she mistreated a white farmer in need of assistance because of his race.

We are appalled by her actions, just as we are with abuses of power against farmers of color and female farmers.

Her actions were shameful. While she went on to explain in the story that she ultimately realized her mistake, as well as the common predicament of working people of all races, she gave no indication she had attempted to right the wrong she had done to this man.

The reaction from many in the audience is disturbing. We will be looking into the behavior of NAACP representatives at this local event and take any appropriate action.

We thank those who brought this to our national office's attention, as there are hundreds of local fundraising dinners each year.

Sherrod's behavior is even more intolerable in light of the US Department of Agriculture's well documented history of denying opportunities to African American, Latino, Asian American, and Native American farmers, as well as female farmers of all races. Currently, justice for many of these farmers is being held up by Congress. We would hope all who share our outrage at Sherrod's statements would join us in pushing for these cases to be remedied.

The NAACP will continue to advance the ideals of America and fight for freedom, justice and fairness for all Americans.
Popular in the Community