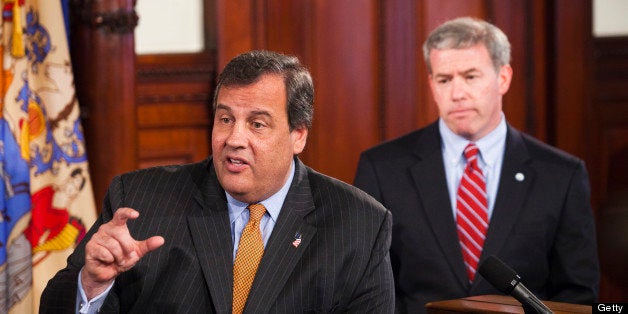 A Democratic state senator in New Jersey has a response to Gov. Chris Christie's (R) decision to hold an October U.S. Senate special election: Move all elections to that day.
State Sen. Shirley Turner (D-Lawrenceville) has introduced legislation to move every state election this year to Oct. 16, the same day Christie scheduled a special election to fill the Senate seat left vacant by the death of Sen. Frank Lautenberg (D) this week. Christie picked the October date -- along with an Aug. 13 special primary -- saying it would provide New Jersey residents "a choice and a voice" in the Senate sooner, rather than waiting until November 2014, an option under one reading of state law. Democrats have criticized the decision, which will cost $24 million, saying the special election should be in November, an option under another reading of state law.
Turner said she wants to save taxpayers at least $12 million and prevent potential voter fatigue with her bill. The Oct. 16 Senate race comes 20 days before the Nov. 5 election for governor, the entire state legislature and local offices. The nonpartisan New Jersey Office of Legislative Services has said that each election will cost $11.9 million to run.
"The governor continues to say he is a conservative when it comes to spending taxpayer money. This boggles the mind," Turner said of Christie's decision. "It is hypocritical to say you are concerned about saving money, and then turn around and say you don't know and don't care about how much it costs. It does not jibe."
Turner said that she believes Christie pushed for the October election, to drive down Democratic turnout in his own election in November. Christie is currently leading Democratic gubernatorial nominee Barbara Buono by more than 30 points. The October race also would potentially keep Democratic Senate candidate Cory Booker, who is facing Reps. Frank Pallone and Rush Holt in the August Senate primary, off the November ballot and prevent the Newark mayor from providing coattails to Buono and Democratic legislative candidates.
"It's not like he wants to win by a comfortable margin; he wants a blowout," Turner said.
Christie has said that politics did not play a role in his decision. On Thursday, he appointed state Attorney General Jeff Chiesa (R) to serve as a senator until October. Former Bogota Mayor Steve Lonegan is currently the only declared Republican Senate candidate.
Christie was quick to dismiss Turner's bill, saying during a Thursday press conference that it would "be on the ash heap" with other unsuccessful legislation. Turner said she is confident the bill can pass the Legislature before lawmakers recess for summer vacation later in June. At the same time, Turner said she is realistic that the bill would need GOP support to override a Christie veto.
"He has the Republican legislators in his pocket," Turner said. "They won't defy this governor. He rules with an iron fist."
New Jersey lawmakers have changed election dates before. In 2001, the then-GOP-controlled Legislature and then-Gov. Donald DiFrancesco (R) delayed the June primary by several weeks, saying it was needed due to the late release of new state legislative maps after redistricting. The delay also provided DiFrancesco additional time to drop his bid for a full term, in favor of another candidate, after a series of ethics accusations imperiled his campaign. In addition, lawmakers and Christie moved local school elections from April to November.
Buono's campaign continued to hammer Christie over the cost of the special election and said it should be held in November.
"Governor Christie's shameless decision to hold a $24 million special election on a Wednesday in October only serves to disenfranchise voters and waste taxpayers' money," Buono spokesman David Turner said. "There is no reason not to hold the special election on the same day as the general election three weeks later."
REAL LIFE. REAL NEWS. REAL VOICES.
Help us tell more of the stories that matter from voices that too often remain unheard.
BEFORE YOU GO
PHOTO GALLERY
Politicians React To Frank Lautenberg's Death