A Hawaii woman says she was forced to hold her son on her lap for a three-hour United Airlines flight last week after the company sold his seat to a standby passenger.
Shirley Yamauchi, 42, purchased two tickets for nearly $1,000 each so she and Taizo, her 27-month-old son, could fly together from Hawaii to Boston, where she was attending a teacher conference. United Airlines policy requires passengers above the age of 2 to fly in their own seats.
Yamauchi told HuffPost she was sitting on the plane with her son after a five-hour layover in Houston when a man came to their row and showed his ticket, which had the same seat number as her son's. He said he was a standby passenger.
Yamauchi said she told a flight attendant about the issue after the man arrived, but was offered no help.
"She shrugged, said the flight was full," Yamauchi told HuffPost. "The whole transaction was very quick."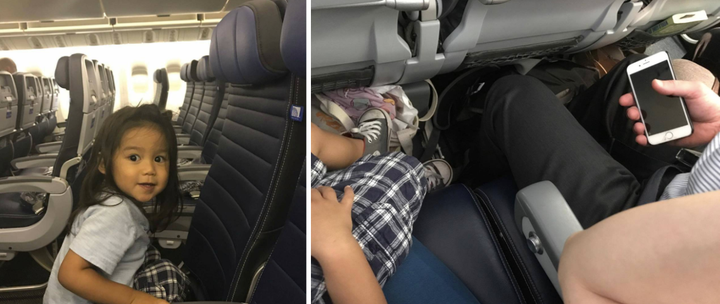 After the flight attendant walked away, Yamauchi, who is 5 feet 2 inches tall, said she had to move her 25-pound son onto her lap and endure the seating arrangement for the 3 1/2 hour flight to Boston. The passenger who took her son's seat was one of the last people to board the plane, and the flight departed soon after.
The seating arrangement was so painful, Yamauchi said, that her 2-year-old had to stand or crouch on the floor at times because he became too heavy to hold.
Taizo is "half my height," Yamauchi told Hawaii News Now. "I was very uncomfortable. My hand, my left arm was smashed up against the wall. I lost feeling in my legs and left arm."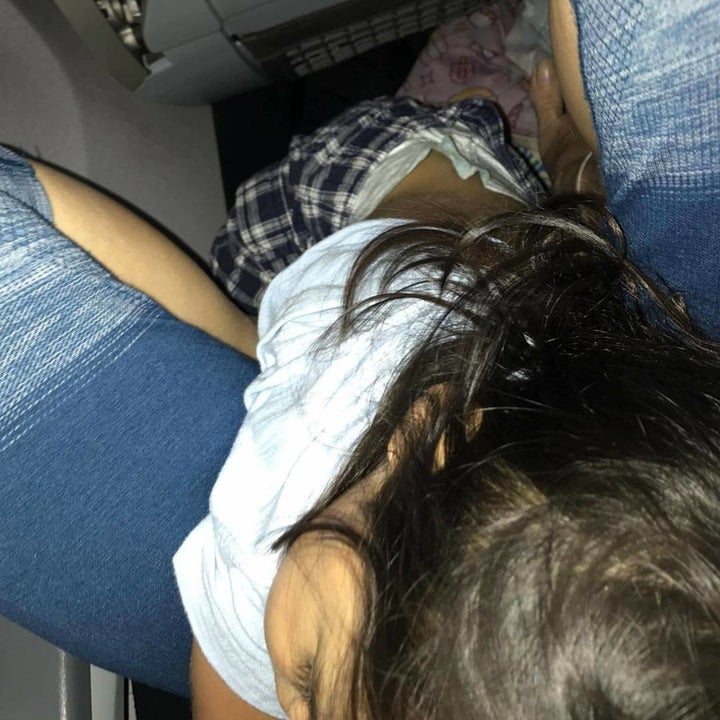 No other flight attendants asked Yamauchi about the seating arrangement for the remainder of the flight, despite the fact that it violated United's own "traveling with children" policy. The FAA also strongly advises against allowing children to sit on an adult's lap during flights because "arms aren't capable of holding your child securely, especially during unexpected turbulence."
When asked why she didn't push the issue with flight staff, Yamauchi said she was afraid of retaliation due to previous incidents on United flights that resulted in violence.
"I started remembering all those incidents with United on the news. The violence. Teeth getting knocked out," she told Hawaii News Now. "I'm Asian. I'm scared and I felt uncomfortable. I didn't want those things to happen to me."
Yamauchi told HuffPost she attempted to file a formal complaint with United after the flight, but a customer service representative told her to call back on July 6. United did not respond to HuffPost's emails asking about the delay.
Five days after Yamauchi arrived in Boston, news outlets in Hawaii reported on her ordeal. United then issued a formal apology to the mother.
United Airlines spokesman Jonathan Guerin said in a statement to NBC that employees had "inaccurately scanned" Taizo's boarding pass, which made him appear to not be checked in for the flight. As a result, his seat was released to another customer, forcing Yamauchi to hold her son instead.
"We deeply apologize to Ms. Yamauchi and her son for this experience," the United spokesman said in the statement. "We are refunding her son's ticket and providing a travel voucher. We are also working with our gate staff to prevent this from happening again."
Popular in the Community