More than 20 years ago, Dr. Ann Moliver Ruben designed a T-shirt that read "Someday a woman will be president!" It was pulled from a Walmart store in 1995 because it was deemed offensive ― a news story that resurfaced again this week when Democrat Hillary Clinton became the first woman nominated as the presidential candidate for a major party.
Ruben is 91 years old now. And she's made more shirts, but with a small tweak. The new shirts still say "Someday a woman will be president" on the front, but now they say "Someday is now" on the back.
"I never thought it would happen," she told The Huffington Post. "But it has happened, and God has been good enough to keep me alive so that I could see it for real happening."
Ruben is "very much a Hillary supporter" and said she will do everything she can to help Clinton get elected. She said her desire to see a woman president dates back to when she was 8 years old, when a male cousin made her play a game called "business" in which he was the company president and she was his secretary. After playing that way for two days, she said she wanted to switch.
"He said 'Are you crazy, Annie? Boys are never secretaries and a girl could never be president of anything,'" and then punched her in the stomach, she said.
Her aunt comforted her and said that sometimes boys could be mean.
"But my aunt didn't tell me what I needed to hear. And I needed to hear 'Of course a girl can be president,'" Ruben said. "So that was the beginning."
Ruben said her father always told her she was smart and supported her. She never wanted to actually be the president, but she did want to get an education. She received her Ph.D. in psychology and became a professor before spending a 35-year career as a marriage and family therapist in Florida.
She wrote a book, The Memoirs of a Happy Psychologist, that she said was well-received. "Many people who read my book have told me that I'm a genius," she said. "And a couple men have told me that as a result of reading my book, they have fallen in love with me."

She and her husband, who is now deceased, had three children, all boys, and four grandsons. Ruben said she raised her sons to respect women, because they watched her get an education and work.
"Their whole life they saw their mother as a feminist who believed that women could achieve because that's what my father told me: 'You're smart, Annie,'" she said.
She also designed the T-shirt, which she sold in a Walmart in Florida in 1995 before the store received complaints. A Walmart spokeswoman told the Associated Press at the time that "it was determined the T-shirt was offensive to some people and so the decision was made to pull it from the sales floor."
The Walmart of today doesn't stand by that comment. "Wow, it still pains us that we made this mistake 20 years ago," spokeswoman Danit Marquardt said in a statement on Wednesday. "We're proud of the fact that our country – and our company – has made so much progress in advancing women in the workplace, and in society."
Ruben said she sent a small version of the "Someday a woman will be president" shirt to Clinton when the former secretary of state's first granddaughter was born in 2014.
She read the note she received back: "Dear Dr. Ruben, Thank you for your kind note and for the adorable T-shirt. I remain grateful for your thoughtfulness and good cheer at this happy time for my family and appreciate your support. Onward!"
Ruben is not attending the Democratic National Convention in Philadelphia this week, but does plan to support Clinton in person next January.
"When she's sworn in in Washington, D.C., I'm putting my T-shirt on and I'll be there," she said.
This story has been updated with a comment from Walmart.
Before You Go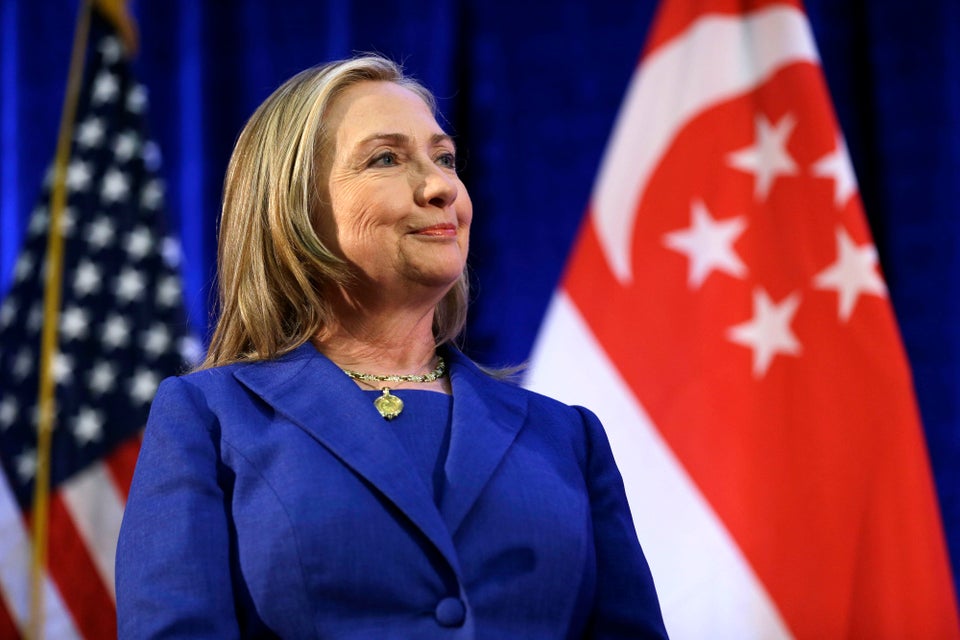 Hillary Clinton
Popular in the Community