So this just happened. Enjoying the weather, are you, "Ethan"?

Posted by WGN TV on Sunday, December 13, 2015
'
Today's forecast: hot and heavy.
A hunky shirtless jogger who was caught running in the rain by a Chicago TV reporter has been become the city's most eligible bachelor after his interview went viral.
"Ethan the Shirtless Wonder," as Ethan Renoe's been dubbed by WGN-TV, left hundreds of women giggling and fanning themselves on social media after his Sunday night cameo during a report on the city's unseasonably warm 60-degree temperatures.
"Too wet to wear a shirt, ya know?" he cheerfully explained amid a light rainfall.
Taking advantage of his unscripted airtime, he proudly announced he's single, leading the reporter to playfully respond, "We're asking the ladies of Chicago to give WGN a call."
Needless to stay, viewers loved it, and the original video has been viewed on WGN's Facebook page more than 1.3 million times.
It also led to Renoe being brought back for a follow-up interview on Monday morning -- this time wearing not only a shirt, but also hat -- where he proudly announced that he's a Christian.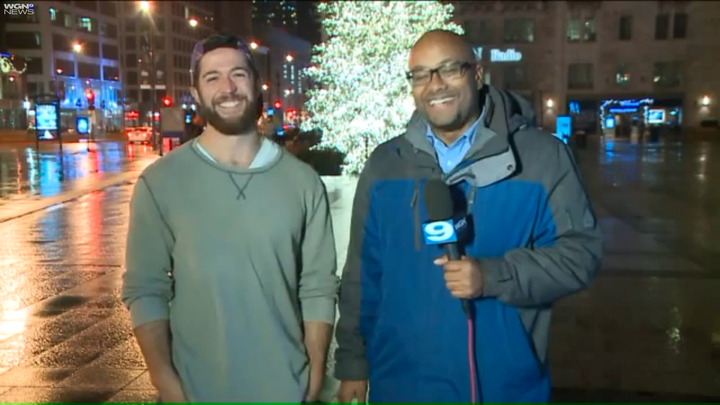 Fans responded with enthusiasm on WGN's Facebook page, with some asking the station how they could set up friends or family members with him.
"Whoa! He just might find a lot more love than he needs!" one person wrote.
PHOTO GALLERY
Mmhmm, it's sexy pizza stock photos
Calling all HuffPost superfans!
Sign up for membership to become a founding member and help shape HuffPost's next chapter