Just over half of those polled last Thursday and Friday said they'd heard about the comment. Attention was concentrated among the president's opponents, with more than 70 percent of Clinton voters, but just over half of Trump voters and less than 40 percent of nonvoters and third-party voters saying they were familiar with the remark.
Just over one-quarter of Americans said they agreed with the comment, while 58 percent said they disagreed. By a 20-point margin, 53 percent to 33 percent, Americans said it was racist to call African countries and Haiti "shithole countries."
The survey question read, "According to a recent news report, President Trump asked 'Why are we having all these people from shithole countries come here?', referring to immigration from African countries and Haiti."
Trump allies and others familiar with the meeting have argued, at varying times, that the president said nothing of the sort, that he actually said "shithouse," that he used the word "shithole" to describe African countries but not Haiti, and that Trump did make the "shithole countries" comment as reported, but that the comment was acceptable.
A near-universal 94 percent of Clinton voters disagreed with the statement, most of them citing strong disagreement, and 92 percent said they considered it racist. A slight majority of nonvoters and third-party voters said they disagreed with the statement, and about the same amount said they believed it was racist.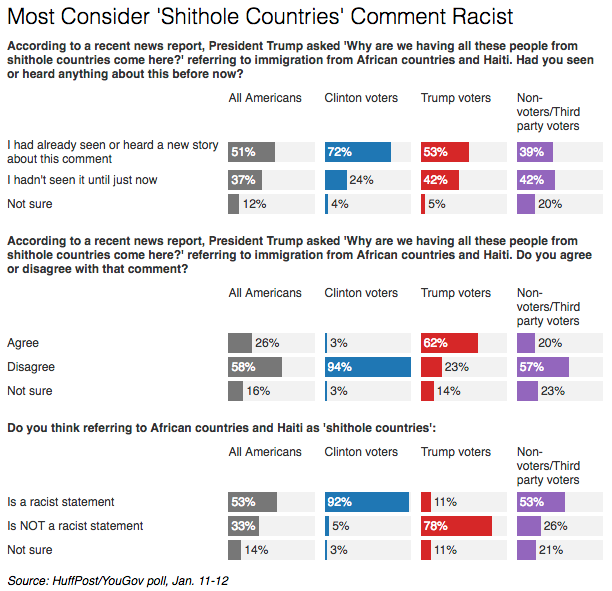 A broad majority of Americans, regardless of whom they voted for in the last election, still believe that the U.S. is a nation of immigrants, and just over half said that immigration is, on the whole, a good thing for the country. But while 84 percent of Clinton voters said that immigration is, on the whole, a good thing for the country, and just 4 percent said it's a bad thing, Trump voters said 40 percent to 34 percent that immigration is a bad thing for the U.S. (The rest said it's neither good nor bad, or that they were unsure.)
A closer look at opinions on different groups of immigrants to the U.S. shows little public concern over an influx of people from some of the countries Trump reportedly maligned, although Trump voters were roughly twice as likely to say Africa sends too many immigrants than to say the same about Europe.
Overall, between 36 and 41 percent polled said immigration has been too high in recent years from "Mexico and Central America," "predominantly Muslim countries" and "the Middle East." Under one-quarter of respondents said the same about "China, India and other parts of Asia," or about African nations, with even fewer respondents saying the U.S. admits too many immigrants from Europe or from "predominantly Christian countries." (A 2016 poll from PRRI and the Brookings Institution, which asked a similar question, found concerns even more substantially focused on Mexico and Central America.)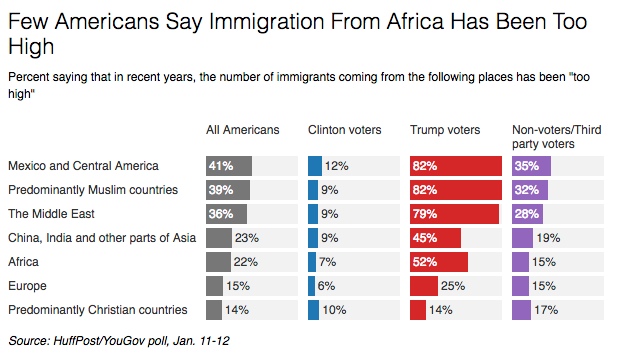 Just under half of the country, including three-quarters of Clinton voters and one-tenth of Trump voters, said that immigration was not too high from any of the countries or regions listed.
Use the widget below to further explore the results of the HuffPost/YouGov survey, using the menu to select survey questions and the buttons at the bottom to filter the data by subgroups:
The HuffPost/YouGov poll consisted of 1,000 completed interviews conducted Jan. 11-12 among U.S. adults, using a sample selected from YouGov's opt-in online panel to match the demographics and other characteristics of the adult U.S. population.
HuffPost has teamed up with YouGov to conduct daily opinion polls. You can learn more about this project and take part in YouGov's nationally representative opinion polling. More details on the polls' methodology are available here.
Most surveys report a margin of error that represents some, but not all, potential survey errors. YouGov's reports include a model-based margin of error, which rests on a specific set of statistical assumptions about the selected sample rather than the standard methodology for random probability sampling. If these assumptions are wrong, the model-based margin of error may also be inaccurate. Click here for a more detailed explanation of the model-based margin of error.
CORRECTION: A previous version of this story misstated the percentage of Americans surveyed who do not believe Trump's statement is racist. That figure is 33 percent, not 26 percent.
Calling all HuffPost superfans!
Sign up for membership to become a founding member and help shape HuffPost's next chapter