 KATHMANDU (Reuters) - Ringed by an endless stream of pilgrims at an ancient temple in Kathmandu, Hindu holy man Mahant Ramnaresh Giri sat naked and puffed on a pipe filled with cannabis, his body smeared with ash as he took part in Nepal's biggest annual religious event.
Giri was one of more than a hundred such naked ascetics at the ancient Shivaratri festival, which brings an estimated one million devout Hindus flocking to Kathmandu's Pashupatinath temple each year for rituals to cleanse them of sin and earn a place in heaven.
Holy men such as Giri, 35, bless them and smoke cone-shaped pipes of cannabis as part of the annual festival dedicated to Shiva, the god of destruction.
"After I smoke I get a feeling that I have overcome worldly pleasure and dissolved myself in the universe," said Giri, smoke billowing around his head.
After Shiva's consort died, legend has it, he came to the forests near the temple, his body smeared with ash. Smoking cannabis, which grows wild in the forests of Nepal, he wore a serpent and draped his waist with a tiger skin as he wandered.
Cannabis is illegal in Nepal, but permitted as a religious ritual for ascetics during the festival, which took place at the weekend. The only explanation for this is that the ascetics are imitating Shiva.
The ban is ignored during the festival for the ascetics, who are allowed to smoke inside the temple complex but not sell or distribute it to pilgrims.
Authorities supplied the drug to holy men in the past but the practice was discontinued in the 1990s after critics said it amounted to promoting its consumption.
For pilgrims, the rituals are more mundane and involve pouring milk on a stone phallus and making offerings of fruit, sandalwood paste and incense sticks. Holy men such as Giri press ash-covered thumbs onto their foreheads and bless them.
"I became an ascetic for the protection of our religion, the welfare of the world and myself," said Giri, his dreadlocked hair and beard not combed or cut for 17 years.
This year's festival included modern touches such as 65 CCTV cameras to help guard crowds estimated to have topped one million devotees. Some of the holy men also played music on their mobile phones.
But for most, the festival remains deeply spiritual.
Krishna Nanda, a Romanian holy man wrapped in white cloth who came to India to study Sanskrit, said his desire to know more about life was behind his renunciation of physical and worldly pleasure two years ago.
"I love everything in society and god ... I am always happy," said the 23-year-old.
(Reporting by Gopal Sharma, editing by Elaine Lies)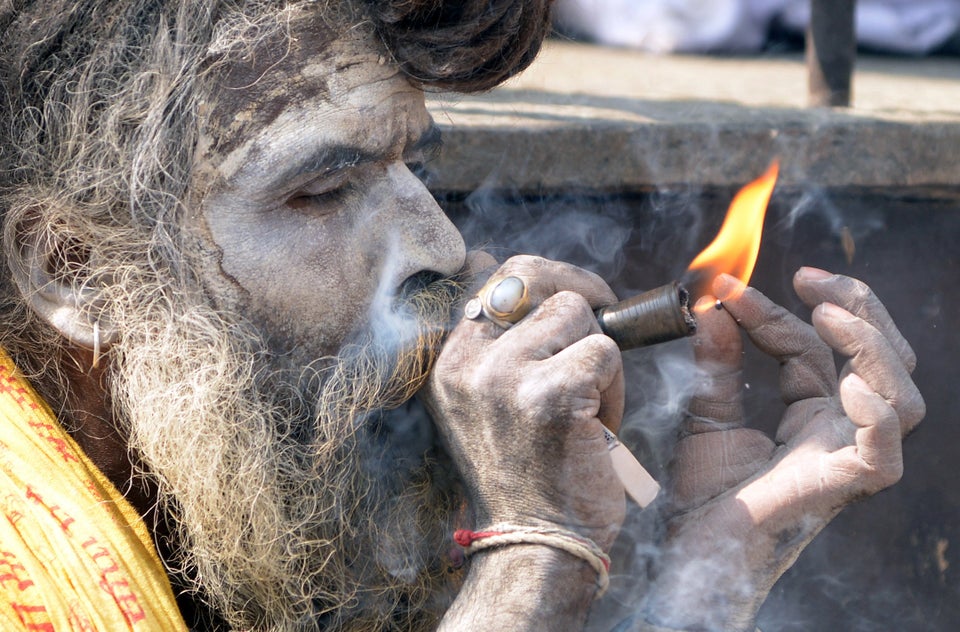 Shivaratri festival
Popular in the Community