If Shobi's Table had a tagline, it might read: Not quite a food truck, not quite a church. It falls in between categories, much like the pastor who runs it and the people it serves.
"We [Lutherans] are a little bit odd, as far as Christians are concerned," Margaret Kelly, the pastor-mastermind behind Shobi's Table, told HuffPost. "We live in paradox. We say that we are both saints and sinners. We live in that uncomfortable grey area."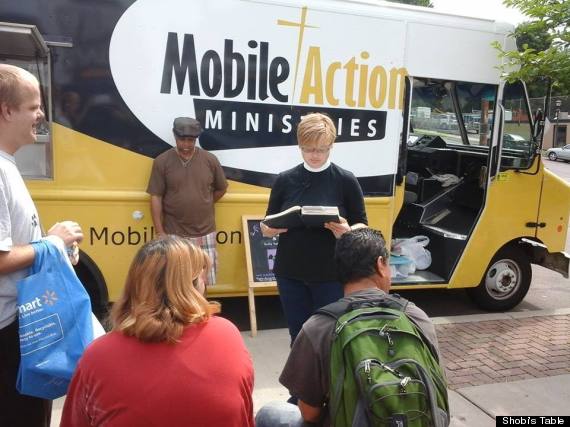 The unorthodox ministry serves free hand pies one day a week to primarily poor and homeless people in St. Paul, Minnesota. Named after a passage in the Bible's Second Book of Samuel, Shobi's Table isn't the first food truck ministry -- and in fact borrows its truck from another Minnesota nonprofit, Mobile Action Ministries. But it's certainly one of the few, and one that prioritizes food over religion and service over evangelism.
"[Lutherans] are gentle evangelists," Kelly said. "We're not asking people to take Jesus as their personal savior. God is calling people to us to be in relationship to us."
The neighborhood where Kelly parks the truck is one she referred to as "isolated" and "racially diverse," located just down the street from a public housing high rise, a mental health treatment program, a Salvation Army outpost, a Family Dollar store and several storefront, evangelical churches.
Shobi's Table served its first meal on April 17 -- also the Christian holy day Maundy Thursday -- but it took several weeks to find its niche.
"We spent the first five weeks trying to figure out where to go and what to do," Kelly told HuffPost. "We parked randomly on the East side of St. Paul in a poor area. And it turned out that's where we needed to be."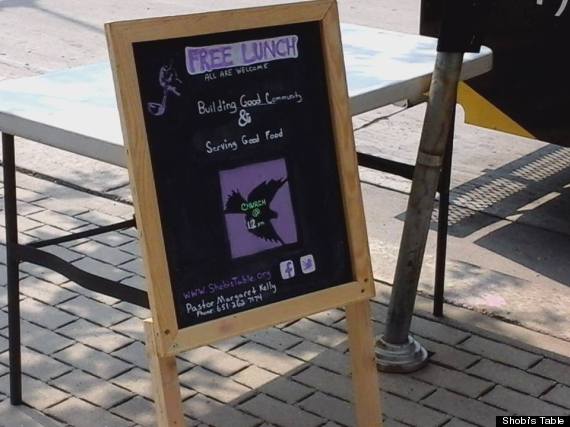 Like her fledgling food truck ministry which took some time to find its proper place, Kelly's path has taken many turns. The middle child between two severely handicapped siblings, Kelly said she grew up in an environment of social justice work. Her father was a pastor, her mother a nurse. Together her parents founded Peoples Church which to this day focuses on ministering to the poor and homeless and being a space that welcomes the spiritual traditions of Minnesota's Native American populations.
"I was taught from a young age to be of service to people," Kelly said.
Kelly received two degrees concurrently -- a Masters of Divinity from Luther Seminary and her Masters of Social Work from the University of St Thomas and College of St Catherine. She waited three years to accept her first call as a pastor, though, and decided to focus first on social work. During that time she had between 30-35 people in her case load who she would check in with anywhere from once a month to 2-3 times a week. This experience prepared her in many ways, she said, for her work pastoring to impoverished communities through Shobi's Table.
In addition to her career development, there was also the matter of Kelly's romantic relationship. In 2011 Kelly married her wife, Eileen. At the time of her graduation in 2009, though, the Lutheran Church was still several months shy of voting to allow the ordination of gay ministers.
Same sex marriage is now legal in the state of Minnesota, the Lutheran Church has since allowed the ordination of people in same sex partnerships, and Kelly has found a ministry that speaks to her and allows her ample time to parent her two-year-old daughter.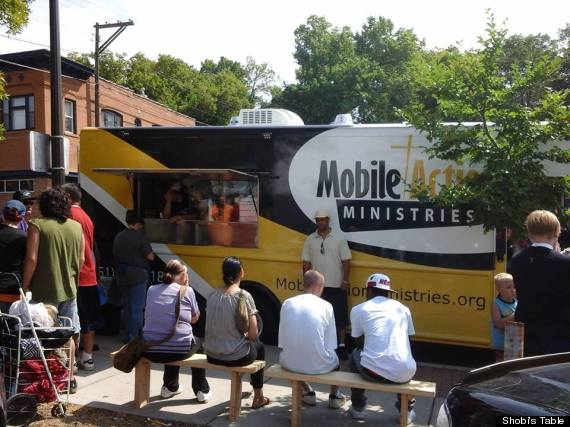 Time and again, Kelly said she finds that the people who flock to Shobi's Table are coming there for more than just the free food.
"People are deeply hungry for prayer on the streets," Kelly said. "People are hungry to be known, to be seen."
The bulk of the "religion" Kelly does at Shobi's Table comes in the form of prayer requests. Community members ask for her support, and she prays with them. These requests come in many forms: prayers for the neighborhood, for families, for relationships, and occasionally for more harrowing issues.
"I had a young man who turned to me and said 'I need prayer.' 'Okay,' I said. 'Prayer for what?' 'Pray that I don't get in trouble.' 'What kind of trouble?' I asked. 'Jail,' he said. 'Why would you go to jail?' 'Shooting.' And so I prayed with this young man."
In an area where shootings occur semi-frequently and poverty is a known reality, the ministry of Shobi's Table runs the risk of becoming a charity -- something Kelly said she avoids.
"The aim is to empower the community," Kelly said. "We cook together, we serve together."
The truck currently has about six devoted volunteers who show up every week eager to help. Kelly organizes the menus, and volunteers help with the operations.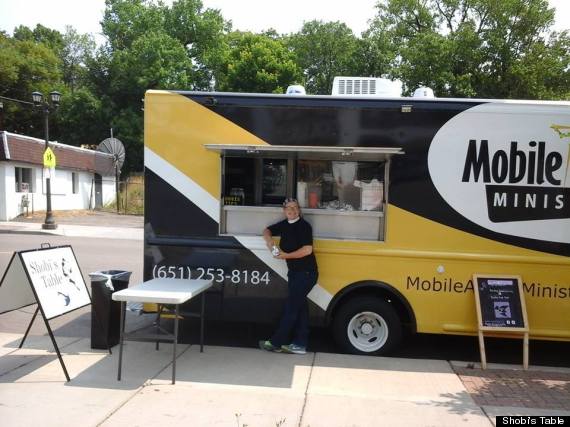 Kelly said she decided on hand pies as the truck's food of choice early on as something that "many cultures around the world" have some version of. It ties in with the Lutheran tradition of having partner synods around the world -- and Kelly plans on expanding the truck's menu to reflect her church's sister congregations in Tanzania and Guatemala.
In addition to the menu, Kelly said she hopes to expand the program to eventually have its own truck with increased hours, a separate church entity and a formalized vocation program for work readiness, skill development and relationship building.
Shobi's Table is a service and a ministry, but most of all, Kelly said, it's a blast.
Related
Popular in the Community