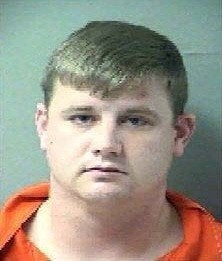 A Florida man is behind bars after cops say he brutally tortured two young girls by using a dog shock collar to punish them.
Michael Lee Mitchell, 28 -- an Army Special Forces soldier living in Crestview -- was arrested this week when detectives discovered that he allegedly shocked two girls, ages 8 and 4, and made them do extreme physical exercise regularly until they threw up, according to FOX 10.
"It breaks my heart to know that somebody could do that," a neighbor, who declined to give her name, told the station. "Knowing that it was in our neighborhood so close to home and knowing that our daughter played with those little girls, knowing that she could've seen something happen in watching them play outside and not knowing that something was going on. It's horrible."
During the horrific abuse, Mitchell allegedly wrapped the shock collars around the 8-year-old's arm and the 4-year-old's waist, and then forced them to run. If either of the helpless girls stopped running, he'd give them a jolt, according to WKRG-TV.
Cops wouldn't say what Mitchell's relationship was to the girls to protect their privacy. He's being held on $200,000 bail, and the girls were put in care of the county Department of Children & Families.
The Association of Pet Behavior Counsellors told FOX 10 that it doesn't recommend the use of shock collars on dogs -- many people are unaware of how much pain the devices can cause.

Related
Popular in the Community