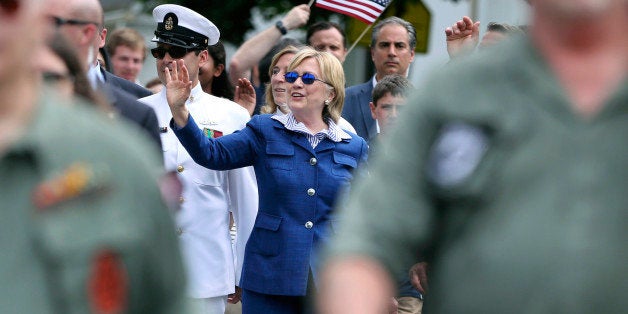 Buried in the latest Washington Post poll of Virginia, where Hilary Clinton has a 52-38 lead is a stunning finding.
Among veterans, Hillary Clinton leads by 8 points, 49-41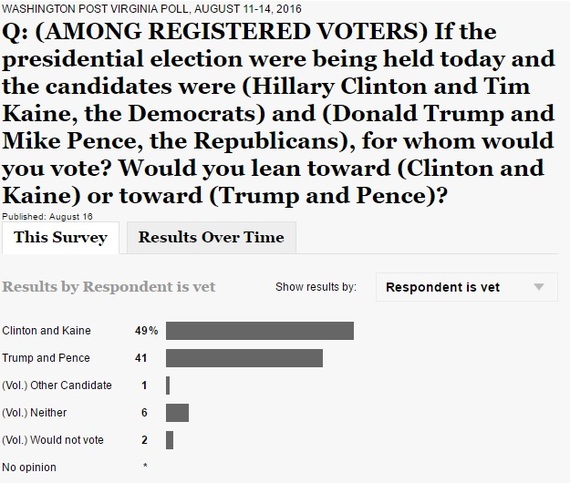 Back in May, I noted in this Huffington Post piece that Trump was significantly underperforming with veterans nationwide. At that time, he was holding a 9-point lead among veterans, where past GOP nominees had held leads of more than 20 points.
I closed that piece by writing, "The reliable lead for the GOP among veterans is quickly evaporating. If this keeps up, Hillary Clinton may be the first Democratic nominee, in a long time, to win the veterans vote, outright."
That certainly seems within the realm of possibility, now. Yes, this is one poll in one state, but in any other presidential cycle in recent years, it would just be inconceivable that a Democrat would lead among veterans in a state with such a strong military and veterans' presence, like Virginia.
But that was before the GOP nominated a man who insulted POWs, claimed his time at a military-themed boarding school was just as good as military training, tried to kick veterans who were working as vendors off of Fifth Avenue, near Trump Tower, compared his sexual exploits in the 80s to Vietnam, and then topped it all off by waging an extended campaign to insult a Gold Star family.
To that last point, I have been heading VoteVets for 10 years. Never have I seen such a strong response from our military families, veterans, and Gold Star families, than I did when Donald Trump went after the Khan family. We released this open letter to Trump, from Gold Star Families a couple of weeks ago -- a letter that Gold Star families are still asking to sign.
So, it is not all that shocking that Trump now finds himself in a hole with the veterans' vote, in Virginia.
As reliably Republican states like Georgia, South Carolina, Utah, Texas, and more become the new swing states, do not be surprised if it is driven by Trump underperforming, or flat out losing, the veterans vote.
Popular in the Community