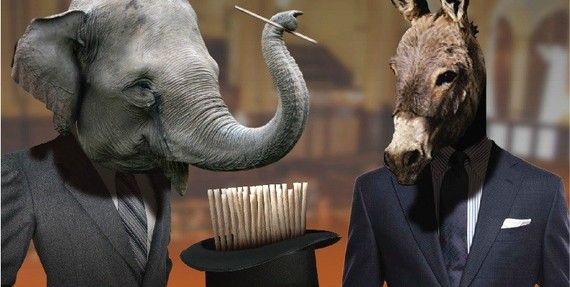 If constitutional amendments for redistricting reform and term limits are placed on the November ballot, they'd likely get a friendly reception from the majority of voters in Illinois.
A new poll conducted by the Paul Simon Public Policy Institute found that two-thirds of Illinois voters support legislative redistricting reform and a whopping 78 percent favor term limits. Just 25 percent and 20 percent say they oppose the measures, respectively. The poll also found more than 60 percent of respondents favor so-called "right-to-work" laws that prohibit mandatory union membership in union-represented workplaces.
Supporters of redistricting reform told polltakers the current system allows lawmakers to gerrymander districts in order to benefit their respective political party, and that having an independent group redraw district lines every 10 years would be a fairer alternative. Opponents argue minority communities are protected by the way maps currently are drawn and writing laws shouldn't be done by individuals who don't hold elected office.
The poll shows 71 percent of voters are in favor of the Illinois Supreme Court adding a neutral, tie-breaking vote to the redistricting panel when lawmakers are at odds over redrawing the legislative map, while 19 percent say they're against the proposed change.
Currently, the Independent Maps coalition is leading the charge against gerrymandering and expects to have enough valid signatures to place a citizen-initiated constitutional amendment on the ballot. The amendment proposes an 11-member, non-partisan commission whose decisions and map-drawing process would be open to the public; 64 percent of voters polled say they favor this type proposal and 25 percent oppose.
Support for redistricting reform is consistent across all demographics and political affiliations, according to the Simon Institute.
"Illinoisans are in a mood to change things," said David Yepsen, director of the Institute. "In addition to redistricting changes, they also support restricting campaign contributions in judicial races and term limits for legislators."
Seventy-two percent say they support campaign contribution limits -- particularly in judicial races -- though liberal voters are more inclined to back campaign finance reform than conservative and centrist voters, according to the Institute.
Of all the state government restructuring questions posed to voters, support for term limits on lawmakers was the strongest, with 78 percent in favor and 20 percent against imposing term limits.
Another interesting finding from the poll is voters' views on right-to-work, which is one of the most divisive items in Gov. Bruce Rauner's "Turnaround Agenda."
More than half, 61 percent, say they would vote or leans towards voting for Rauner's proposal that gives workers the option to opt out of joining a union without putting his or her job at risk; one-third of voters say they would oppose or leans towards opposing right-to-work laws.
While Republican voters were more supportive of right-to-work policies, the majority of Democrats polled surprisingly were in favor of the governor's proposal.

Calling all HuffPost superfans!
Sign up for membership to become a founding member and help shape HuffPost's next chapter