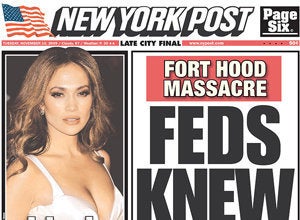 The New York Post editor fired after speaking out against a cartoon depicting the author of the president's stimulus package as a dead chimpanzee has sued the paper. And as part of her complaint, Sandra Guzman levels some remarkable, embarrassing, and potentially damaging allegations.
Guzman has filed a complaint against News Corporation, the New York Post and the paper's editor in chief Col Allan in the Southern District Court of New York, alleging harassment as well as "unlawful employment practices and retaliation."
As part of the 38-page complaint, Guzman paints the Post newsroom as a male-dominated frat house and Allan in particular as sexist, offensive and domineering. Guzman alleges that she and others were routinely subjected to misogynistic behavior. She says that hiring practices at the paper -- as well as her firing -- were driven by racial prejudices rather than merit.
And she recounts the paper's D.C. bureau chief stating that the publication's goal was to "destroy [President] Barack Obama."
The most outrageous charges, however, involve Allan. According to the complaint:
"On one occasion when Ms. Guzman and three female employees of the Post were sharing drinks at an after-work function. Defendant Allan approached the group of women, pulled out his blackberry and asked them 'What do you think of this?' On his blackberry was a picture of a naked man lewdly and openly displaying his penis. When Ms. Guzman and the other female employees expressed their shock and disgust at being made to view the picture, Defendant Allan just smirked... [N]o investigation was ever conducted and the Company failed to take any steps to address her complaints."
Guzman's complaint goes on:
"On another occasion, upon information and belief, Defendant Allan approached a female employee during a party at the Post, rubbed his penis up against her and made sexually suggestive comments about her body, including her breasts, causing that female employee to feel extremely uncomfortable and fearing to be alone with him."
And finally: "... [W]hile serving as the top editor at the Post, Defendant Allan took two Australian political leaders to the strip club Scores in Manhattan..."
Guzman alleges that while at the paper, misogynistic and racist behavior was directed at her specifically. According to the complaint, she was called "sexy" and "beautiful" and referred to as "Cha Cha #1" by Les Goodstein, the senior vice president of NewsCorp. After doing an interview with Major League Baseball star Pedro Martinez, she says Allan asked her whether the pitcher "had been carrying a gun or a machete during the interview" -- a line Guzman said was racist and offensive.
When she would walk by certain offices at the paper, Guzman alleges, editors would routinely sing songs from West Side Story -- a nod to her Hispanic heritage -- including the tune: "I want to live in America."
Guzman also makes the following allegations to supplement her case that the Post harbored an environment that was offensive to women and minority employees.
"A White male senior editor sexually propositioned a young female Copy Assistant, telling her that 'If you give me a blowjob, I will give you a permanent reporter job.'"
"The last five employees who were recently terminated by Paul Carlucci, the Publisher of the Post.... Have all been black and/or women of color."
A spokesperson for the paper, at the New York-based firm Rubenstein Communications, said that the lawsuit "has no merit and is based on charges that are groundless." As for why Guzman was let go from her job, the spokesperson emailed: "Sandra's position was eliminated when the monthly in-paper insert, Tempo, of which she was editor, was discontinued, reflecting the dramatic decline in ad sales across our industry."
In an email to the Huffington Post, Guzman explained her reason for filing the lawsuit as follows: "It's not easy standing up to discrimination, but sometimes you have to do what you feel is the right thing to do in your heart." She was, according to the complaint, editing 24 sections in addition to Tempo.
Guzman was fired from the Post in early October for what editors claim was a failure to attract more readership to her monthly in-paper insert, Tempo. (The paper had terminated the section.) But allies of Guzman insist that it was retribution for her decision to speak out months earlier against a cartoon the paper had published by Sean Delonas. That controversial illustration depicted two befuddled policeman -- having just shot the chimp twice in the chest -- saying: "They'll have to find someone else to write the next stimulus bill." The assumption was that President Obama was the rabid primate.
In the complaint, Guzman said that multiple editors knew that the cartoon was offensive, but didn't do anything about it. It was, she alleges, par for the course when it came to the paper's coverage. Guzman alleged that she had once learned that the Post had planned to run a cartoon in the newspaper depicting Jews as sewer rats. She also alleged that "Charles Hurt, the Post's Washington D.C. Bureau Chief and a high ranking journalist at the newspaper, had confirmed to Ms. Guzman that the Post had such a policy in place, telling her that the Post's 'goal is to destroy Barack Obama. We don't want him to succeed.'"
Hurt directed all questions to Rubenstein Communications.
Guzman ended up publicly airing her dissatisfaction with the illustration. Over the subsequent months, she alleges, her job was made increasingly difficult. Allan, she alleges, refused to allow her to cover a private White House reception with Supreme Court Justice Sonia Sotomayor despite the fact that she'd be the only reporter at the event (Guzman and Sotomayor are friends). Guzman ended up doing a freelance piece instead. Allan also "denied Ms. Guzman" a proper performance review while management began questioning her expenses, she alleges. Ultimately, she was fired.
The complaint is in response to that firing.
"This is an action for declaratory, injunctive and equitable relief, as well as monetary damages, to redress Defendants' unlawful employment practices and retaliation committed against Plaintiff, including Defendants' discriminatory treatment, harassment and unlawful retaliation against Plaintiff, due to her race, color, national origin and/or gender and complaints of discrimination," the complaint reads. "...Behind the trumpeted headlines and within the four walls of the Post exists a hostile work environment where female employees and employees of color have been subjected to pervasive and systemic discrimination and/or unlawful harassment based on their gender, race, color and/or national origin."
Related
Popular in the Community