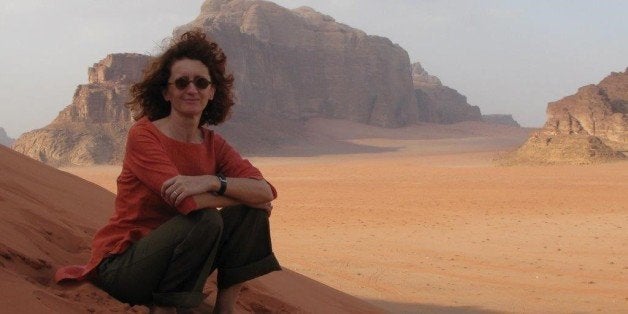 I was diagnosed with cancer on August 25, 2014. It was a shock, like being hit hard on the head. What about my life? What about my plans? What about my dreams? Was my life destined to be full of pain? Was this thing going to kill me?
The doctor said it was Mesothelioma, the type of cancer associated with breathing in asbestos dust. I have no idea how I got it, but luckily, it was caught in the early stage.
Before the diagnosis, I had it all mapped out. I had been approached about an opportunity to relocate from Mauritius, where I was based, to Israel to work for a potential new customer. The future seemed so exciting. It was looking like it might all come together. Then this.
After the diagnosis, I told my Accenture manager, Lana--she is an incredible boss, a good friend and a fabulous mentor. She counselled me, supported me, and put me in touch with people within the company who could help me.
I had to take nearly a year off work. My company gave me all the leave I needed for treatment and recovery and gave me emotional and practical support to navigate things like insurance and medical leave. Personal administration was really the last thing on my mind, but it was important and the support was invaluable.
Earlier this year, I learned that I had received a Mike Scott Trailblazer award from my company. The award honors a colleague who had died of cancer and was a trailblazer at work. Established in the UK, the award is given to employees who have made a significant difference at work and have faced personal challenges.
As my manager mentioned during the award presentation, I'm probably the only Italian employee who never worked in Italy. I joined Accenture, a global professional services company, in Prague in September 2005 and worked in Slovakia, Romania and Mauritius. In collaboration with the recruiting and learning team in Mauritius, we ran a project called "Italian Academy " -- three months of intensive Italian classes and accounting. Over three years, we increased the number of deals transferred from Italy to Mauritius from two to 12.
I won the award because I represent the company's core value of one global network. I worked on cross-cultural assignments. I never lost the client focus. I have always been deeply curious and collaborative. I always look to the best way to operate and improve, while struggling every day to grow, to mentor and to develop people in my team. Even before my diagnosis, "resilient" would have been a key word to describe me.
I always put a lot of passion, interest and energy in the work and brought those same qualities to fighting the cancer.
The award was an incredible honor. People from all over the world sent messages to congratulate me and encourage me to keep fighting my cancer.
I had a wave of e-mails from colleagues sharing their stories about how they had fought cancer or experienced loss in their families. I also had experienced great loss. In a period of two years, I lost my husband-to-be and both of my parents. The support and kindness of my colleagues meant a lot. It gave me real strength and an incredible feeling of belonging to a big company, a big network, and a big family.
My cancer is currently stable. My health is improving, I am back, working from home now, and I am looking forward to working in the Milan office starting in January 2016. I feel like it's a new beginning. I am positive, I am planning, and I am dreaming again. Things are looking up!
Calling all HuffPost superfans!
Sign up for membership to become a founding member and help shape HuffPost's next chapter