There are few accessories that excite women quite like shoes. Not only are they the key to transforming an outfit, but is there any item in your closet that can make you feel sexier? Of course, there's also a flip side: Is there any accessory that can cause as much suffering as uncomfortable footwear? And hobbling around in misery (or worse, going barefoot in public because you can't stand the pain) isn't exactly cute!
Since women are affected by foot problems four times more than men, Dr. Suzanne Levine, celebrity podiatrist and author of "My Feet Are Killing Me " stresses the importance of taking care of our tootsies -- and not just for the sake of looking good. "Our feet are a foundation," she says, "and the way we dress them influences the way we feel." With an entire chapter devoted to shoe sense, Dr. Levine walks us through how different sole styles affect our health and why many of us are shopping all wrong.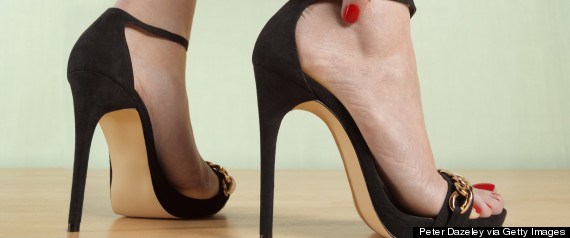 With an average height of three to five inches, stilettos can surely lengthen your legs and even make them appear thinner, but Levine warns that they shouldn't be worn for an extended period of time. "Since there's not a lot of structure, your weight can't rest on the heel, and that puts pressure on the ball of the foot," she explains. Not only do your feet start to hurt, but you've got a greater chance of falling. "Stilettos are limousine shoes," advises Levine, "walk into a party or wear them to dinner, but they're not the type of shoes that should be used long distance -- they're not the type to function." Her tip: Go for high-fashion shoes, but always bring a backup pair. Alternating heel heights will ensure you're not overusing any one muscle group.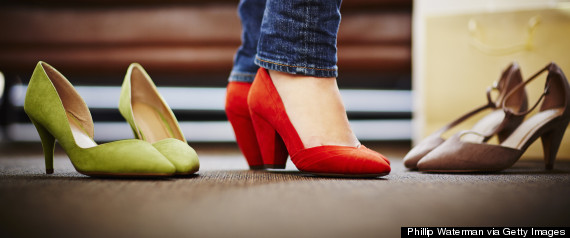 Pumps may be a bit more practical and offer more support than stilettos thanks to a thicker and often shorter heel, but they're still not exactly an all-day shoe. In addition to having a change handy, Levine suggests above all else to be certain the shoe fits ... because no matter how pretty it is, sporting the wrong size can get nasty -- from hammer toes and bunions to ingrown toenails and blisters. "Shoes are supposed to match the anatomy of the foot," adds Levine, "the ball of the foot should rest on the widest part."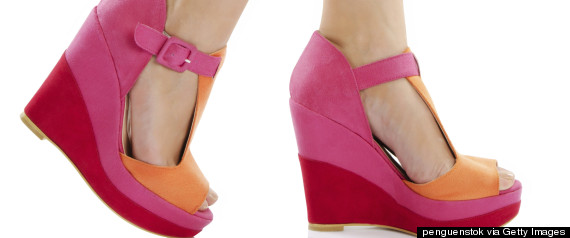 While your feet may feel flatter and more secure in platform shoes than in heels, the danger with these is that you're far from the ground and one false step could lead to an ankle sprain. To be safe, Levine points out that there should be a half-inch of space between your longest toe and shoe's edge, so do check for that when trying them on. "Stand up, make sure you can wiggle your toes and definitely walk around the store in them," she says, including that your best bet to determine your shoe size is to be measured by a professional.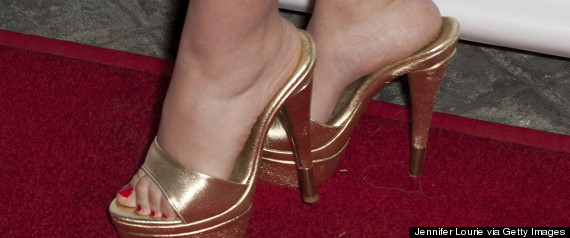 Mules can be open or closed toe, high heeled or flat -- but they are always backless. "They shouldn't be anyone's go-to shoe," notes Levine. From cramping to heel cracks, this style can be problematic because there's nothing in place to hold the heel bone in the proper position and you're forced to grip the shoe with your toes. When shopping, Levine says it's important to be honest with yourself: "The most gorgeous pair of shoes can easily make you forget your comment sense, so be careful."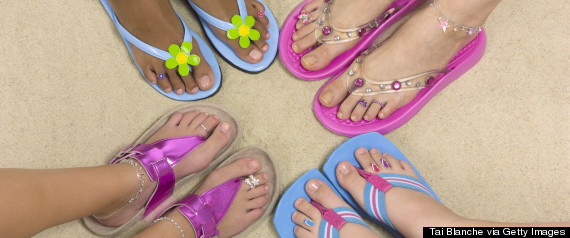 Nothing screams summer like a pair of sandals that let your toes have their moment. Although a warm weather staple, Levine recommends you "save them for the beach and pool" instead of rocking shoes like flip-flops in the real world. Not only do they offer little arch support, but their open design leaves feet vulnerable to hazards from the street ... and nobody wants cuts and bruises, bacteria and fungus or dryness and callouses to cloud an otherwise sunny day!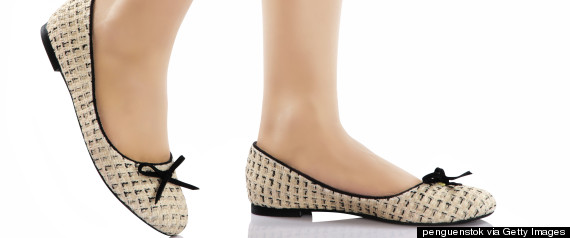 Believe it or not, "a shoe with no heel is not always the best heel," says Levine, "the ideal shoe is the lowest heel you can wear with comfort." From ballet flats to loafers, it can be tricky to find shoes that are supportive and chic, but overall, Levine advises that shoes with rubber soles in a breathable fabric are what your feet really want. Regardless of the style, remember this: You should never have to break in shoes -- if they don't fit right away, don't leave the store with them in tow.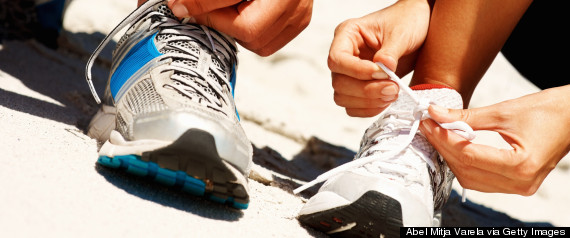 "The key with sneakers is to make sure they're appropriate for whatever sport you're doing," says Levine. That means you shouldn't get too carried away with things like lights or neon colors, as athletic shoes are not the shoes to choose for fashion. The wrong shoes can do a number to your back, knees and hips, so think about if there's enough cushion and bring your own socks so you can test them out they way you'll actually be wearing them.
Perhaps Levine's most solid advice through it all is to simply ask yourself if the shoe feels good. "Sometimes it's the last thing we consider!" she says. Since no one shoe is appropriate for every occasion, stick by the old saying: "If the shoe fits, wear it"... in moderation.
Related
Before You Go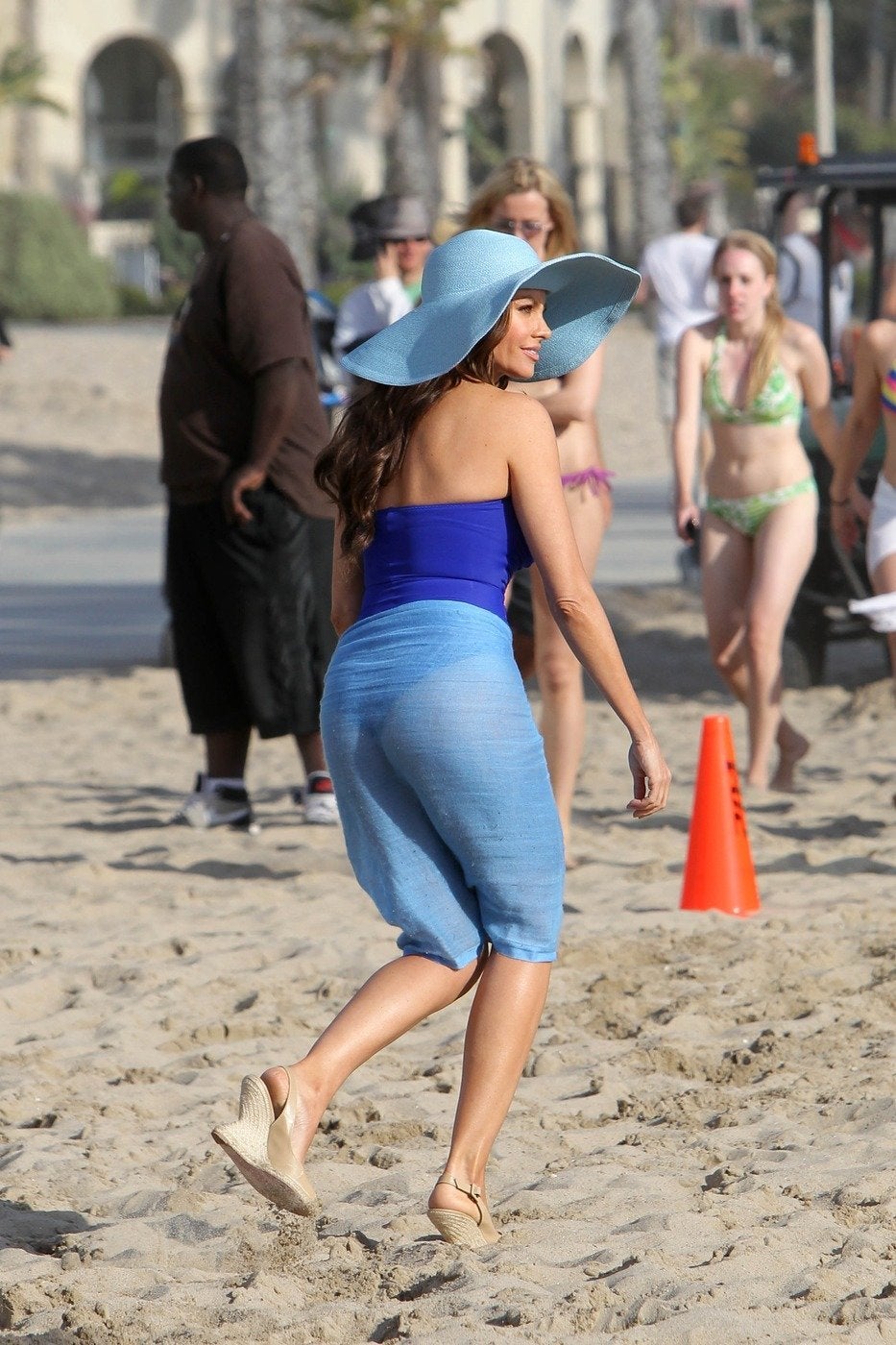 Celebrities Wearing Heels In Places They Shouldn't
Popular in the Community