If there's one thing parents from every walk of life can agree on, it's that kids tend to ask a lot of questions -- sometimes the same ones over and over again. In Shonda Rhimes' house, one of those oft-repeated lines is a sweet but occasionally-ill-timed request: "Want to play with me?"
When she's not at home with her three daughters (ages 13, 3 and 2), Rhimes is hard at work as the powerful creative force behind hit television shows like "Grey's Anatomy," "Scandal" and "How to Get Away With Murder." The life of a prolific show-runner and single mom can be a whirlwind, and the ability to say "no" might seem like a necessary survival tactic. But, as Rhimes tells Oprah during an interview for "SuperSoul Sunday," she tried something radically different for a year, both personally and professionally: Turning those nos into yeses, especially when it came to her daughters.
"I said 'yes' to my kids in a way that I had never done before," Rhimes says.
So, when 3-year-old Emerson would ask her mom to play, Rhimes began giving a different answer.
"There are so many times that I've said, 'Well, I can't right now, honey. I'm doing this. I can't right now,'" she says. "I decided that every single time she said to me, 'Want to play?' I would say, 'Yes.'"
Whether it was convenient or not, Rhimes committed.
"It doesn't matter if I'm wearing an evening gown and heading out to the DGA Awards or I have my bags on my shoulder and I'm heading out to work," Rhimes says. "I drop everything I am doing, I get down my hands and knees, and we play. It's 10 minutes. And she loves it."
This playtime doesn't just delight the toddler; it's had a great impact on Rhimes as well.
"It's changed my sense of being a mother and my sense of pride in being a mother," she says. "And it's changed our relationship."
Rhimes' full interview airs this weekend on "SuperSoul Sunday," on Sunday, Nov. 15, at 11 a.m. ET on OWN.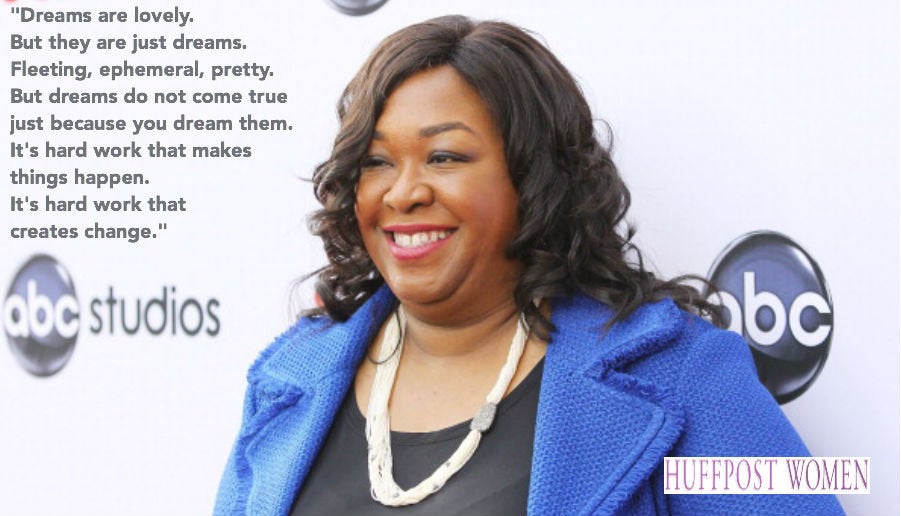 Empowering Shonda Rhimes Quotes
Popular in the Community