From "Grey's Anatomy" to "Scandal" and "How to Get Away with Murder," Shonda Rhimes and her production company, Shondaland, have virtually conquered the small screen, gifting us some of Hollywood's most fierce and fearless characters. But Rhimes will be the first to admit that, despite all her success, for a very long time she was terrified to step outside of her comfort zone.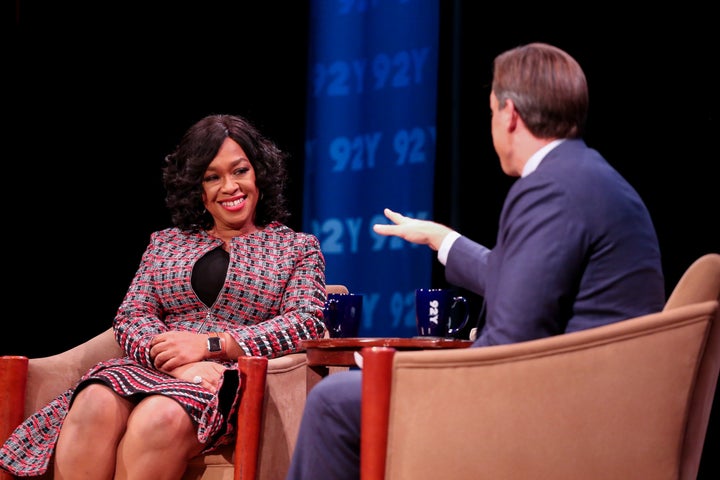 In her new memoir Year of Yes, Rhimes, 45, describes herself as painfully shy. At a Monday night event at New York City's 92Y, the woman who dreamt up Olivia Pope explained to a surprised audience that, "It's very easy to do what I do because I get to write a bunch of stuff and other people say it. And I get to sort of be the person behind the curtain."
The initial inspiration to change her "introvert" ways came in 2013, after one of her older sisters remarked: "You never say yes to anything." From party invitations to guest speaking opportunities and talk shows, Rhimes realized her sister was right. 
I decided I was going to say 'yes' to everything that horrified me, scared me, freaked me out, made me think I was going to die.

Shonda Rhimes
"I have a great job, I have wonderful children, I have a great house, I have a wonderful family," Rhimes thought to herself, and yet, she wasn't living her life to the fullest, which made her feel "miserable." Rhimes then decided to challenge herself to face her fears and overcome her social anxieties.
"I decided I was going to say 'yes' to everything that horrified me, scared me, freaked me out, made me think I was going to die," she said during her 92Y talk. 
She said it to delivering the commencement speech at her alma mater, Dartmouth; she said it to appearing on "Jimmy Kimmel Live!" and she said "yes" to sitting in the presidential box with President Obama and First Lady Michelle Obama at the Kennedy Center Honors.
But her "year of yes" did include saying no. In one of the more personal chapters of her memoir, Rhimes talks about the painful experience of having to say no to marriage. She did not want to marry her boyfriend at the time, let alone get married at all, she told the 92Y audience. 
Much like the strong female characters she has created, Shonda Rhimes' story is full of inspiration, courage and triumph. When moderator Jake Tapper asked if she's accomplished her childhood dream of taking over the world, the woman who's learned to embrace saying yes simply said, "I'm just getting started."
PHOTO GALLERY
'Scandal' Stars Before They Were Gladiators ... And Villains
Calling all HuffPost superfans!
Sign up for membership to become a founding member and help shape HuffPost's next chapter