A mass shooter stormed a Walmart store in El Paso, Texas, Saturday, leaving 22 people dead and 26 others injured. Police have a 21-year-old male suspect in custody.
The gunman, who police said was legally armed with a firearm when he approached the store, was taken into custody at the scene moments after carrying out the attack around 10:40 a.m., authorities said.
The suspect has been identified by multiple outlets as Patrick Crusius, originally from Allen, Texas, a town near Dallas that's some 650 miles east of El Paso.
Law enforcement officials said they are investigating a manifesto posted to the extremist online forum 8chan shortly before the shooting that may have been written by the suspect. The four-page document claims the attack was racially motivated and aimed at Hispanic people. HuffPost has reviewed the manifesto but will not provide a link to it.
Prosecutors said they will pursue federal hate crime and federal firearm charges against the suspect, which carry the death penalty.
"We are treating it as a domestic terrorism case," U.S. Attorney John Bash said at a Sunday press conference, "and we are going to do what we do to terrorists in this country, which is deliver swift and certain justice."
Federal officials are often hesitant to use the label "domestic terrorism" because the U.S. lacks a law that broadly outlaws such acts. While laws exist that cover some specific acts of terrorism, there's no terrorism-related statute that applies to white supremacists who commit mass shootings.
El Paso Police Chief Greg Allen described the suspect as fully cooperating with authorities.
Texas Gov. Greg Abbott (R), at a press conference Saturday, expressed grief for those in his state in the shooting's wake.
"A day that would have been a normal day for someone to leisurely go shopping turned into one of the most deadly days in the history of Texas. Lives were taken who should still be with us today," he said.
KTSM-TV in El Paso showed a photo of what appears to be the shooter holding a long gun and entering the Walmart.
Video posted on Facebook by a person claiming to be a witness shows a body lying on the floor of the Walmart with blood near its head. Parents can be seen shielding their children's eyes as they rush them out of the store.
Another video posted to Twitter appears to show multiple bodies in the parking lot. A woman can be heard asking, "Who needs CPR?" The videos contain graphic images, so HuffPost is not linking to them.
At a press conference Sunday, Del Sol Medical Center officials said the El Paso hospital took in 11 patients from the shooting, ranging in age from 35 to 82 years old. As of Sunday morning, eight were in stable condition and three were in critical condition.
Seven patients underwent "a variety of procedures," and "we anticipate that a number of patients will need to return to the operating room over the course of today and the next week, perhaps one or more times," Trauma Medical Director Dr. Stephen Flaherty said.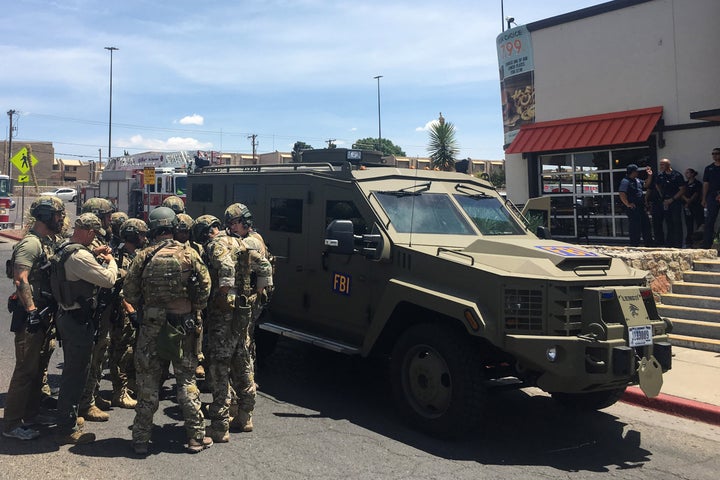 Democratic presidential candidate Beto O'Rourke, who had represented El Paso in Congress from 2013 to 2019, said backstage at a forum for Democratic presidential candidates in Las Vegas on Saturday that he would be returning home to El Paso.
"We know that there's a lot of injury, a lot of suffering in El Paso right now. I'm incredibly sad," O'Rourke told reporters, as he choked up. "It's very hard to think about this. But I'll tell you, El Paso is the strongest place in the world. This community is going to come together. I'm going back there right now, to be with my family and to be with my hometown."
This story has been updated with a new death count, as well as officials saying the suspect may face federal hate crime and federal firearm charges.
Ryan J. Reilly contributed reporting to this story.
Popular in the Community