Five people were killed after a gunman opened fire at the Molson Coors brewing facility in Milwaukee, Wisconsin, on Wednesday afternoon.
The gunman, a 51-year-old male, died of an apparent self-inflicted gunshot wound, Milwaukee Police Chief Alfonso Morales said a news conference Wednesday night.
The gunman was an active employee at the company, Molson Coors CEO Gavin Hattersley said in a companywide email.
"This is a tragic day for our city, for our state," Milwaukee Mayor Tom Barrett said at the news conference. "Six families are grieving and will be grieving because of this horrific act of this individual."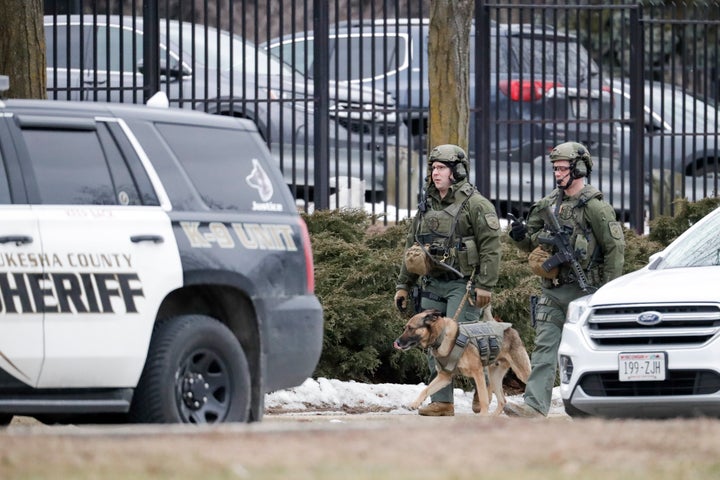 Milwaukee police responded to a call of a shooting at the Molson Coors brewing facility at 2:08 p.m. Officers found the gunman dead, then located five other bodies.
All five of the victims were employees of Molson Coors, according to Morales. The names of victims were not being released until families could be notified.
The company sent an email to employees at 2:19 p.m., alerting them to an active shooter in or near the facility's south packaging building, the Milwaukee Journal Sentinel and WISN-TV reported.
Wisconsin Lt. Gov. Mandela Barnes said that the Molson Coors shooting marked the "11th mass shooting in our state since 2004."
Barrett called the incident a "horrific shooting" that had "multiple fatalities" at a news conference around 4:30 p.m. local time.
"It is a horrible, horrible day for the employees here," Barrett said. "There are multiple people who have died, I believe including the shooter."
Molson Coors Beverage Co. is the parent company of Molson Coors, which was known as MillerCoors until recently.
This is the 45th mass shooting in the U.S. so far this year, according to the Gun Violence Archive, a nonprofit that defines mass shootings as those that leave at least four dead or wounded.
In a tweet later Wednesday, Gov. Tony Evers said his office was still "learning more details about what happened."
"What we do know, though, is that more lives were lost in a mass shooting in Wisconsin," Evers said.
In his later email to Molson Coors employees, Hattersley said there was no longer an active threat at company facilities and announced that the Milwaukee office and brewery would remain closed for the rest of the week.
"There are no words to express the deep sadness many of us are feeling right now," Hattersley said, adding that he was on his way to Milwaukee.
Police Chief Morales told reporters that more than 1,000 employees worked at the facility and all of them needed to be processed before they could return home.
The Molson Coors facility, previously known as the Miller Brewery, has both brewing facilities and office buildings. The campus is open to the public for tours, including walking tours of the packaging and distribution areas.
According to CBS 58 Milwaukee, tours of the facility were taking place when the headquarters was placed on lockdown.
Anastasia Vargas, who lives near the facility, told CBS 58 that she saw police cars rushing to the site of the shooting.
"It's crazy. Milwaukee is getting real crazy. It just needs to stop," she said. "So much violence in Milwaukee. Too many kids around. I know over there there's plenty kids around that area, and I just pray that everybody's safe," she said.
In its first public statement on the incident, Molson Coors said there was an "active situation" at its facility but did not provide any details about the shooting.
President Donald Trump spoke about the shooting during a press briefing on the coronavirus outbreak on Wednesday evening.
"A wicked murderer opened fire at a Molson Coors Brewing Company plant," he said. "It's a terrible thing, terrible thing. Our hearts go out to the people of Wisconsin and to the families."
Candidates seeking the Democratic presidential nomination also offered their condolences to the victims of the shooting. Sen. Elizabeth Warren (D-Mass.) and former South Bend, Indiana, Mayor Pete Buttigieg used the moment to denounce gun violence.
This article has been updated with information on the number of fatalities and details from a Wednesday night news conference.
Sarah Ruiz-Grossman contributed to this report.