At least 26 are dead and 20 others injured after a gunman opened fire at a small Baptist church in rural Texas on Sunday morning. The ages of the wounded and dead range from 18 months to 77 years.
Officials identified the suspect as 26-year-old Devin Patrick Kelley. He is now deceased.
Kelley was previously a member of the United States Air Force, serving at a base in New Mexico. He was court-martialed for assault on his wife and child.
SUTHERLAND SPRINGS, Texas ― More than 100 people gathered outside the post office here on Sunday night, just blocks away from the First Baptist Church where a lone gunman killed 26 members of this tight-knit community on Sunday morning. It was the worst mass killing in the state's history.
"Who are we going to be tomorrow?" Stephen Curry, a pastor from a nearby church, asked the crowd. "We're going to be people of love."
"Amen!" the audience exclaimed.
Mourners held candles and raised their open palms in the air as religious leaders urged them to help their neighbors heal. Reminders of the tragedy were all around them. Behind the vigil, the lights of a police car continued to flash, and the road toward the church remained blocked off.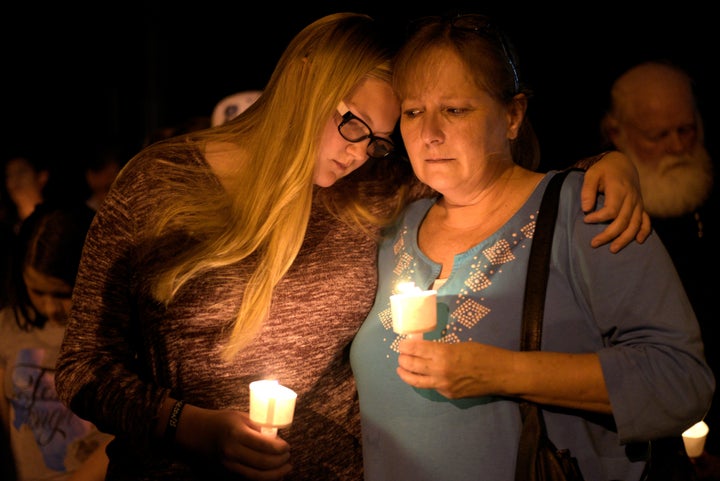 Officials responded to reports of a gunman at the church at around 11:20 a.m. A young white male wearing black clothing and tactical gear ― whom police later identified as 26-year-old Devin Patrick Kelley ― had opened fire with a Ruger assault-type rifle outside the church and then entered the building, walking to the front of the congregation, as he continued to fire. He kept firing as he walked out of the church's back door.
"I don't think they could have escaped. You've got your pews on either side," Wilson County Sheriff Joe Tackitt Jr. said Sunday.
At that point, a resident began firing with his own weapon, causing the suspect to flee in his car, officials said. The suspect was later found with a fatal gunshot wound in his vehicle in nearby Guadalupe County. Tackitt Jr. told CBS News that authorities were "pretty sure" the wound was self-inflicted. Multiple weapons were found inside the vehicle.
Kelley had family members who were congregants of the church, Tackitt said on Monday, but they were not present during the shooting.
"We know that his ex-in-law, or in-laws, came to church here from time to time," Tackitt said. "They were not here yesterday." However, Lula White, the grandmother of Kelley's wife, was among those killed in Sunday's massacre, multiple friends confirmed to CNN on Monday.
Texas Gov. Greg Abbott (R) said Monday he believes Kelley deliberately targeted the church.
"This was not a random active shooting," he told CBS News. "I don't think this church was picked out at random. I think there was purpose and intent that Devin Kelley had in showing up at this location."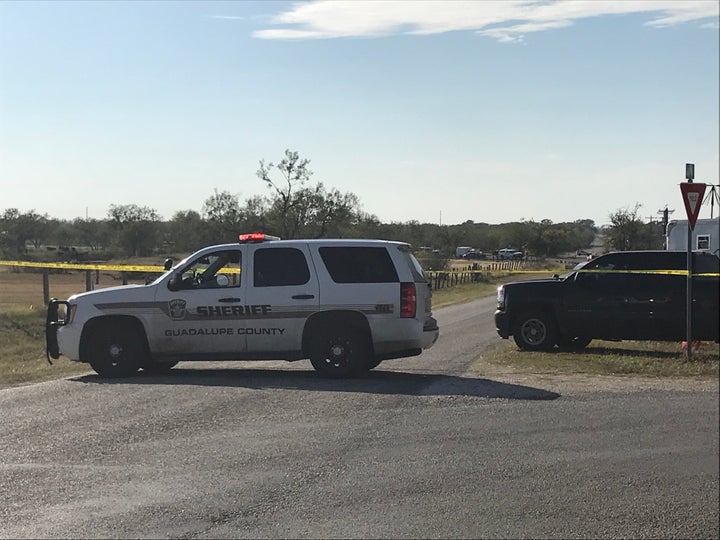 During a press conference on Sunday afternoon, Abbott confirmed that 26 people had been killed in the shooting. A pregnant woman and several children ― including the church pastor's 14-year-old daughter ― were among the dead. At least 20 other people were injured. The ages of the wounded and dead ranged from 18 months to 77 years. A witness told San Antonio TV station KENS 5 that the fatalities accounted for about half of the church's congregation.
On Sunday night, shocked community members were still reeling from the massacre that took place just hours before. They described the unincorporated community, home to cattle ranches and oil fields, as the type of place where everyone knows each other. People move there to avoid crime, residents told HuffPost.
"It's a nice, quiet town. It's respectful," said former resident Pamela Padilla. "We don't normally have any crime or anything ... It was a small town, and quiet until today."
"This has just been so devastating. It hasn't hit home quite yet," said resident Kelly Carter.
"It's very small, quiet. Everyone knows each other," said David Betancourt, 18. His friend was wounded in the shooting. The last Betancourt heard, he was undergoing surgery.
Michael Ward had family members at the church that morning. When he heard that the killer had fled, he said he considered going after him. But when he saw the police en route, he went to the church with his wife Leslee to look for their relatives.
The family of Ward's brother Chris was severely affected, Ward said. Chris' wife Joann was in surgery, along with their son Rylan and daughter Brooke. Chris' daughter Emily was among the deceased, Ward said.
Ward later told the Dallas Morning News that Joann and Brooke had also died.
Kelley was previously a United States Air Force member who served in logistics readiness at Holloman Air Force Base, New Mexico, from 2010 until his bad conduct discharge in 2014. He was court-martialed in 2012 for assault on his spouse and assault on their child. Academy Sports + Outdoors, a sporting goods store, confirmed that Kelley had purchased two firearms from two San Antonio locations, one in 2016 and one in 2017. They said that both sales were approved by the National Instant Criminal Background Check System.
"Current law should have prevented him from being able to get a gun; I can tell you that before he made this purchase, he tried to get a gun permit in the state of Texas and was denied that permit," Abbott said.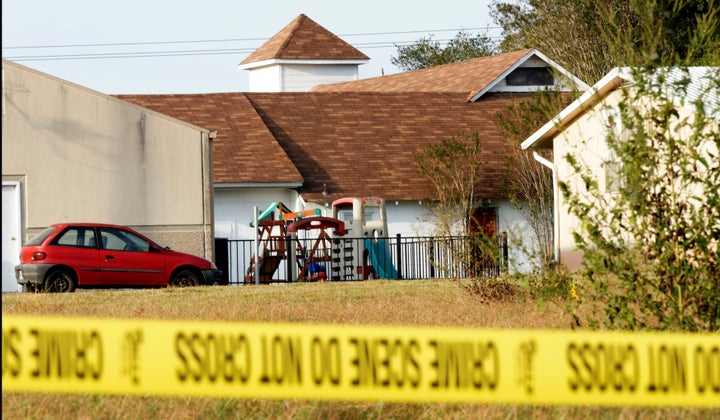 Sunday's shooting comes just over a month after a gunman killed 58 people at a country music festival in Las Vegas before killing himself. It was the deadliest mass shooting in recent U.S. history.
During a press conference in Tokyo, President Donald Trump said he viewed the deadly shooting as "a mental health problem at the highest level" and not as a "guns situation." He added that it was "a little bit soon" to get into a discussion about gun control.
Mike Gonzalez, who lives nearby and works at Cornerstone Church in San Antonio, helped lead prayers at Sunday night's vigil.
"Let us not be people of anger," he told the crowd. "Let us not be people of fear. Let us build your kingdom as something constructive in the face of destruction."
"I propose that we make a pact, right here, in this small town, that evil will not prevail!"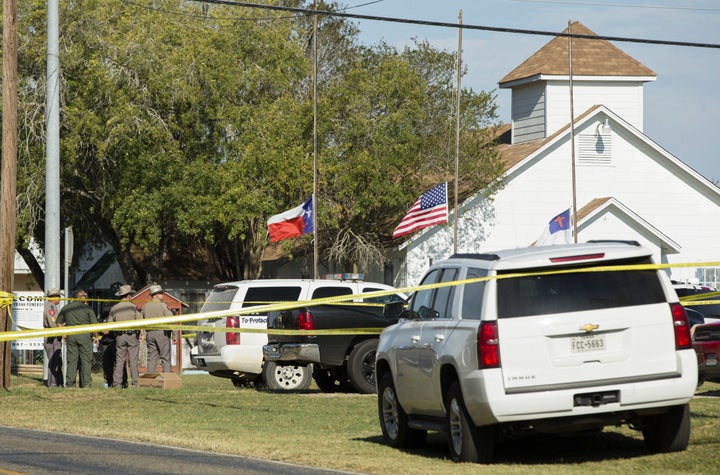 This story has been updated with new information about the victims and the suspect.
Lydia O'Connor, Matt Ferner, Nick Visser and Samantha Tomaszewski contributed reporting.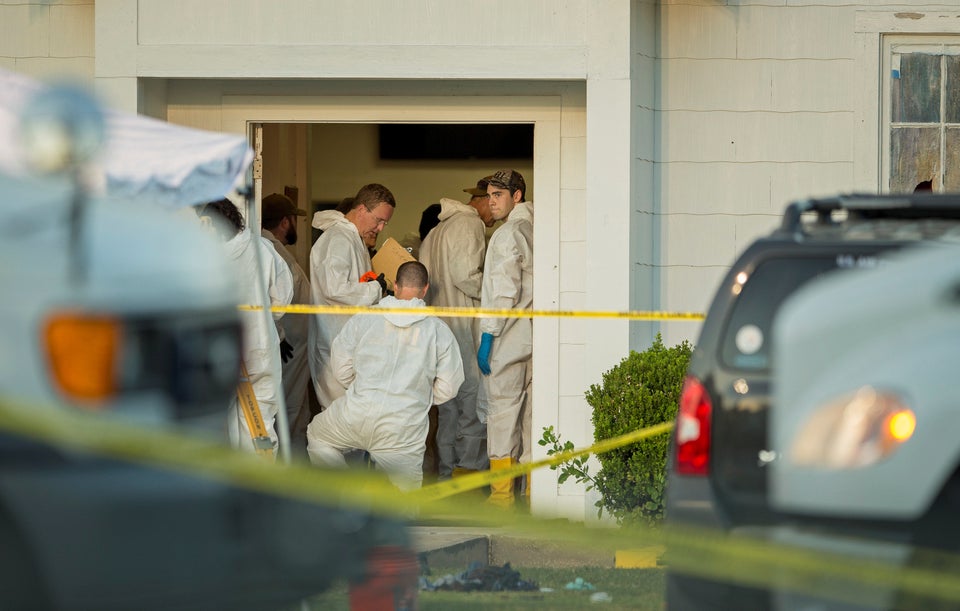 Texas Church Shooting
Support HuffPost
The Stakes Have Never Been Higher
Related
Popular in the Community