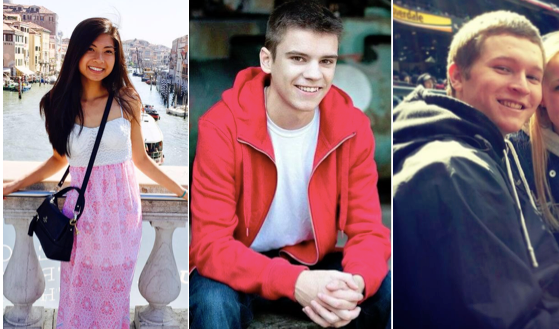 A University of Washington student accused of killing three people and injuring a fourth in a shooting at a house party had recently broken up with one of the victims, according to news reports.
Allen Ivanov, 19, was arrested shortly after the Saturday morning attack in Mukilteo, just outside Everett, Washington, KOMO News reported. He is being held at the Snohomish County Jail on two murder charges and one charge of aggravated murder, according to online records.
Family and friends of the deceased identified them at a vigil as Anna Bui, Jake Long and Jordan Ebner. A fourth victim, Will Kramer, was hospitalized in serious condition, the Seattle Times reported. 
Kiley McReynolds, a friend of Bui's through the school choir, told the Times that Bui and Ivanov dated for more than a year.
According to the Daily Mail, which spoke with an unnamed friend of Ivanov's, Ivanov called the friend about two hours after the 12:30 a.m. attack, saying "I just killed my ex-girlfriend." The person claimed that Ivanov had been depressed over his recent breakup with Bui and bought an AR-15 rifle only last week.
A woman who said she was Ivanov's mother was sobbing when reached by the Times. "I am sorry," she told the paper, declining further comment.
Susan Gemmer told the Times that her 18-year-old granddaughter, Alexis, was at the party and at one point called her while hiding in a closet.
"We were texting back and forth, telling her to stay quiet, stay calm, we're on our way. She kept saying, 'They're dead, they're dead, I saw them, I was right there and I saw them,'" Gemmer said.
Gemmer said her granddaughter saw Ivanov enter the party of about 15 to 20 friends and walk through the house and to a fire pit out back. Once there, he shot two people. He then made his way to the roof, where others were gathered.
When Alexis tried to escape through the garage with a young man who lived at the house, Gemmer said the shooter began shooting at the man from the roof. That's when she hid in a closet and called her grandmother.
Two days before the shooting, two cryptic posts appeared on a Twitter account bearing Ivanov's name and photo.
A second read: "What's Ruger gonna think?" It's not clear if the tweet was referencing the firearm company Sturm, Ruger & Co., which is commonly known as Ruger.
A LinkedIn page appearing to belong to Ivanov lists him as a computer science and engineering student and software engineer for a startup laser tag system called Skirmos. He described it as "your favorite first-person shooter video game in real life."
"Allen Ivanov has worked with us and been our friend and colleague for a number of years," they said. "That said, this event is another example of our need for gun reform in this country. No person should have the opportunity to possess a firearm that can discharge a weapon 20 times in short succession."
Mukilteo police could not immediately be reached for comment.
Calling all HuffPost superfans!
Sign up for membership to become a founding member and help shape HuffPost's next chapter
BEFORE YOU GO
PHOTO GALLERY
America Unites In The Wake Of Several Deadly Shootings