SHoP Architects is heading west.
The architects for Brooklyn's Barclays Center, contributors to a new master plan for LaGuardia Airport and designers of Uber's new headquarters are turning their collective attention to a museum for SITE, in Santa Fe's booming warehouse district.
It seems a natural choice for this innovative museum, established 20 years ago with a stellar reputation for groundbreaking work. Los Angeles architect Greg Lynn created the museum's current facade "intervention" in 2012. New York's Tod Williams Billie Tsien Architects designed an installation there in 2008. And critic/curator Dave Hickey received the coveted MacArthur "Genius Award" after organizing the museum's Biennial in 2001.
SHoP delivers a high-performance attitude to the new space, bringing it up to speed with 21st-century environmental controls, wrapping it in perforated and meticulously patterned aluminum panels, and rethinking how it interacts at the street level out front.
"It's about the open spaces we create - the arrival, and the community," says Ayumi Sugiyama, project director at SHoP.
The brief written by SITE for the architects articulated the museum's physical needs, but expressed also the desire for a gathering space that's much more welcoming. "The current entrance doesn't let you see in and see what we do," says Irene Hofmann, Phillips Director and Chief Curator at SITE. "SHoP's plan takes the entrance much closer to the sidewalks and to the people."
"It's performative, like spotter airplanes - people will use it in the way that they want to," Sugiyama says. "It's about perfection and joy."
Wait a minute - spotter airplanes?

Yes. Aircraft serve as design and process inspiration at the firm, where two walls of its office in New York's Woolworth Building are lined with tons of fixed-wing miniatures.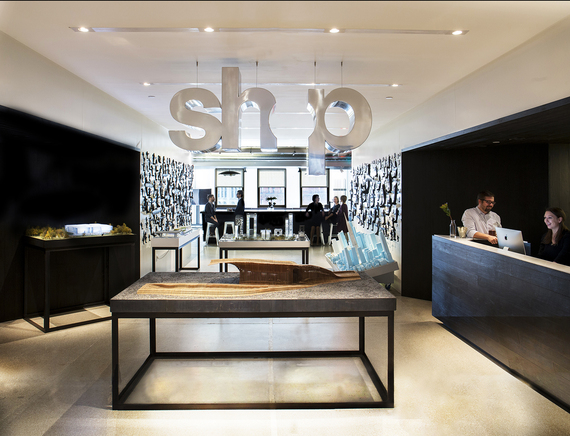 SHoP Architects Office, Woolworth Building: NYC

Which brings us to the aluminum mesh designated for the skin of this museum, scheduled for completion next year. "It's a powder-coated finish, and it reflects the light better," says Cortez Crosby, also of SHoP. "It's serious and whimsical at the same time."
The mesh pattern involves a layering of zigzag patterns, so when light hits it, it will drill down deeply into the building's facade. To create the cladding, the architects plan to work directly with fabricators and builders from drawings they'll share.
"Ayumi and Cortez generated a geometry they can fabricate from - it's laser-cut in different sheets of different sizes and then fixed together," says Chris Sharples, founding partner at SHoP. "It's not a Gothic cathedral growing up out of the ground, but there's the same quality in our work - there are layers of sheets coming together to create the skin of this building."
SHoP prides itself on a design process that takes traditional material and brings it into the 21st century. So these may be aluminum panels, but they'll also bring an appealing, tactile degree of craft and precision to the museum facade. "People will come up and touch it during the day," Sharples says. "And at night it will be illuminated from the inside, with a very soft glow like a Japanese lantern."
So why choose SHoP, when so many gifted firms are practicing nearby? "We were looking for a firm that was innovative, that had a lot of parallels to the kind of artists we show, and one rising in visibility," Hofmann says. "We wanted a firm that certainly had the necessary experience for a project like this - but that this would be its first art museum."
Inside the existing museum, which I visited last week as SITE's guest, the architects will add one more gallery for year-round use, a 250-seat auditorium/multipurpose room, and a new entrance at the rear, complete with event porch. There's also a central courtyard with open-air views to the bright blues of New Mexico's Big Sky.
If there's a drawback to the new design, it's the museum's relation to Santa Fe's very fine Railyard Park to its east. The architects declined the opportunity to open up the museum's eastern facade to the adjacent landscape, choosing instead to limit light and views to a pair of horizontal (18 inches by 72 feet) and vertical (two feet by 15 feet) bands of windows along a line of offices there. The natural light of the western sky might be viewed as a competitor to indoor activities, but still, the park's landscape could complement the office interiors well. The lack of a strong visual connection to it is a missed opportunity.
To their credit, though, the architects reserved the western facade for murals where SITE will commission periodic art installations, timed to coincide with its biennials.
SITE pioneered the warehouse district two decades ago, breaking new ground in a derelict and nearly abandoned territory. Now six more galleries and a booming farmers market/arts district surround it - and the museum's stepping up to extend its heritage of innovative design. It may be a small project for SHoP - but it's also that firm's first-ever museum design.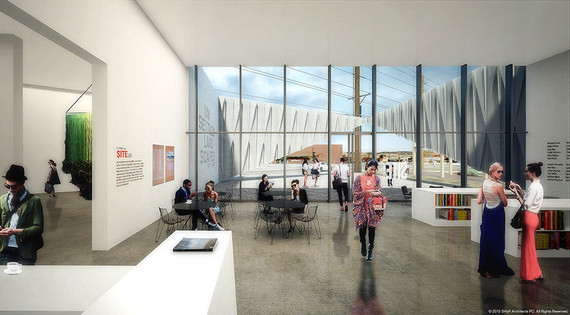 SITE Santa Fe, Lobby: SHoP Architects

"This was incredibly important for them - a new framing for their work, and a new client," Hofmann says. "In a way we needed them at same time they needed us - they were the right firm for us at this moment."
Besides, the architects get a bonus in the deal, in the form of the firm's first-ever museum exhibition. It's called workSHoP, and it's on display at SITE now.
For more on SITE Santa Fe and SHoP Architects, go here.
Related
Popular in the Community