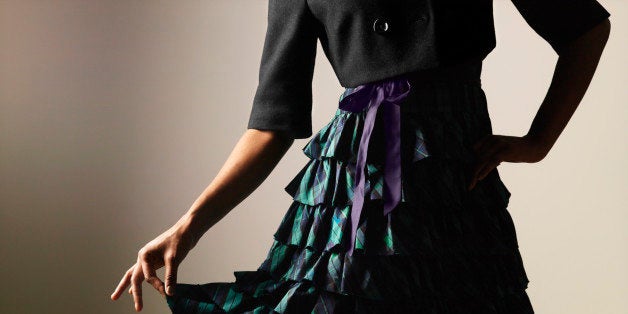 It can be fun to shop for fashion items and certainly a few new things or two can make getting dressed easier for whatever you've got going on. But it's hardly necessary to create a stylish look. In fact, not only can you do a little with a lot when it comes to your wardrobe, you can also reinvent old pieces and trends to wear them in new ways (and give your entire closet more life).
While it can take a little work, it's no more time or effort than trying to shop the mall or stores. It can also be just as fun. Here's how:
10. Set aside time. Set a date, a few hours on a weekend or evening, for your closet reinvention effort. Even just a few minutes a week can work -- and result in weeks, months or even years of stylish outfits.
9. Get inspiration. Start your wardrobe reinvention session by thinking on or looking for ideas. Inspiration within our own self is always the best for creating personal style, so take a minute to look over your closet and think about new and interesting ways you can wear items. A great way to do this is pick one item, and challenge yourself to create as many outfits as you can with it, mixing and matching different pieces, jewelry, and other accessories to create a range of looks. Outside inspiration can also be great! Hop on Pinterest or check out a stack of your favorite magazines to help get your styling creativity flowing.
8. Keep track. As you work on or wear ideas, take a photo or write the outfit combination down in a notebook. By keeping track of what you put together, you'll find it easier to get dressed in the morning and can even go through your own personal styling catalog of looks to help you pick things to wear when you've got something to dress for, are limited on time, etc.
7. Get creative. Wearing old things new ways can be easy and fun if you think a little out of the box. Layer things that seem like they might be interesting together. Do something different with trends by wearing them in different ways. For example, the party skirt with crop top or jacket might seem a little tired this year, but paired with a longer menswear vest and a belt cinched at the waist can give it new life. Don't be afraid to make mistakes! A little imperfection can actually make an outfit stylish.
6. Play on themes. A great way to style looks in your closet is to play on themes. Mixed textures, combining different lengths, going with sleek and architectural, combining volume, etc. can all breathe life into your existing wardrobe.
5. Look outside of fashion. So much inspiration for fashion and style exist in every place but fashion and style! Consider playing on ideas that you find in your natural world -- unique color combinations based on nature, textures and prints can be drawn from interior decor, the options and resources are endless.
4. Play with color. Color can make any outfit stylish, so experiment with what you've got. Try unusual combinations, such as brown with teal, or teal with navy. Or do a look that has multiple different colors in one. Just the same, putting ranges of the same or even the identical, matching colors together can create a great outfit.
3. Leverage accessories.Scarves, jewelry, shoes, handbags and other accessories are the key to turning ordinary clothing items into outfits. Try scarves as belts, tying to the handle of a handbag, or layer a bunch of different types of jewelry together from your accessories wardrobe to reinvent and revive tops, pants, skirts and more.
2. Consider alteration. You can update old fashion items through alteration, such as cropping a pair of jeans into shorts, having trim such as gems or piping, etc. sewn onto shirts, fabric paint or other additions and adjustments. This can be particularly easy to do and inexpensive, either cost of having a professional do the work or for the supplies to do it yourself.
1. Have fun!A lot of people take style so seriously, carefully concocting looks and making sure that everything's perfectly put together, etc. But in reality fashion is best when it's a bit unique and your own personal stamp. Don't be afraid to make mistakes! Not every look you put together is going to work. You never know until you try!
Related