But evidently, things have started to pick up since then. Reviews of Shophouse Kitchen have been pouring in to Yelp. The average rating is just three stars, but there are some enthusiastic customers. And, perhaps more tellingly, professional critics have written some rave reviews. Serious Eats loves the meatballs, though the review raises some issues with ShopHouse's tofu and chicken. In an early review of ShopHouse Kitchen, Anna Spiegel of Washingtonian's Best Bites Blog said:
The food isn't necessarily "authentic" (a thick, chewy banh mi roll made us wish we were at the Eden Center instead) but nicely-charred chicken, bright pickled papaya, and light, zesty sauces are far better than some of muted Asian offerings nearby.
And today, Tom Sietsema of the Washington Post wrote a rave review of ShopHouse, in which he called it "one of the best fast-food ideas in years." He liked the heat of the dishes and the relatively low prices of the food. He writes:
Chilled rice noodles topped with juicy chicken, pulsing green curry, crisp Chinese broccoli and crushed peanuts is a trip to Thailand for less than $7. Steamed rice decked out with smoky beef, fiery red curry, fresh herbs and crispy garlic is wicked fun, too.
People have expressed a few gripes. Two of the three sauces used to flavor the food contain fish sauce, but are not marked non-vegetarian. (Though, sadly, "the fishiness of the curry" doesn't have the same pop as "the porkiness of the pinto.") And, apparently, the bread being used in the banh mi is not up to snuff, and the decor lacks a certain pizzazz. The piquant spicing that Sietsema liked so much could easily turn others off.
Here's a photo slideshow from the opening: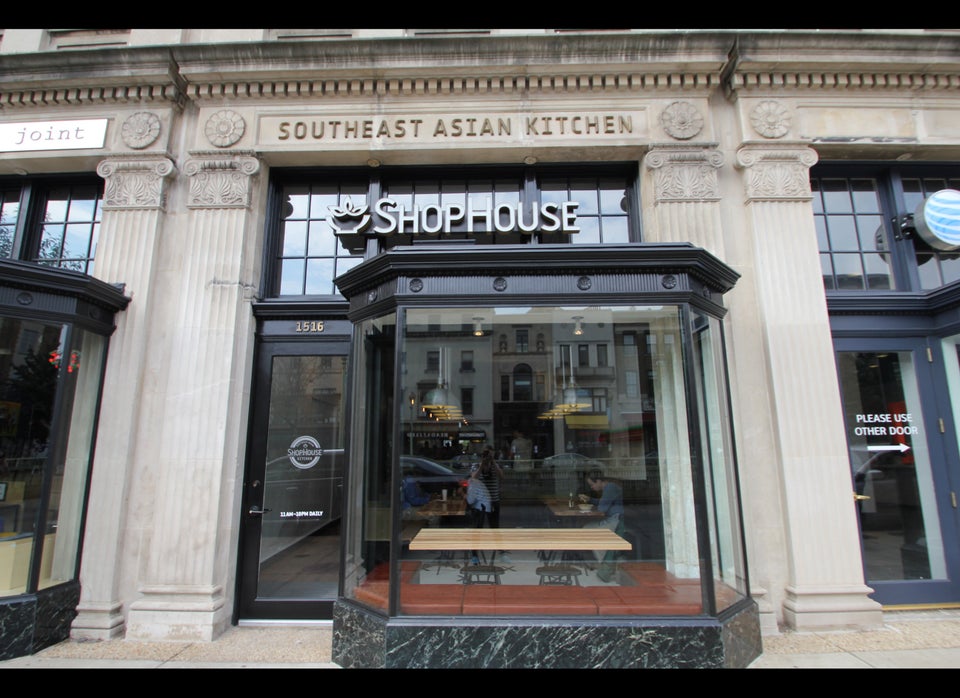 Chipotle's ShopHouse Opens in Dupont Circle
Related