LOS ANGELES -- More than 1,400 restaurants later, Chipotle founder Steve Ells is convinced that it's not just the Mexican food that keeps people coming back.
Instead, as he's emphasized in past interviews, he attributes the chain's immense success to the Chipotle model -- a build-your-own-meal concept that emphasizes fresh produce and consciously sourced protein, challenging customers' preconceptions about fast food. And that model can be applied to almost any cuisine, Ells claims.
Here to prove him right is Tim Wildin, Chipotle's director of concept development. After an almost two-year trial period in Washington, D.C., Wildin has taken ShopHouse, his brainchild and Chipotle's Southeast Asian spin-off, to the West Coast for a second showing in Los Angeles.
ShopHouse serves up curries, wok-seared vegetables, pickles and Thai staples like steak laab and chicken satay. The fare doesn't shy away from spice and it doesn't apologize for the fact that customers will probably leave the restaurant smelling like fish sauce and sriracha.
And that's just fine with Wildin. The food, inspired by Wildin's trips to Thailand (Wildin is half-Thai and was born in Thailand), is a Chipotle-style take on fare served at Bangkok shophouses, which are two- or three-story buildings with families living on the top floor and serving food, usually just one dish, at street-level.
"Street food is great, but shophouses are where it's at," said Wildin at a Wednesday media preview for the first LA location. It's where an "80-year-old woman has been cooking the same curry for decades."
When asked if ShopHouse curries were just a little too spicy for mainstream customers, Wildin was quick to voice confidence in Angelenos' palates.
"LA knows their Southeast Asian food," he said -- while some of his D.C. customers, although food savvy, had to be "educated" about flavors like lemongrass and chili jam, or noodles that are traditionally served cold.
All photos by Anna Almendrala. Story continues below.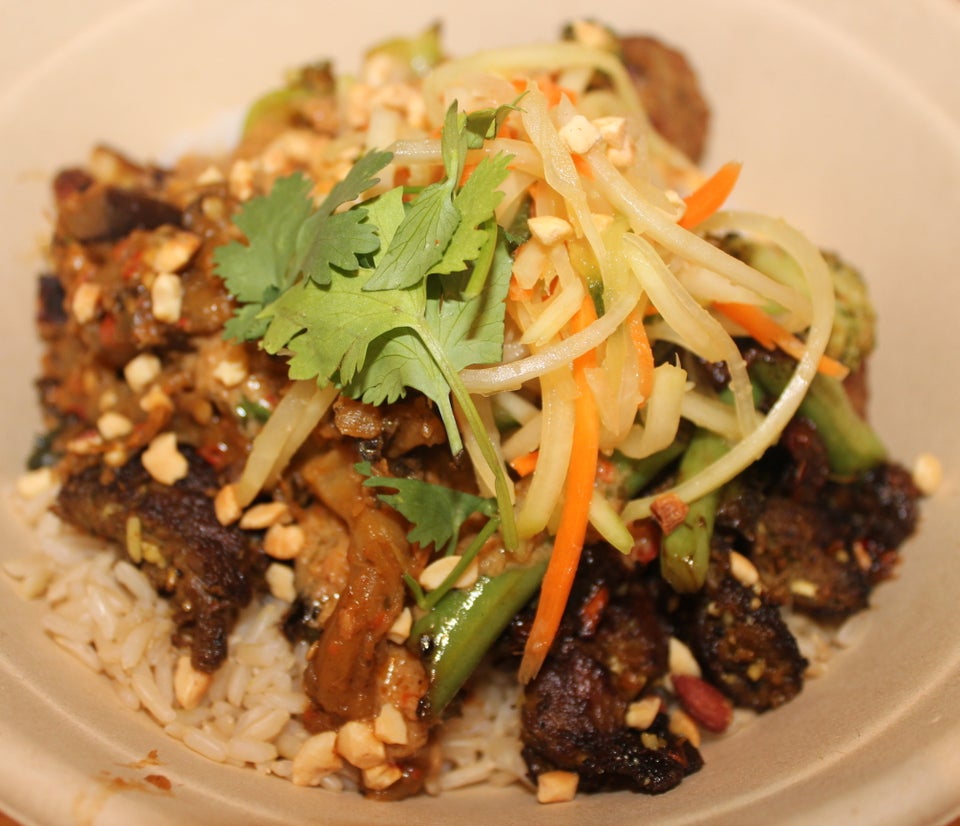 ShopHouse Debuts In Los Angeles
Located in LA's Hollywood neighborhood, ShopHouse is set to open June 17 and is just one of three ShopHouses Wildin will open in the Los Angeles area. Wildin expects to open another in Santa Monica by July and a Westwood spot sometime in the fall.
The location, said Wildin, was very deliberate. While he had to experiment in D.C. because of its proximity to his New York home (it was also far enough away to avoid the city's notorious restaurant start-up costs), Los Angeles was an ideal market for ShopHouse. There's the crew -- leaders who have worked the line at Chipotle and excelled, and could be trusted to learn how to cook on woks with high heat or spend hours snapping green beans in the open kitchen.
There's also California's bountiful produce. Vegetable toppings like broccoli, eggplant, green beans and corn are cooked and served with authentic Thai ingredients like fried shallots and fresh herbs, and will likely be cycled in and out according to the seasons.
"Most [fast food] companies are in a race to the bottom," said Wildin, which is partly why he was moved to serve fresh, vibrant food like the kind he grew up eating as a child. And for the health-conscious, said Wildin, expect cards printed with nutrition information at the LA restaurant once it opens.
While Wildin acknowledged to The Huffington Post that ShopHouse wasn't "there yet" when it comes to locally sourced protein (Chipotle proudly markets its locally sourced carnitas), he did emphasize that the restaurant only used "naturally raised" animal products, free of hormones and antibiotics.
"Pigs are allowed to be pigs, chickens are allowed to be chickens, cows are allowed to be cows," said Wildin. "No confinement farming practices."
The tofu, however, is locally sourced.
"Tofu is a really difficult food to work with," said Wildin. "Most people think of it as a white, flavorless block." To counter the notion, he and Nate Appleman, Chipotle culinary manager, went on a year-long search for tofu; it ended, happily for Californian foodies, in Oakland.
They settled on Hodo Soy tofu, made from 100 percent, non-GMO soy beans. ShopHouse buys the tofu in blocks and then grinds it to give the tamarind marinade more surface area to penetrate.
"For about a period of one year, Nate and I ate way more tofu than anyone should consume," joked Wildin.
Customers first choose from four different kinds of protein: chicken satay, steak laab, pork and chicken meatballs and tofu. Then the protein is served over over jasmine rice, brown rice, chilled rice noodles or salad.
The dish comes with one vegetable option (broccoli, eggplant, green beans or corn), sauce (red curry, green curry or tamarind vinaigrette), garnish (green papaya slaw, pickled vegetables or herb salad) and topping (crispy garlic, toasted rice or crushed peanuts). Additions cost extra, but without them the most expensive option is $7.50 before tax.
ShopHouse's LA location in the Hollywood neighborhood opens June 17.
Popular in the Community