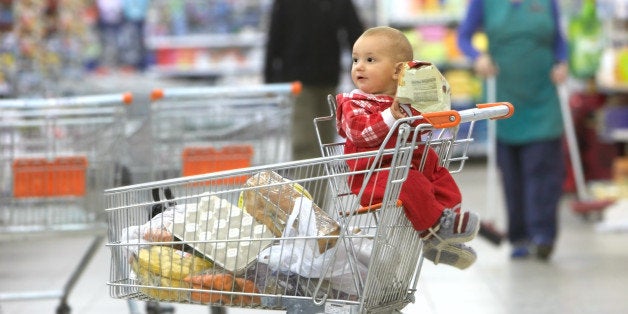 More than 24,000 children go to the emergency department each year because of injuries related to shopping carts, a new Clinical Pediatrics study shows.
Between 1990 and 2011, 530,494 children had to go to the hospital because of a shopping cart-related injury -- which averages out to more than 24,000 children injured a year, or 66 children injured each day.
"The findings from our study show that the current voluntary standards for shopping cart safety are not adequate," study researcher Dr. Gary Smith, M.D., Dr.P.H., the director of the Center for Injury Research and Policy at Nationwide Children's Hospital, said in a statement. "Not only have the overall number of child injuries associated with shopping carts not decreased since implementation of the safety standards, but the number of concussions and closed head injuries is actually increasing."
Falls from a shopping cart were the most common cause of injury, accounting for 70.4 percent. Other common injuries included running into or falling over the cart, having the cart tip over, or having a body part trapped in the cart.
The head was the most commonly injured part of the body, accounting for 78.1 percent of injuries. Soft tissue injury was the most common kind of head injury over the study period, but the number of concussions and internal head injuries increased steadily between 1990 and 2011, increasing from 3,483 injuries to 12,333 injuries.
The researchers noted that shopping cart design should be changed to decrease the risk of child injury; changes could include putting the seating area closer to the floor to reduce tip-over risk, or improving the way restraints are installed in the carts.
Related