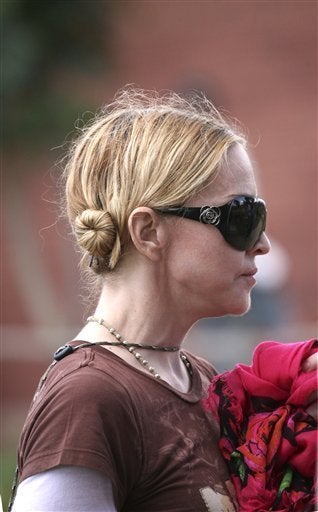 Too bad the flyer didn't come in time for my birthday earlier in the week, but it's never too late to celebrate.
I woke up to the good news that the Blossom Bag is exclusively available at Harrods. "Casual, chic and fashion-forward, the Blossom is Celine's new signature bag for 2009." I think I am just jealous.
"Customers," the blurb tells me, "can choose from an array of exotic skins in a vibrant summer colour palette as well as selecting details such as a satin lining, clasps and buckles -- crating a bag that is perfectly unique to them. This bespoke service invites customers to interpret the Blossom in their very own style." That's a relief.
Clearly in the circles where everyone has a Blossom individuality counts. The bags sell from $4,100 and go right up to $22,000 (just in case you want to order now), which I do. The order takes six weeks, for me too long as I am a instant purchase kind of girl. You can chose crocodile skin, python, and linings in yellow, fuchsia, red, blue, purple, buckles in silver or gold (not real, but I'm sure that's possible).
I passed Roman Abramovich, the Russian billionaire who lives in London not far from Harrods, and is down to his last £2 billion. Times are tough. Surrounded by his six bodyguards (he doesn't use Russian ones as he doesn't trust them) he was intently talking on the phone. Was he ordering the Blossom for his art-collecting model Russian girlfriend?
Maybe not. In fact, the really chic fashionistas don't go for this kind of fashion -- it's too accessible. Yikes. They seek out the vintage piece so that no one knows exactly what it is -- creating a stir -- and creating envy. Or they go to Zara.
As for creating a stir, Louis Vuitton may do this best -- their marketing is remarkable. This year's sell-out is the Stephen Sprouse day-glo Monogram Vernis Roses collection. When Madonna went to Malawi to purchase her new baby, the press went on about her $2,800 Chanel jogging outfit. What they seemed to miss was that she held, casually, almost dragging in the African dust, this cashmere and silk scarf.
LV make very few of these items, which happened to be magnificent, and successfully create a buzz. They are sold out across Europe.
In the UK most of us are still reeling from the recent swoop of putative terrorists, 11 Pakistani nationals, picked up on Thursday, apparently planning a 'spectacular' in England.
So, there is nothing else to do but shop, despite Italian prime minister Silvio Berlusconi putting a gloss on the tragedy that struck Italy this week. Think of it as camping, he said to the survivors of the earthquake in L'Aquila, now living in tents because their houses were destroyed.
The title of Leonard Sorcher's little book sums it up perfectly. Optimists see the bagel, pessimists see the hole.
Related
Popular in the Community