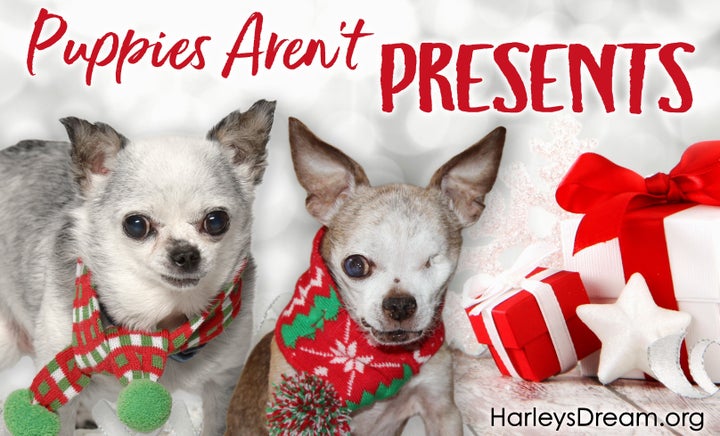 More puppies are purchased from pet stores around the holidays than any other time of the year. The puppies are supplied to the pet stores by commercial breeders, commonly known as puppy mills. The parents of the puppies suffer in cages their entire lives, with the sole purpose of producing puppies. Most of these breeding dogs waste away in inhumane conditions, receiving no veterinary care, and experiencing no (kind) human interaction.
Not only are puppy mill puppies sold in pet stores, but they are also sold via cute and convincing, yet terribly deceptive websites where they are willing to ship the puppies to destinations across the country.
Puppies don't make good presents. The purchase of a puppy as a Christmas gift is typically an impulse buy. It's irresponsible. A majority of puppies end up in shelters and rescues, many just a few months after being purchased. Many of the puppies are never spayed or neutered. This not only exacerbates the homeless-dog overpopulation crisis, it supports the cruel puppy mill industry.
For those who have planned in advance and are prepared for a lifetime commitment, I are not opposed to adding a dog to the family during the holiday season, but I ask that everyone please choose adoption or work with a reputable breeder.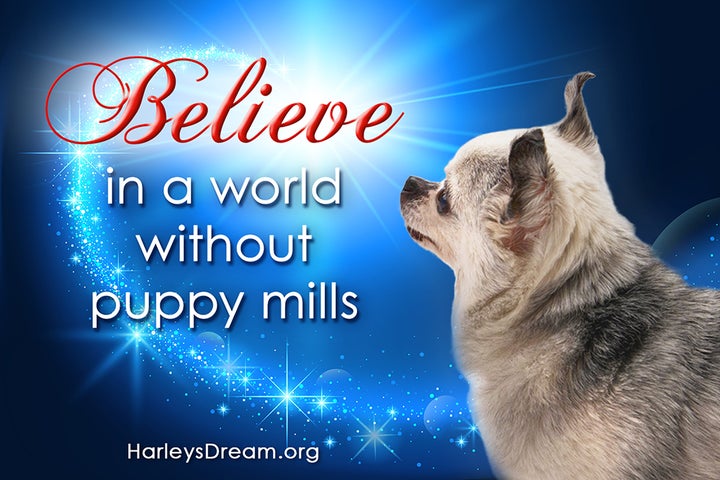 A puppy mill is a large scale commercial dog breeding operation where dogs live in cages and are bred repeatedly, producing puppies to be sold in pet stores across the country – and online throughout the world. There may be as few as 100 breeding dogs or as many as 800 breeding dogs housed at a single facility. It is estimated there are approximately 10,000 puppy mills in the USA, the majority being located in the Midwest. About one-third of these mills are approved and licensed by the USDA, as dogs are legally classified as 'agriculture'.
Harley's Dream was established in 2016 to create awareness and educate the public about the commercial dog breeding industry, also known as puppy mills. They believe that a grassroots approach by large groups of concerned citizens is the most effective way to bring about change. Their focus is to encourage advocacy by providing the tools necessary to educate children and adults alike. Learn more at: harleysdream.org
Popular in the Community