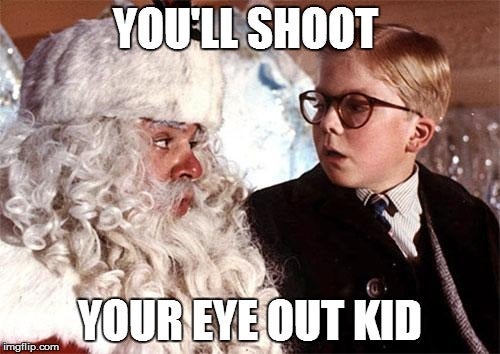 I missed Black Friday. Cyber Monday has come and gone. And I still have to buy toys – lots of them. With eleven grandkids and seven great nieces and nephews (and two more on the way), the holiday toy-shopping season has become overwhelming. All of these children have tons of toys, but there is always some new must-have out there that they passionately want but don't really need.
I was starting to put many of their desired toys in my virtual cart when World Against Toys Causing Harm (WATCH) came out with its list of the top ten unsafe toys for holiday giving. OMG. Many of them are on my grandkids' wish lists. Others I have gifted to that ever-growing list of great nieces and nephews. Who knew these toys were so dangerous?
These are the worst gifts a grandparent could give her grandkids:
Fidget spinners (choking hazard when small parts break off)
Wonder Woman battle sword (potential for blunt force injuries)
Remote controlled Spiderman drone (you'll shoot your eye out)
Pull Along Pony (strangulation hazard because the pull cord is too long)
Nerf's Zombie Strike crossbow (you'll shoot your eye out)
Razor's Heel Wheels (blunt impact injuries and fire related burns)
Slackers Slackline (strangulation and fall-related injuries)
Hallmark "Itty Bittys" Stacking toy (choking hazard now recalled because felt pieces can come off)
Oval Xylophone (choking hazard)
Brianna Babydoll (removable clothing could be eaten or cause choking)
You can read about these toys here.
OK, I'm already a safe-toys fail. I gave all of my grandkids fidget spinners last spring when they were so hugely popular that I had to order them online. And yes, they break easily. Just drop them once and a gasket comes out. I guess one of the kids could have picked it up and eaten it, but their parents just threw the part away after trying unsuccessfully to reattach it to the spinner. Once spinners were selling in the grocery store for $2.99, the fad was over. As an aside, I fail to see how these gadgets would have helped any child focus better. They were a major distraction for the brief time they worked.
Apparently, my second toy-buying crime was to gift two of my great-nieces with Brianna baby dolls. I liked the fact that they had hair and could be dressed and undressed. My bad. Since neither of the little ones who received these attempted to eat her doll's clothing, I guess I survived that toy-buying no-no.
I may have thought the Hallmark "Itty Bittys" Stacking toy or the Pull Along Pony or the Oval Xylophone looked like a fun toy for any of my seven great nieces and nephews this year, but now I know better. And although one of my kids had a slackline in her basement for a while until it broke, I wouldn't be attracted to any toy that requires installation. By the way, until it broke, her kids loved that toy. No injuries from falls, maybe because it was only a 12-inch drop. And I guess since their parents or grandparents watched them when they zipped along, none of them figured out how to strangle themselves. Guess we were lucky with that one.
My grandsons seem to crave the toys that fall into the "you'll shoot your eye out" category made famous in the classic 1983 movie A Christmas Story. All Ralphie wanted for Christmas was an official Red Ryder, carbine action, two-hundred shot range model air rifle. As his mother predicted, he did injure himself, although he kept his eye. A Nerf zombie cross bow or remote-controlled Spiderman drone would be highly desirable, but like Ralphie's mother, I will remove those (as well as the toys likely to cause blunt force trauma or burns) from their lists.
In truth, these children don't really need new toys. They may want these things because they are heavily advertised, but seeing the actual product can be an excellent lesson in consumerism. When one of my daughters was four, all she wanted was a Mickey Mouse roller coaster toy. Her excitement over receiving it ended as soon as she opened the box and saw a poorly constructed toy that was nothing like the one advertised on television. And it broke that same day.
Now she is more likely to gift her own daughters with shared experiences and time together. Tickets to attend a performance together is a popular choice. Of course, they are older and don't have the same special wishes as their younger cousins who still look at advertisements and proclaim, "I want that." Put it on your list, I tell them. We'll see.
In the end, because I love these kids and want to put a smile on their faces, I'm feeling a bit like Irwin Mainway this year. If you remember Dan Ackroyd's classic bit on Saturday Night Live, he manufactured toys that were blatantly dangerous. Bag O' Glass (literally a bag of pieces of glass) and a teddy bear with a built-in chainsaw are among his offerings. Check it out:
Despite laughing until I cried watching Ackroyd's parody, I will try my best to avoid toys on the banned lists. I don't really understand the joy of being shot by a foam nerf gun pellet anyhow. So I'm going back online to find things that will both bring a smile to these children I love and keep them safe.
Calling all HuffPost superfans!
Sign up for membership to become a founding member and help shape HuffPost's next chapter
This post was published on the now-closed HuffPost Contributor platform. Contributors control their own work and posted freely to our site. If you need to flag this entry as abusive,
send us an email
.