By Andrew Osborn and Christian Lowe
MOSCOW (Reuters) - Investigators looking into a fire that killed at least 64 people at a busy shopping mall in Siberia said on Monday a security guard had turned off the public address system and exits had been illegally blocked.
The fire, one of the deadliest in Russia since the break-up of the Soviet Union, swept through the upper floors of the "Winter Cherry" shopping center in the city of Kemerovo, where a cinema complex and children's play area were located, on Sunday afternoon.
Dozens of children were feared to be among the dead.
Vladimir Putin, re-elected last weekend, expressed "deep condolences", the Kremlin said.
But the president has yet to speak publicly about the tragedy, which has stirred anger in Kemerovo, a coal-producing region about 3,600 km (2,200 miles) east of Moscow.
Russia's Investigative Committee, which handles major crimes, said it was trying to bring in themall's owner for questioning and wanted to detain a security guard who turned off the public address system after learning of the blaze.
"Serious violations (of the law) took place when the mall was being built and when it was functioning. The fire exits were blocked," Svetlana Petrenko, a spokeswoman for the committee, said in a statement.
Four people have already been detained, including two employees of the firm that services themall's fire alarm.
Emergency services said they had extinguished the fire, but later said it had reignited in places, and that rescuers were struggling to recover bodies because the building's top floor had collapsed.
It was unclear if any people were still unaccounted for.
Health Minister Veronika Skortsova said from the scene that 13 people were in hospital, including an 11-year-old boy in a serious condition. Russian media said the boy had leapt from a window and that both his parents had been killed.
Many of the victims will only be able to be identified via DNA testing, officials said.
An unofficial list of those missing circulating on Russian media included more than 20 children, some as young as five.
Mobile phone messages sent from one of those on the list, 13-year-old Maria Moroz, and published by Russian media, said: "We are burning. I love you all. This is perhaps farewell."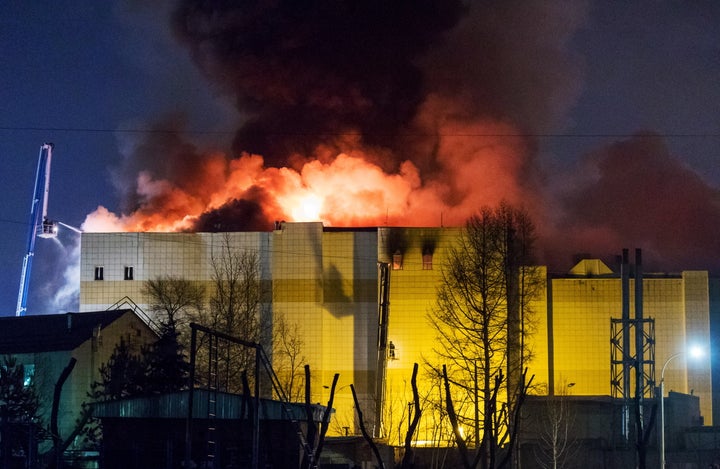 ANGER
Alexander Lillevyali told online newspaper Meduza that he and his wife Olga had lost all three of their daughters, two aged 11 and one five, in the blaze.
He was cited as saying he had dropped the girls off at the cinema and that one of them had phoned later to say the auditorium was filling with smoke and that they couldn't get out because the doors were locked.
He described how he had led rescuers up the stairs, but that they had been ordered to go elsewhere and that rescuers, citing regulations, had refused to give him a respiratory mask. "My daughters were left to burn because of their bloody rules," Lillevyali told Meduza.
Anna Kuznetsova, Russia's children's rights commissioner, said the fire had been caused by incompetence and that similar shopping centers across Russia should be urgently checked.
Pro-Kremlin politicians called for anyone found guilty of negligence or worse to be harshly punished.
Witnesses told Russian media the fire alarm and sprinklers had failed to function.
Video footage showed a group of people in a smoke-filled staircase trying to smash a fire exit door, which was jammed.
The cause of the blaze remains unclear.
The Interfax news agency cited an unnamed local official source as saying the main theory being looked at was that the fire had been caused by an electrical short circuit.
However, it quoted Vladimir Chernov, the region's deputy governor, as saying on Sunday that the blaze may have started when a teenager set fire to the rubber foam on a trampoline in a play area using a lighter.
Other officials were quoted as saying the blaze may have been started by candles used in a children's celebration.
State TV said the mall opened in 2013. Official documents showed it last underwent a fire safety check in 2016.
The Kremlin rejected criticism from some journalists that state TV had been slow to publicize the fire.
Mourners left flowers near the scene of the blaze - thought to be the deadliest since 2009 when 156 people were killed in the city of Perm when an indoor pyrotechnics display at a nightclub went wrong.
(Additional reporting by Maria Kiselyova, Gabrielle Tetrault-Farber and Polina Nikolskaya; Editing by Andrew Heavens and John Stonestreet)
Support HuffPost
The Stakes Have Never Been Higher
Related
Popular in the Community