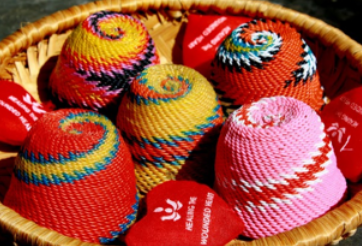 My guide, Huong Lan picked me up at Le Residence Hotel where I was staying in Hue. "I'm sorry, I only have a motorbike," she said. "But I have a helmet for you. I hope you don't mind touring Hue this way."
Mind? I was thrilled. This was the primary mode of travel in Vietnam. I hopped on the back and we drove past a large building. "This is where I went to high school," Lan said. "And so did Ho Chi Minh. That's him." She pointed out a large statue in the courtyard. We drove along the perfume river and turned onto a dirt path. Lan parked the bike and we boarded a small wooden boat which ferried people across the river to the Dong Ba Market.
I anticipated the market would be a great place to shop for gifts. We walked through stall after stall selling every type of fruit including dorian, jack, dragon fruit and coconuts. We passed slabs of beef and pig and chickens and fish, then plastic housewares. We went upstairs and I looked at cheap T-shirts, kimonos and shoes. "Here, you can by everything from a needle to an elephant," Lan said.But there was nothing I wanted to buy. We went backdownstairs where a gaggle of women fought over a large pile of conical hats. I thought the hats looked identical, but Lan said they were looking for a hat with no flaws. "The hat has to be perfect," Lan said.
We made our way through the endless rows of stalls, moving aside when a woman squeezed by carrying a stick across her shoulders from which dangled with two heavy hanging baskets. We stopped for me to take a photo of a group of women on their haunches, eating what looked like raw eggs. "That's baby duck," Lan said, "It's delicious. Want to try some? I'd been warned about street food. So I passed, but Lan bought one. "The best part is the head and the feet," she grinned as she cracked open the egg. It looked like a fetus to me.
We took the little wooden boat back across the river. "I'll take you to a special shop, Lan said as she parked in front of a storefront with a sign, "Healing the Wounded Heart Shop" which sells handicraft items produced by local artists. The proceeds go to fund health care, medical, and educational projects. So far, they've been able to pay for 250 heart surgeries for children of Hue, Lan said. I looked at colorful baskets woven from recycled telephone wires, stationary with Cham and Hmong pieces of embroidery, and gorgeous bags made from recycled plastic products. Each had a tiny red cloth heart which said "healing the wounded heart." Everything was so exquisitely made I barely knew what to buy. And the best thing about it was that for the first time in Vietnam, even though I'd been used to bargaining, this time I happily paid full price.
Related