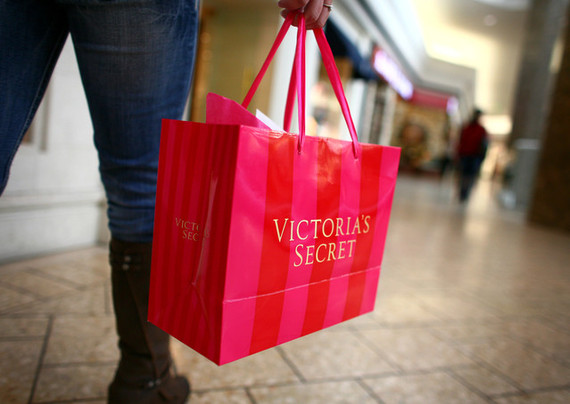 "Dad have you written about the experience women get at Victoria's Secret "
"Good experience or bad one"
"Good, they basically give you a full consultation it's so expensive but I still go even as a college student because I know I basically get a personal shopping assistant and they take such good care of me."
"I know exactly what I'm going to write ☺"
That was the text exchange over the weekend that I had with my daughter. She "gets" what I do for a living and why I write blog posts every day, so she often feeds me ideas. And she always feeds me her perspective as a millennial consumer.
The truth is I had a pretty good idea of what she was talking about when she sent that first text.
Years ago, while on a summer vacation in South Beach, I persuaded her to go into the Victoria's Secret on Lincoln Drive. I hadn't updated her "apparel" in quite awhile and she was at the age where it needed an update a little more often.
It was time for a real bra fitting. The guesswork from Dad was no longer going to cut it.
I let her go in by herself, because she was certainly "of age" at this point. She confidently agreed, and emerged back out a half hour later as a new person. Not knowingly, I had just set a new gold standard for her in customer service.
Now with both of my kids in college, I have to admit that I'm slowly getting used to this empty nest thing. It's not easy letting go, but this is one area that I'm happy to turn over to a professional.
I will never forget our first foray into the topic. It snuck up on us, I guess because this was all new to both of us at the time.
I could tell that my daughter was quite anxious about it, and understandably so... the other girls in her class were all talking about it, obsessing about it and some had already begun wearing bras.
Not knowing exactly what to do, I turned to the one thing I do best: shopping!
I asked all the Moms around town where to go, and they universally said either Macy's or Gap Kids ... I figured Gap Kids would be less intimidating... for me!
We left her little brother at home, and made it more of an event by first having lunch in the food court at the mall. I needed to ease her into it.. for me!
When we got to the store, I started picking out matching sets of tops and bottoms, laying them out on a shelf.
"Dad, I don't need any of the underwear, just bras."
"That's the best part ... they have to match so you get to buy both!"
"And, you need a set for every day of the week."
We walked out of the mall that day, with our heads held high. Well at least mine was, her head was stuck in the bag looking at what we had just bought.
Through the years it got harder to go on such shopping excursions and I got less and less knowledgeable about the options. Have you ever tried to navigate a women's lingerie department? Give it a try and let me know how you fare.
So you can imagine the thrill to discover Victoria's Secret. Measurements. Rational product selections. Someone to personally help select the options most appropriate at any age. At my age!
While I don't necessarily relate to the brand's imagery and overt marketing, especially for my daughter, I can't help but respect and support the way they handle the retail shopping experience.
My daughter feels the same way.
We frequented Victoria's Secret many times after our first trip in South Beach. I'm even more thrilled that the experience stuck and that my daughter has a "go-to" for the topic.
While I would jump back into the role in a minute, this is one department I'm happy to stay out of. She may very well feel the same.