It only makes sense that Stacy Iannacone would grow up to own Ritual Vintage, a New York vintage store that carries amazing finds from designers like Givenchy, Yves Saint Laurent and more. Her obsession with antique clothing started early: In the third grade she purchased a '40s beaded dress with a bustle at a barn sale in her native Vermont. After college at RISD, Iannacone worked as an assistant to Mel Ottenberg (otherwise known as Rihanna's stylist). While working with Ottenberg, Iannacone started collecting vintage heavily. "We'd be out sourcing for jobs, and I'd end up buying stuff for myself," she said. It was then that she realized that she could turn her passion into a job. She rented a booth at a trade show, carted all her stuff to the arena in her parents' old van and put the booth together herself. The response was just the push that she needed to launch her own business. "I sold it all, got a great response from customers and people were telling me that I had a good eye," Iannacone said.
We sat down with the boutique owner to find out the best tips on shopping and caring for vintage clothes. Read on to find out.
1. How do you find the best vintage? "People ask me all the time if I find things at yard sales. The answer is no: Finding a Chanel jacket for $2 at a yard sale is an urban vintage myth. The fact is that there's a limited amount of vintage clothing, so I am always hunting. My motto is 'Have passport, will travel.' I've travelled as far as Argentina to find amazing pieces. But the best local resources are always thrift shops, Salvation Army stores and charity shops in wealthy neighborhoods and towns."
2. Which eras are best for different body types? "The 1940s are great for curvy girls, because the tailoring is more defined at the waist and the clothes are cut more generously. Tall, slim women look great in clothes from the 1930s because it's cut on the bias (the grain of the fabric is diagonal and therefore, the fabric clings to the body). Petite on top looks great in everything because a lot of vintage clothing is cut small. You can wiggle into that Victorian jacket that was meant to be worn with a corset. The 1950s is great for busty women. The cups are bigger, the silhouette was hourglass; think Marilyn Monroe. Men liked an eyeful in the '50s."
3. How do you know the right price for vintage? "For the right piece the sky is the limit. I don't understand girls who will drop $900 for the latest designer sweater, but then hem and haw over spending $150 on a one-of-a-kind jacket because it doesn't have a label on it. One of the greatest things about vintage is that no one else has it, nor can they get it. How can you put a price on that?"
4. What are your tips on cleaning and caring for vintage clothes? According to Iannacone, not every piece of vintage can be dry cleaned. "Take it to someone you really trust who's not going to blast it with chemicals. Many pieces are cotton -- not polyester blend -- and can be really fragile. Older pieces should go on padded hangers. And really old vintage should be stored flat in acid-free tissue, because the weight of the beading can compromise the silk. Be a steward of history and respect these pieces; invest in what it takes to properly take care of them."
5. What about tailoring vintage? "Don't be afraid to alter something. There aren't mutiple sizes of these pieces, so don't hesitate to put some work into it. But always look to maintain the integrity of the piece. You're giving something another life."
6. What are your tips for buying vintage on eBay or Etsy? "Double check your measurements because cuts are plain different. An eight of today is not the same thing as an eight of 20 years ago. Keep your expectations in check; something might need work. Spend ten bucks at the dry cleaner or tailor to make it your own."
Click through to see Stacy's incomparable shop, Ritual Vintage.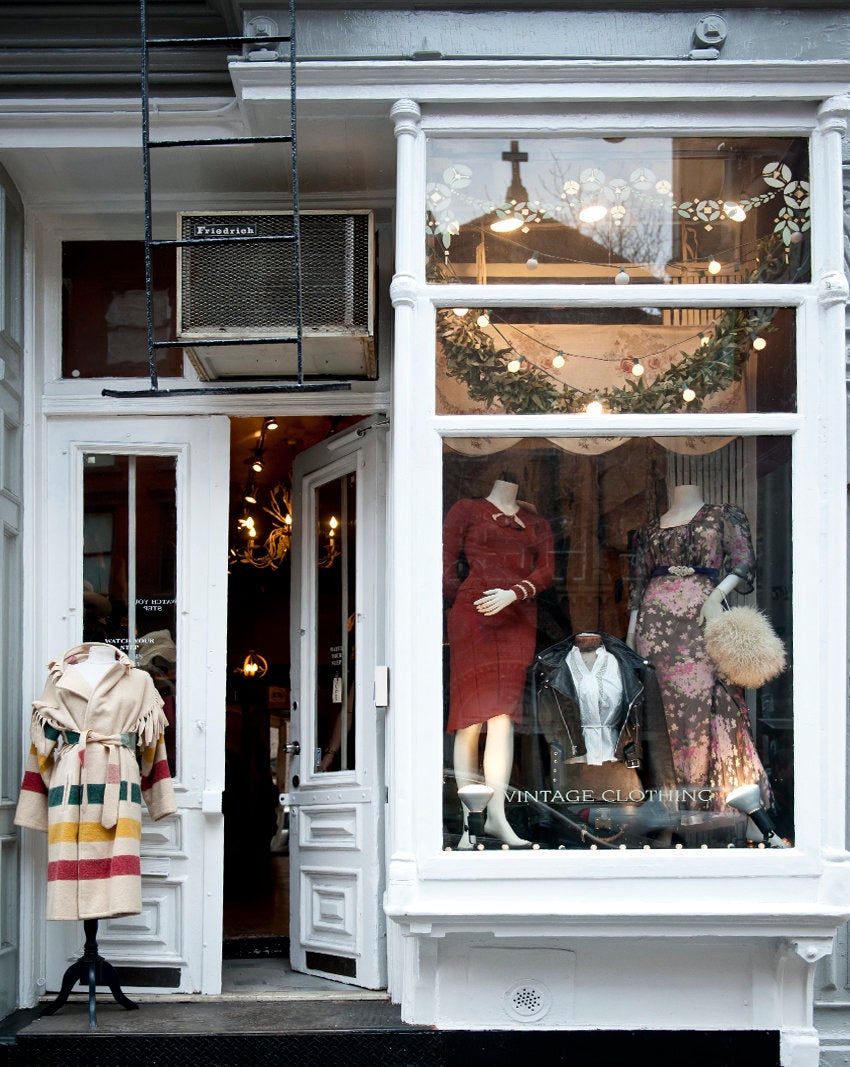 How To Shop Vintage
Related