Gamifying the Try-On Experience
For most consumers, the online experience of shopping for clothes is a crap shoot. Of the $1.2 trillion in worldwide footwear and apparel sales, $62.4 billion were returned for improper fit in 2015. But with the latest technology of true-to-size avatars, the fashion world is coming closer to giving customers an accurate and fun try-on experience at home and in retail stores.
Theoretically, avatars can help reduce the 35% return rate of online fashion sales.
"With a photo and a person's height and weight, our software constructs a 3D avatar instantaneously," says Jon Cilley of Body Labs.
Even without a person's height and weight, "we can reference a photograph that you took with an everyday SmartPhone camera. AI (Artificial Intelligence) is getting good enough now where our software can accurately predict the 3D body shape just from that image," says Cilley.
This technology allows you to purchase gifts for your friends and family without asking them potentially embarrassing questions or ruining the surprise that you're buying clothes.
Flo McDavid of Body Labs took this photo of me. I told her my height and weight. Their software created the image to the right, down to knobby knees and skinny ankles.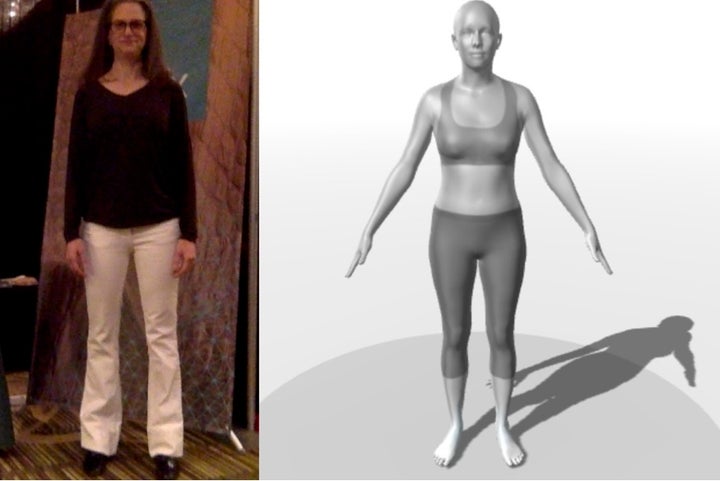 Free avatars can be found through Body Labs ShapeX website by plugging in height, weight, and sending a photo. They automatically email a long list of body part measurements to the user, making it easier to build avatars within virtual try-on programs.
With measurements in hand, I went to triMirror.com to scrutinize clothes in a virtual dressing room. On triMirror, my avatar looks like a younger, airbrushed girl with different hairstyle than my own, who moves like the thousands of girly girls you might find in video games. I'm not a gamer, and yet I found it immensely fun to try clothes on my avatar, have her spin around and walk the catwalk.
If you don't like seeing someone else's face on your body, "we can scan your face and put it (in 3D) on your avatar, so it can look exactly like you," says Jenny Tcharnaia, co-founder and CFO of triMirror. "A lot of clients are asking for this."
TriMirror allows you to see how loose or tight clothing fits with tension maps: red for tight areas, yellow for form fitting areas, and white when the clothing drapes lightly. The tension maps even show how the fit changes when your avatar moves.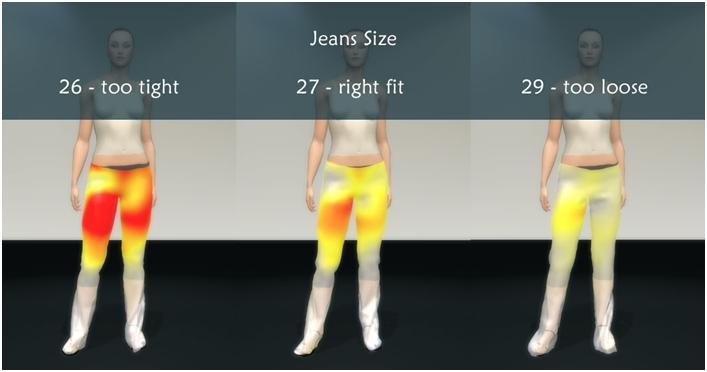 Other avatar-based programs are in the works. In 2014, eBay acquired PhiSix, which has yet to make a splash with shoppers. In January 2017, the Consumer Technology Association revealed Avametric at the Consumer Electronics Show for 3D try-on of Gap clothing. In 2011, Hurley rolled out their jeans line with the help of Intervisual, another virtual try-on (VTO).
"Momentum in the retail space is slower than expected, but developments are showing great traction," says founder and CEO of Intervisual, George Borshukov. "They are beginning to take the steps to truly make this a successful enhancement, improving sales and reducing returns."
The benefits of virtual fit extend beyond online sales. Gamification builds excitement for brick and mortar stores. Offering an in-store "video game" (where clients try conceivably hundreds of styles, colors and permutations before pulling the actual clothes over their heads and feet) improves the shopping experience.
Many other tech companies offer various forms of Virtual Fitting Room (VFR) and "augmented reality" experiences, some with and some without avatars. Examples are: Zugara Inc., Styliff Inc., Fits.me, Virtusize, True Fit Corporation, Dressformer, Fitle, Total Immersion, Fitnect, Wardrobe 3D, N-Show, ImagineThat, Fitting Reality, FXMirror, and Metail.
However, some virtual fit companies use standard size charts that are inaccurate and inconsistent even within one brand and definitely across brands. To avoid these issues, triMirror uses 2D CAD patterns, grading charts, and physical properties to create 3D models of the clothing.
"These programs prefer to have 3D input, but they don't need to have it," says Joshua Young, a 3D digital product creation consultant. "Embodee (a 3D virtual fit company) came up with a methodology where you give them a physical garment and they can deconstruct it, create the 2D patterns and components, test the fabric, image the materials, and then reconstruct it in 3D."
To streamline this process, triMirror offers 3D CAD Designer to brands. "Designing clothes in 3D minimizes sampling, shortens the production timeline and integrates the supply chain from design, to production, to the consumer," says Tcharnaia. "It's just a matter of time before clothing companies adopt this technology to go from design to customer with ease and speed."
*I will write about body scanning technology in a subsequent article. This is not a comprehensive list of scanning companies.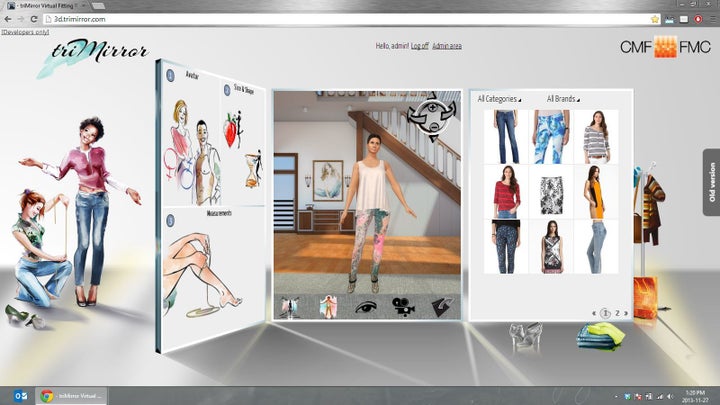 Related
Popular in the Community