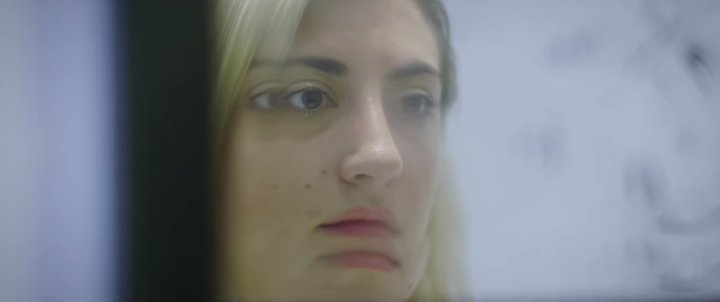 A recent video from BuzzFeed shows just how devastating it can be for sexual assault survivors to come face to face with their attackers. 
The main character, played by Vingiano, bumps into her rapist in a coffee shop and starts following him throughout the day. She follows him to work and, later on, to a restaurant where he has dinner with a woman who seems to be in a relationship with. As the two leave dinner, Vingiano confronts the couple and reveals to the woman that this man raped her in college. 
Vingiano told The Huffington Post that she was inspired to depict a survivor following her rapist because "a rape follows a survivor around for so long," adding, "it's an inescapable part of your everyday existence." 
After she confronts the couple, Vingiano spins into a state of anxiety and PTSD as she attempts to figure out how to cope with being re-triggered. 
Warning: This video includes discussion of sexual assault and rape that some readers may find triggering. 
Vingiano, who said she'd experienced a similar assault, wanted to depict life after rape because it's a topic that's not discussed enough. "The actual experience of life after rape, and what it's like to live in the world with your rapist, are stories that are never seen," she told HuffPost. "Those are the stories I'm interested in."
She said the effects of PTSD and trauma can be extremely exhausting and time-consuming. "Seeing what survivors go through is so necessary to understanding the impact of sexual assault," Vingiano said. 
While every survivor reacts differently if and when they face their attacker, Vingiano's short film is an important commentary on the trauma and devastation many sexual assault victims endure months, years and even decades after their attack.
Calling all HuffPost superfans!
Sign up for membership to become a founding member and help shape HuffPost's next chapter
BEFORE YOU GO
PHOTO GALLERY
Images From 'Surviving In Numbers' -- A Project Highlighting Sexual Assault Survivors' Experiences