Coming home after yet another bad date, what single woman hasn't poured herself an extra large glass of wine and thought, "I guess what they say is true: the only good men left out there are either dead, gay, or fictional." This is exactly the state of mind that Charlie is in when her best friend Madeline drags her out to a singles mixer she swears will be "packed with men who are exactly her type." Imagine Charlie's surprise when she discovers the party really *is* full of the fictional characters and the heartthrobs of yesteryear she's always adored (think: Prince Charming, Humphrey Bogart, Romeo, James Dean, and more!). At first this seems like a dream come true, but are these guys really as perfect as Charlie hoped?
Directed by Tiffany Johnson (winner of the Director's Choice Award at the Diversity in Cannes Short Film Showcase) and written by Caty Zick, Dead. Gay. Fictional. is a fun, slightly twisted rom-com about what would happen if you walked into a party and met some of the famous characters and historical figures you think you know. The team hopes to shoot in the summer of 2015 and is currently engaged in an Indiegogo campaign in order to fund the project.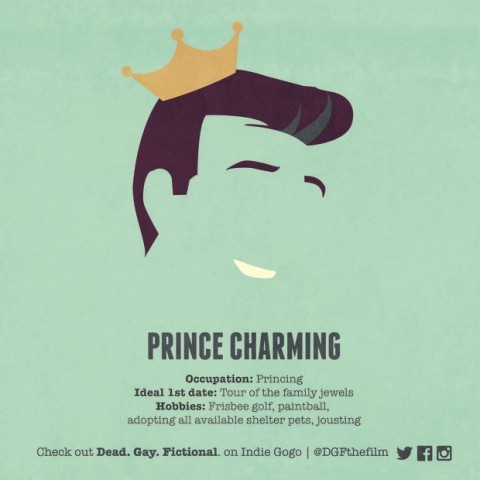 I chatted with Caty Zick, the writer of 'Dead. Gay. Fictional.' about what we can expect from this funny and imaginative short film.
What do you hope viewers will take away from this film?
The film is a fun look at what happens when we are confronted with the people we think are perfect for us--in this case it's made universal by being about fictional characters and celebrities we all know and love. It's also about how those people we idealize aren't always what we expected when we get up close--we show these characters as real people, whose presumed virtues can actually be faults, and I think that's true of a lot of people we admire from afar (or up close), whether it be a legendary hero or that guy you keep seeing on the train. I think that's important for everyone to remember--that people are mixed bags and you have to accept them as a whole, you can't choose their qualities a la carte. And that you never know where you'll make a connection.
How are you and your main character Charlie alike? How are you different?
I'm far more misanthropic than Charlie, I would never go to a singles mixer, even if dragged! But we are alike in our bookishness, and our love for bigfoot documentaries. To some extent Charlie plays the role of the audience in this film--she is our way into this world, and I think she reacts to it the way many of us would. She's excited, but has trouble wrapping her head around it.
What do you think is the most important thing to find out about someone on a first date?
How they treat the waiter!
Can you share your favorite quote/line from the film?
I put this question to our director, Tiffany Johnson, so I'm not just laughing at my own joke. Her favorite is when our man-eater character Madeline is about to hook up with Jack Dawson from Titanic and says, "I'm gonna show him how two people can fit on one door, if you know what I mean."
Check out the "Dead. Gay. Fictional." campaign on Indiegogo, and sign up for email updates on the DGF website.
Calling all HuffPost superfans!
Sign up for membership to become a founding member and help shape HuffPost's next chapter