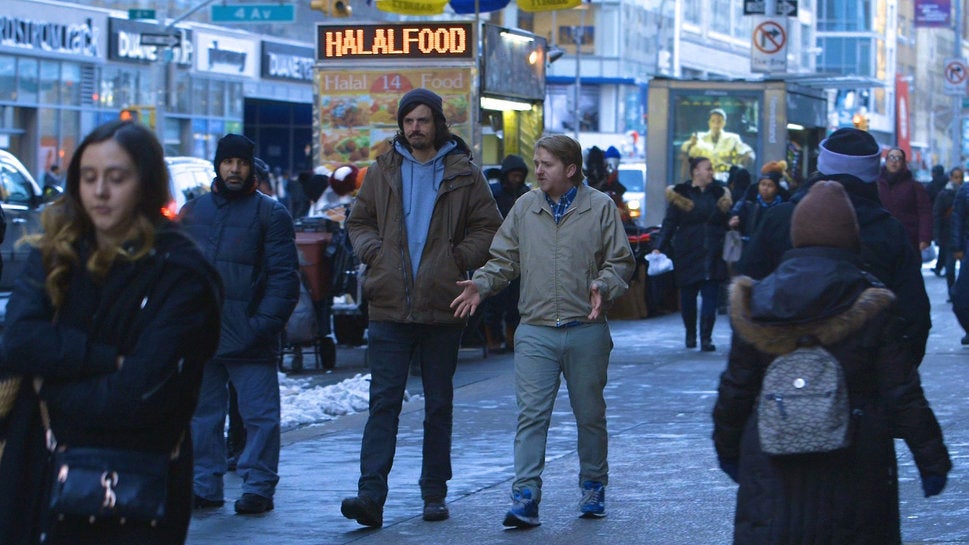 In the year since Donald Trump's election, American art has adopted barbed subtexts. Suddenly, so much of the popular culture we consume is a corollary to the social and political implications raised by the melodrama of the current administration. 
As our president and his affiliates grow more scandal-ridden by the day, each of the aforementioned talking points remains intriguing and worthwhile. But they're also convoluted: All of these projects were conceived long before Trump neared the White House, and most were filmed before he even clinched the Republican Party's nomination last July. Their themes about racial inequality, gender divisions and immigration biases have been relevant for centuries, but even films and TV shows that have taken last-minute inspiration from our current political climate owe most of their conceptual ideologies to pre-Trumpian contexts. 
For the most part, we won't have a clear picture of Hollywood's artistic response to Trump until 2018 or even 2019, when the projects now in development and production come to fruition. ("American Horror Story: Cult," which offers a flimsy parable about a country divided by post-election rifts, may be the closest we've come to a fictional response to the so-called Trump phenomenon. For comparison's sake, the late-1970s Vietnam War movies "Apocalypse Now" and "The Deer Hunter" weren't envisaged until nearly the end of the 20-year war. They opened a few years after the conflict concluded, sharpening their ability to  respond to such a global tragedy.) 
But at least one medium has seen an immediate uptick in artists commenting on our polarizing current events: short films.
"That's where the shorts format can be most exciting, especially for documentary filmmakers," Vimeo curator Ina Pira told HuffPost.
A member of the five-person team that selects Vimeo's coveted Staff Picks section, which can vault a video to varying degrees of internet fame, Pira has noticed that more of the platform's recent submissions are political in nature, especially in the nonfiction and music-video realms. Some of the short videos Vimeo showcases are made in as quickly as a few months, or even a few days. Popular topics, she told HuffPost, include climate change, the aftermath of the election and Europe's current refugee crisis.
Timing is key. Unlike feature-length films, which often require two-plus years and hundreds of thousands (or millions) of dollars to make, short filmmakers can deliver commentary on current events while those events are still current, for comparatively little money. Similarly, sites like Vimeo and NoBudge, a free platform run by Brooklyn-based filmmaker Kentucker Audley, allow directors to skip the complex distribution models that only sometimes amount to widespread attention. Everyone longs for a snazzy Sundance premiere, but many of those movies struggle to find an audience beyond the insular festival circuit anyway. Instead, digital launchpads allow filmmakers to reach audiences quickly and cheaply. 
Audley pointed to a 14-minute fiction film called "Unpresidented" as an example of the dexterity privileged to short-form storytellers who don't need the vast resources that most feature-length filmmakers require. "Unpresidented," about a New Yorker's attempt to justify his bet that Trump would win the election, premiered at last month's New York Film Festival and screens at this week's Nitehawk Shorts Festival in Brooklyn before launching on NoBudge by the year's end. That's an example of the synergy that's become prevalent among the network of artists and curators making and supporting short-form content.
Of course, not all of the political work in the short-film arena is so literal. In Audley's eyes, stories that amplify the voices of groups most damaged by the administration's rhetoric and policymaking can be just as potent; the word "Trump" is not required in order to resist the White House.
"I don't think you have to respond to the pinprick of President Trump for your film to resonate with a post-Trump world," Audley said.
At NoBudge, which typically houses unconventional, independently made shorts and feature films, most of the submissions Audley receives are not grounded in hard-boiled issues like those hosted on Vimeo or funded by the Tribeca Film Institute's If/Then initiative, which issues grants for short documentaries that convey "diverse perspectives" of global proportions, according to producer Mridu Chandra. 
"Short films are not as culturally relevant in general as features," Audley admitted. "I feel like people really don't have that much exposure to short films in the mainstream."
When it comes to mainstream audience's historic embrace of short films, Audley is right. In the early days of American moviegoing, the cost of admission included shorts and newsreels that would screen ahead of the headlining feature. Then the genre was sidelined to festivals, attended mostly by dedicated cinephiles, industry gatekeepers and high-brow types. Today, filmmakers are relying on internet platforms to foment a renewed appreciation for video pieces that run anywhere from two minutes to half an hour. 
Pira has noticed that comment boards on Vimeo's topical shorts are more electrified than ever. Communities of likeminded individuals are engaging with material that finally speaks to the representation that corporate popular culture sometimes lacks, even if well-made movies like "Get Out" and shows like "The Handmaid's Tale" are underscoring protracted social ills.
Vimeo Staff Picks, especially, has become an anchor for work that finds broad recognition. "Best of Luck with the Wall," a seven-minute project that used satellite images to sketch the overwhelming vastness of a potential fence dividing the United States and Mexico, racked up more than 1 million videos and was covered by news outlets like Salon, Splinter News and the Daily Mail. And "4.1 Miles," a 21-minute snapshot of the European migrant crisis, landed on Vimeo and The New York Times' website before earning an Oscar nomination for Best Documentary (Short Subject) earlier this year. 
"When the election happened, I think everybody's priorities changed a little bit," Eleanor Wilson, an Australian-born filmmaker living in New York, told HuffPost. "All of a sudden, it became a thing where it's like, 'Well, if I'm a person who's putting a voice out into the world, I actually need to think about what it is that I truly want to say now.' For me, it changed how I thought about storytelling a bit. If I'm going to go to all the trouble for making a film and finding financing, it's either got to be extremely politically relevant or it's gotta be a really good time."
Wilson does not have to "worry" about box-office revenue or other traditional benchmarks of cinematic success. She can deliver her work to hungry audiences with a few clicks of her keyboard. 
"It really opens up options for the audience when you can say, 'Oh, this can just live online and that's all it has to do,'" she said. "It doesn't have to fit anybody else's needs."
Calling all HuffPost superfans!
Sign up for membership to become a founding member and help shape HuffPost's next chapter
BEFORE YOU GO
PHOTO GALLERY
Must-See Documentaries