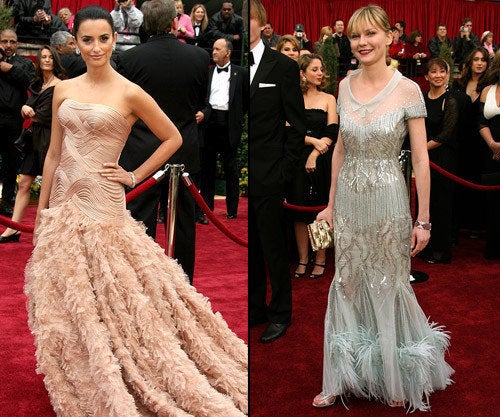 Sunday's 81st Academy Awards was probably one of the best in at least five years. Hugh Jackman was a great host and the musical numbers were refreshing and exciting. The stage was beautifully adorned with crystal and art deco staging reminiscent of another time but juxtaposed with modern lighting and flatscreens. The entire event was brilliant and exactly what viewers needed; something elitist that we can still aspire to.
This leads me to say how wonderful it was to see so many people elegantly dressed for the occasion. You would be hard pressed to find much of any misguided fashion steps this year. Bravo! And among the shorter attendees, my hats off to them, they really held their own. From red carpet host, Ryan Seacrest to always dangerous, Jack Black, it was a great example of how shorter men can look if they just try. There were a lot of good examples of what to do and how to look your best this year.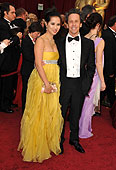 Brian Grazer (Frost/Nixon) looked great in a one button peak lapel tux. His bowtie was a bit wide for his face, but the fact that it's slightly askew suggests that it was hand tied, and that's worth style points. He
was the only gentlemen wearing studs on his shirt, which gave him a good vertical line.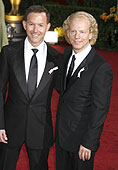 Bruce Cohen (Right, Milk) had some unsightly puckering on his tux. It looks like it's too tight. A lower button stance might help that, like his friend, Dan Jinks.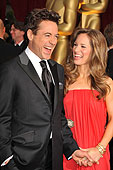 Robert Downey, Jr. looked great in his one button peak lapel tux. It fit great and it follows the rule having attention brought up by having an accent collar in charcoal. I think the only distractions are his slant flap pockets. It takes away from the collar detail. A slant besom pocket would have been more height enhancing and discreet, allowing the attention to stay at his collar.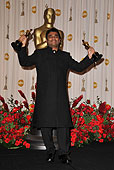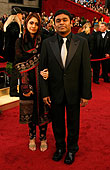 A.R. Rahman (Slumdog Millionaire) looked great in his traditional Indian ¾ length coat. Well tailored and very elongating. However, his pants looked like they were about to fall off. On the red carpet, his one button peak lapel tux looked very well tailored. Again, the contrast color is his necktie bringing the attention up, which is what one wants when he's short. I think he could have looked even taller if he had shortened his sleeves and pants a little more.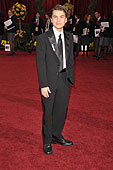 Emile Hirsch in his two button peak lapel tux looks almost there. The trim sleeves definitely make his torso look longer. To complete the look and to elongate further, a trimmer pant model would have worked better. He probably wasn't comfortable buttoning his coat because the waist was probably too full, making him look he's wearing a boys coat. To flatter his slight frame, a more suppressed waist would have made him look taller and allow him to button his coat more comfortably.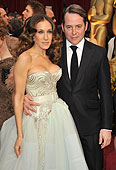 Matthew Broderick was perfect in his one button peak lapel tux (sensing a trend). What made his coat and shirt fit even more perfect was just the right amount of sleeve cuff showing to frame the arm of his coat. It looked properly finished.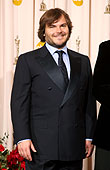 Jack Black impressed me tonight with his 6/2 double breasted tux in midnight blue, no less. I'm not sure I agree with wearing a blue shirt, but the cut is very flattering in the way it hides his belly. And look at how perfectly framed his sleeves are with just a touch of cuff showing. There are very few right ways for a shorter man to wear double breasted. Here's one of them. If Tom Cruise can do it, so can Jack Black.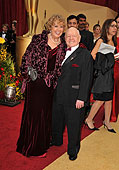 Mickey Rooney knows how to bring attention up and to his wife, Jan. The red bowtie and hankie definitely brings attention up, but also pays tribute to his wife, who is also wearing red. Gotta love that. Being 5'2", having a coat too short can backfire. Make sure to have your coat long enough to cover your seat and you should be fine. The same goes for his sleeves. Unless you've taken the time to measure your shirt and coat sleeves precisely, better to have the coat sleeves the right length.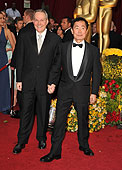 George Takei in a one button shawl collar appears to have worn a regular size when a short size would have fit him better. As you can see the coat is too long and therefore the shawl sweep is too low. It makes him look shorter than he is. A higher button stance in a short size would have worked better.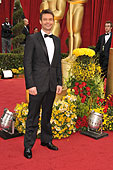 Ryan Seacrest in a one button peak looked slick covering the red carpet. The bowtie was the perfect size to frame his face. With such a trim sleeve, I think he could have shorten his coat a little to show off a little shirt cuff.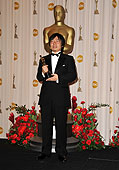 Kunio Kato (La Maison le petits cubes) looked almost textbook perfect in his 1one
button peak lapel tux with bowtie in a wingtip collar. At an estimated 5'4"-5'5" he looks taller. His pants are not too long, giving him a longer leg line. His jacket is the right fit with the right length sleeves. And he has just enough shirt cuff showing to frame the coat. If I wanted to get picky, I would have gone with a slightly bigger bowtie.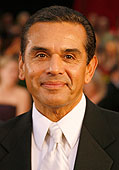 Los Angeles Mayor Antonio Villaraigosa looked good for a mayor, but perhaps out of touch with the fashion world in his tux. His large notch lapel is outdated.
Alan Au is Marketing Director & Vice President of Jimmy Au's for Men 5' 8" and Under in Beverly Hills, California.