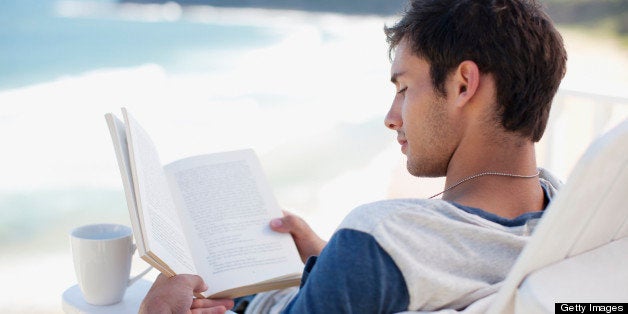 With George Saunders' "Tenth of December" (Random House) and Karen Russell's "Vampires in the Lemon Grove" (Knopf) already drawing strong praise from literary critics and several other short story collections inching toward publication this summer and fall, short stories are looking to make a big comeback this year.
Popular book blog and podcast Books on the Nightstand -- run by Random House reps Ann Kingman and Michael Kindness, though not as an official Random House project -- has gone so far as dub 2013 "The Year of the Short Story." Kingman has even taken on an ambitious effort to read one short story a day for the entire year that she is calling Project Short Story.
Kingman took a few minutes to talk about how the project is going.
What's the last story you read?
"Shakespeare's Memory" by Jorge Luis Borges, read by Hisham Matar on the New Yorker Fiction Podcast. It's a brain-bender in every sense of the word, about a man who is offered the gift of Shakespeare's actual memory.
Have you missed a day yet?
Sadly, I have. I had about a week and a half of heavy travel that also included the death of a family member and the Boston marathon bombing; I was too exhausted or distracted to read on several of those days. I did make up for it, though, by reading or listening to multiple stories on a few days, so I think that the numbers will even out.
Has it added to what you have to read for work, or have you just shifted the balance of novels and short story collections?
This project is strictly additive; only two of the stories I've read have also counted as "work" reading. I try to squeeze in the short stories during the day, and read novels and nonfiction books in the evening before bed.
Have you heard from many people who follow your blog or the podcast who are doing their own Project Short Story or at least reading more of them?
Yes, and I'm delighted! There are a few people who are also reading a story a day, and I've heard from several of our listeners that they have increased their short story reading. Dan Wickett of Dzanc Books has declared May to be Short Story Month, so I'm hoping that many more will jump on the short story bandwagon, at least for a little while.
What has the balance been of stories you found online vs. stories you are reading from collections?
I'd say it's a fairly even mix. Several of the stories I've chosen have been in collections I own, but as I've blogged them, I've found them online. I love when stories are online because it feels that I can more easily share them, and that others may read them. I do own well over one hundred collections, both single-author and anthologies, so I am trying to at least sample most of them over the course of this year.
The New Yorker has always been sort of a home base for great short story authors like Alice Munro, Richard Ford, and Jhumpa Lahiri. Is that part of your reading routine?
It's a more important part than I realized it would be at the beginning of this project, thanks to the New Yorker Fiction Podcast, a monthly podcast that features one short story read aloud and discussed. I spend several hours each week in my car driving to and from bookstores, and I have fallen completely in love with the podcast. I especially love the conversation between the author who has chosen the story and the podcast host, Deborah Treisman. It's like a mini lit class. It's a monthly podcast, and I'm dreading the day when I've listened to all of the episodes.
Seems to me that George Saunders' "Tenth of December" (Random House) and Karen Russell's "Vampires in the Lemon Grove" (Knopf) -- both published in early 2013 -- are the two titles that have really marked this as the year of the short story collection. Is that your sense?
Yes. I had read both collections in the fall of 2012, and they were both instrumental in my declaration that 2013 was going to be the year of the short story. Of course, I had no idea that on January 3rd
New York Times
magazine would put Saunders
"the best book you'll read this year." I have to say it made me feel good about my proclamation.
Were there other collections you had read in galleys or heard advance buzz about that signaled to you that 2013 was going to be a noteworthy year for short stories?
Yes, I knew that Jess Walter had a new collection coming, "We Live in Water" (Harper). I was a huge fan of Walter's novel, "Beautiful Ruins" [published in 2012]. Ethan Rutherford's first collection, "The Peripatetic Coffin and Other Stories" (Ecco, May 7th) has been getting a lot of buzz and is terrific. And there's a new Aimee Bender collection, "The Color Master" (Knopf) coming in August.
Is there a big short story collection for summer that are you are looking forward to?
Definitely the Aimee Bender. I have the manuscript, but I am saving it for closer to publication because I know I won't be able to stop talking about it once I've read it.
T.C. Boyle's ginormous, 944-page Stories II (Viking) collection of stories he has published since 1998 will be out in October. Have you read much of his last three collections that will make up the bulk of this mega-collection?
I have not, and am very much looking forward to reading it. I don't think I've read any T.C. Boyle stories at all, come to think of it.
Is there a Twitter hashtag for short stories like #longform for short nonfiction? Have you thought about starting one?
According to the Short Story Month website, Knopf started #shortreads. I think it's time to give it some more traction, so let's spread the word...
Support HuffPost
The Stakes Have Never Been Higher
Related
Popular in the Community