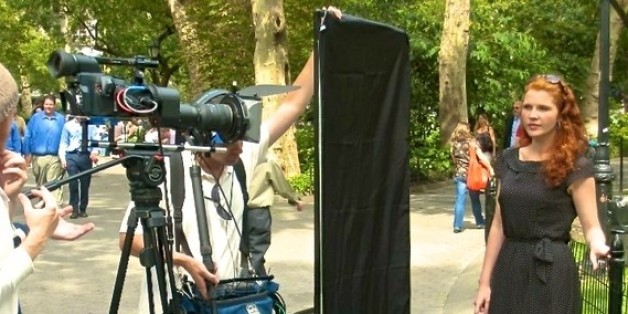 When I moved to New York in 2003 I had big dreams; acting in Broadway plays, scoring a breakthrough role in a small film, and generally becoming the next Meryl Streep. But after a few humbling auditions, I realized I couldn't pay my rent with my ambition. Just because we make it in New York, doesn't mean we're making it in the ways we planned. And since being uncast meant I was already effectively behind-the-scenes, I decided to settle on a career working there.

From personal assisting a Victoria's Secret supermodel, to stage managing at a tiny theatre, to working for a reputable talent agency, and ending up as a book publicist, I've managed to feed my interests in various ways without actually taking the spotlight myself. And along the way, I've seen quite a few stars rise even though some industry insiders never thought they would. In 2009, I went to an NYU showcase where I fell in love with a pre-Tony winning Nina Arianda performing her heart out to a scene from Dinner with Friends. I turned to the agent sitting next to me and whispered "she's amazing!", but he gave me a thumbs down, whispering back that her look wasn't commercial enough.

Around that same time I recommended an agent I worked for meet a friend of mine for representation; a then-unknown (but now Tony-nominated) actor. I sang his praises for work I'd seen of his at a teeny theater in Westchester, but my boss looked bored and told me to print his credits from IMDB instead. The agency passed with a snide comment about him "not being much on paper."
These swift dismissals of obvious talent left strong impressions on younger me and I swore off my own artistic pursuits forever. Why should I follow my own creative dreams when outstanding talent all around me was repeatedly being rejected? I didn't have the patience or strength to suffer for my art. When acquaintances and colleagues asked me if I cared that I'd stopped acting I performed a convincing monologue about how stability was something that really mattered to me and, well, I just couldn't have that as an actor. Friends say my best acting gig ever was as an agent.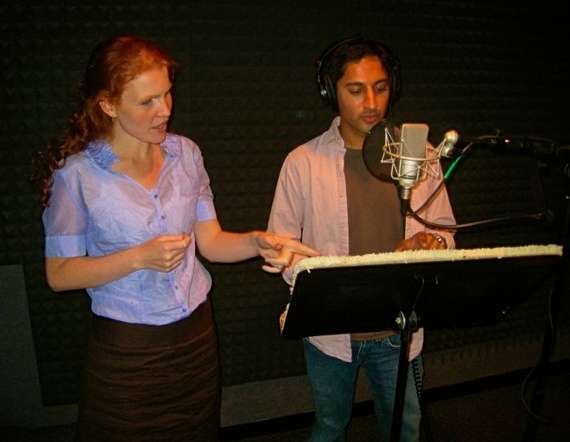 But after a recent trip to a Broadway play, I felt crushingly homesick for the stage, and decided to email my now-successful Westchester friend mere months before his Tony nod to ask if I could enroll in his scene study class. It had been nearly a decade since I'd been in an acting workshop, but I wanted to see if I could still find a little joy in something that had once been so magical to me. When he replied that he'd be happy to have me, my legs turned to Jell-o. I was both elated and terrified.
My scene partner was a soft-spoken beauty in her fifties who reminded me of Diane Lane. During our first rehearsal she asked where I lived and I boasted that I'd just moved into a new apartment in a nice area of Brooklyn. She said a friend of hers, an actress in her mid-sixties, needed a roommate -- somewhere cheap. "And do you know any agents who sign women our age? It's so hard to get any decent work!"
I ran home to my boyfriend and shook my head with a mixture of pity and anger. "I'm so glad I'm not in their position." I said. "Being an actor is outrageous!" I felt like giving myself a high five. I'd made the right decision for choosing stability!

However, the next time I met with faux-Diane Lane, there was no chit-chat. We came prepared to work, having taken our scripts home the week before to memorize them. We dimmed the lights and looked across from each other. And in the next moment, it was as if a spotlight appeared around her. I felt like I was witnessing a giant walk a tightrope. My body stiffened and my eyes teared up because I forgot to blink; her talent was so absorbing I was dumbstruck.
"Who is this woman?" I marveled. "Everyone should know who this actress is!"
But a second later, I forced myself to remember how many times I'd felt this way while scouting talent with the agency. As my partner read on, my heart broke like it had in the past. Because it astounds me to think of how much talent there is in New York and it shatters me to think of how much of it goes unnoticed. I was sad for me, too; for not having the courage to pursue a career as an actor without needing to be hugely recognized. Perhaps the stability I have pales in comparison to what she brought to the room that day; the courage to follow her dream regardless of the result.
In 2013 when Neil Patrick Harris performed his epic opening at The Tony's he delivered this statement to the audience: "There's a kid in the middle of nowhere who's sitting there living for Tony performances... reassure that kid, and do something to spur that kid, 'cause I promise you, all of us up here tonight, we were that kid."

I was that kid, and in some ways I still am. And this year while watching the Tony's at a friend's, no one knew that my old Westchester buddy was now a nominee. When his face came on screen I quietly whispered "wow", then fell silent, consumed with the faces of all the actors I know who were good enough to be sitting there, too.
Jillian Sanders is a writer living in New York City. www.jilliansanders.com
REAL LIFE. REAL NEWS. REAL VOICES.
Help us tell more of the stories that matter from voices that too often remain unheard.