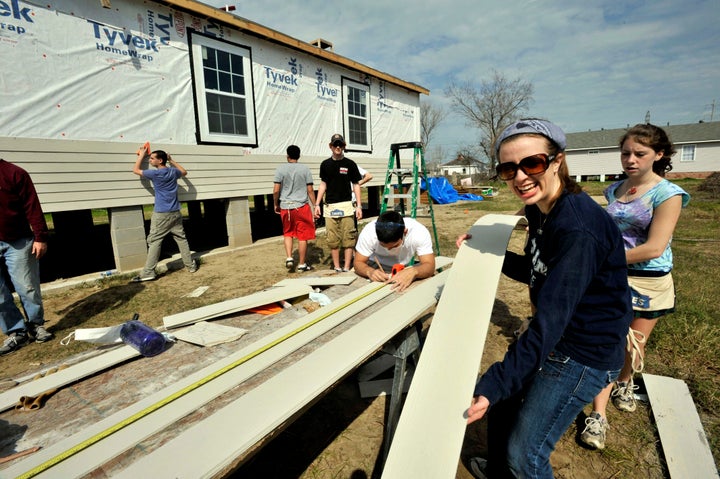 If Jesus' command to "Go ye therefore, and teach all nations" were viewed as launching a business, the industry would be booming -- at least when it comes to short-term mission trips.
But is the spiritual profit worth the investment of time and money?

Consider: The number of U.S. Christians taking part in trips of a year or less leaped from 540 in 1965 to an estimated more than 1.5 million annually, with an estimated $2 billion spent yearly, according to Dr. Robert Priest, a missiology professor at Trinity Evangelical Divinity School, in a 2008 article in Missiology journal.

Some who have studied the issue say the money might be better spent giving directly to a country's Christian partners to spread the Gospel, or to offer medical aid or construction assistance. Some long-term missionaries even have complained that culturally insensitive short-term mission participants do more harm than good by damaging relationships that took years to build.

But having led a study on the effects short-term mission trips have on team members, I say a qualified "Yes" to whether the trips are worthwhile.

Two-thirds of short-term trips last two weeks or less, with purposes ranging from evangelism to digging wells to teaching English as a second language. We appreciate the zeal of students on mission teams. They want to be on the streets evangelizing. Some missionaries say, "Wait a minute." In many countries, the most effective way to reach others is through friendships built over time rather than quick Gospel presentations that can endanger the work -- and lives -- of long-term missionaries and local Christians.

The good news is that our study showed that students who have taken part in short-term mission trips are less materialistic, appreciate other cultures more and better understand missions as a lifestyle.
About 600 students, most from Texas universities, and 48 short-term mission trip leaders participated in a study I conducted with the help of four Baylor University undergraduate research assistants. The first portion of the study consisted of 578 completed surveys, and the student responses consistently reflect a positive impact of participating in short-term mission trips. In comparison to those with little or no short-term mission experience, students who participated in two or more international trips had significantly greater appreciation of other cultures and were less materialistic.

Of the 32 students interviewed after their trips, 29 said the experience had changed the way they see other cultures, with 17 mentioning increased respect and concern. Almost half said they were less likely to see their culture as inherently superior. Most who had been exposed to poverty on their trips said they had greater appreciation for what they have -- or even disgust for American greed -- but only a few mentioned concrete steps they had taken to lessen their materialism.

While the study showed the mission leaders are doing many things well in pre-trip training and on-site mentoring, they fall short when it comes to aiding team members take what they learn from their trips into a missions lifestyle. What is needed is follow-up by team leaders, usually from churches, schools or mission agencies, with a more extensive effort than online contact or periodic reunions. Long-term involvement, whether global or local, is where you see transformation taking place. Short-term mission experiences must be more than spiritual tourism in which participants travel to an exotic place, take a myriad of photos and return to their relatively isolated home environments, as well as their pre-trip behavior and routines.
Many people make a commitment at Christian youth camps to become missionaries, but some find out a little bit more and say: "Oh, that isn't for me. I can do this for a few weeks, but I like my technology, my comforts." Others opt against career mission work when they see its challenges. In some countries, there are immediate responses to the Gospel, with hundreds of people becoming Christians. But in other countries, a missionary could work for years and have only one or two convert to Christianity. Students hoping to see instant results on a two-week trip may become discouraged.
But deciding not to become a vocational missionary does not mean a loss of interest in missions or ministry. Chelsea Nuttall, a Baylor University sophomore English major from Sugar Land, said a short-term trip made her realize that "Missions can be anywhere. It's not just going global."
For some, a trip strengthens commitment. That was the case with Matt Lewis, a Baylor University sophomore communications major from Jacksonville. He worked with youth on volunteer student mission trips to the Czech Republic in 2007 and 2008.
Matt wrote this about his experience: "Between trips, I spent a lot of time in prayer and really tried to meditate and listen to what God was trying to say to me. ... I got to reconnect with some of the youth there from the previous summer. It was great to see that the decisions they made the last year were still apparent in their lives. Seeing this really reinforces my belief that God is calling me into the ministry."
Dr. Horton is associate director of ministry guidance at Baylor University. He is a former pastor of a church in Hong Kong and taught biblical courses, theology and English in the 1990s at universities in Hong Kong and Thailand.
Support HuffPost
The Stakes Have Never Been Higher
Related
Popular in the Community