The 40-year-old singer and actress says she delved into the music of those greats as she recorded her latest album, "Spectrum." But a traditional, by-the-rules jazz record just wouldn't be her style.
"I always thought this kind of album would be what I would do way later in my [career]," the Olympia, Washington, native told HuffPost. "It was months and months of conversation and listening and getting together, playing through stuff, before I realized, if I'm going to do a big band album, it has to be big band my way. It has to incorporate all of the colors of who I am. It's got to have shades of soul, R&B and a little bit of an edge to it."
"Spectrum" finds Bean lending her signature, raise-the-roof vocals to standards like "How Deep Is the Ocean?" and "I Wanna Be Around" with the help of a 17-piece band. She's at her best, however, exploring new territory, and original songs like "Remember the Day" and "Strange Thunder" fit in seamlessly alongside the classics. Reimagined takes on Foy Vance's "Make It Rain," made famous by Ed Sheeran, and Rihanna's "Stay" are also highlights. (You can watch Bean singing "Make It Rain" from a February concert at the Ace Hotel in Los Angeles above.)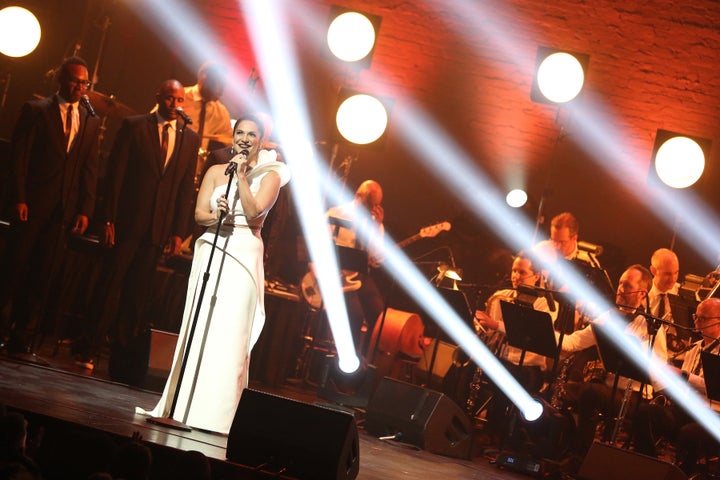 "Spectrum," released in February, marks the start of a new chapter for the unpredictable chanteuse, who performed at New York's Apollo Theater July 30 as part of her 2018 tour. She first established herself as a presence on the New York theater scene in a 2000 off-Broadway revival of "Godspell," followed by her Broadway debut in 2002's "Hairspray." Her big break, however, came when she replaced Idina Menzel as Elphaba in Broadway's "Wicked" in 2005.
Bean left "Wicked" a year (and one national tour) later, but thanks to YouTube, her take on Elphaba lives on. While she relocated to Los Angeles, she's remained active in musical theater, starring in a New York concert staging of Jason Robert Brown's "Songs for a New World" in June and a 2016 production of "Funny Girl" at North Shore Music Theatre in Massachusetts, among other shows.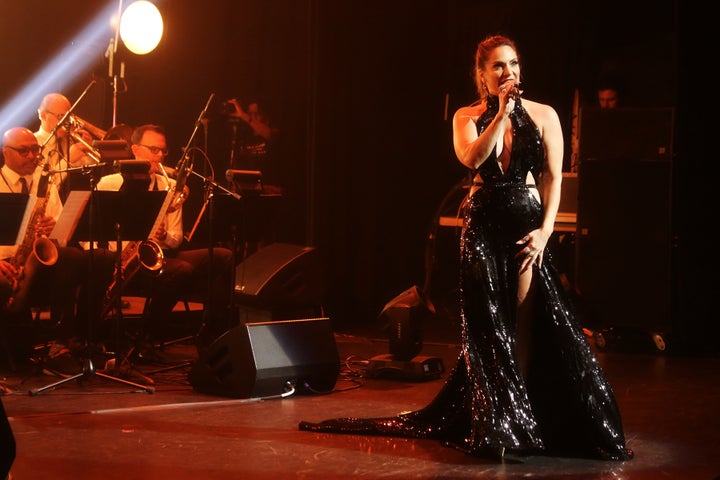 "I think, for better or for worse, I've always been a person who knows what they want," she said of her trajectory. "I choose with my heart and with my gut. As an artist, my evolution needed to happen that way. It's been a liberating experience ... to have blazed some kind of a weird, crooked trail to show others that you don't have to follow the path that's been laid out."
In between albums, she's also released a handful of singles and viral video performances. Last year, she teamed up with "Color Purple" star Cynthia Erivo for a cover of Taylor Swift's "I Did Something Bad," which has received more than 1.2 million YouTube views and caught the eye of Swift herself. She released an acoustic version of "This Is Me" from "The Greatest Showman" in March, accompanied by an emotional video starring "So You Think You Can Dance" choreographer Travis Wall, to benefit the Los Angeles LGBT Center.
With her unforgettable Apollo performance behind her, Bean returns to the concert stage Sept. 9 at London's Cadogan Hall. Additional shows in Las Vegas, Dallas and other cities are lined up for the fall.
"I think we're living in a really fucked up, dark time. Anywhere you look, you can find a reason to be angry, sad, frustrated or hopeless. I'd like to remind people that you can also look and find beauty. You can also look and find inspiration."
Looking ahead, Bean plans to continue to focus on her music career and eventually would like to write and produce for new, emerging artists. She'd be open to returning to Broadway, too, for the right project and role.
As to her overriding goal as an artist, Bean said she'd like her audience to leave her performances with "a renewed sense of hope, belief and purpose."
"I think we're living in a really fucked up, dark time. Anywhere you look, you can find a reason to be angry, sad, frustrated or hopeless," she said. "I'd like to remind people that you can also look and find beauty. You can also look and find inspiration. Our mission as artists is to keep pouring that into the world."
Popular in the Community