Three people, including a law enforcement officer, were injured when an unauthorized vehicle entered the National Security Agency's headquarters in Maryland Wednesday morning, authorities said.
The vehicle's driver, an NSA police officer and a civilian onlooker were taken to a hospital after the vehicle entered the Fort Meade compound around 7 a.m., leading to gunfire.
As of Wednesday afternoon, it remained unclear why the vehicle entered the compound, though there was no indication the incident had ties to terrorism, FBI Special Agent in Charge Gordon Johnson said at a news conference.
"This vehicle did come onto the compound unauthorized," he said. "We believe that this was an isolated incident."
The vehicle, which Johnson said was carrying three males who were taken into custody, appeared to have crashed into barricades after entering a gate and then turning around. Its windshield had a number of bullet holes across it.
"Preliminarily, it looks like the gunfire was directed at the vehicle," Johnson said. "We do not believe that any of the injuries sustained were from gunfire."
He declined to say whether a search of the vehicle recovered any firearms, pending the results of an investigation.
President Donald Trump was briefed on the shooting, according to a statement released by a White House spokesperson.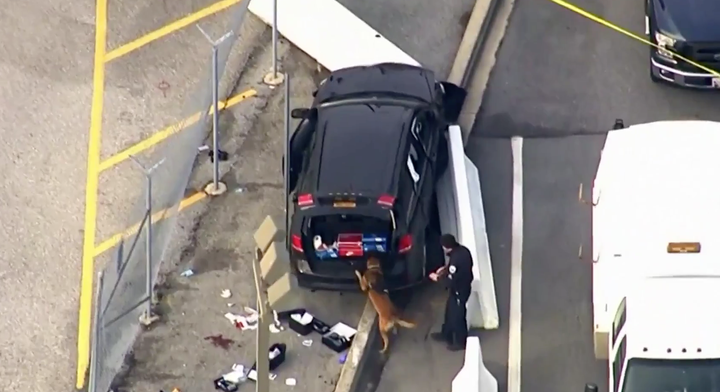 "Our thoughts and prayers are with everyone that has been affected. We will continue to provide updates as they become available," the statement read.
The Fort Meade base is located roughly 30 miles northeast of the White House.
Wednesday's incident comes nearly three years after authorities opened fire on another SUV that attempted to enter the NSA's gates, leaving one person in the vehicle dead and a second injured.
That SUV is believed to have taken a wrong turn. Instead of complying with commands to stop, the vehicle accelerated toward a police cruiser, prompting at least one officer to open fire, the NSA said at the time.
This story has been updated following an afternoon press conference. Language in this story has also been amended to clarify how the driver in an incident at the NSA a few years ago reacted to officers' commands.
REAL LIFE. REAL NEWS. REAL VOICES.
Help us tell more of the stories that matter from voices that too often remain unheard.